After Several Warnings, Gucci Has Filed a Lawsuit Against Forever 21
The ongoing legal battle started because of stripes.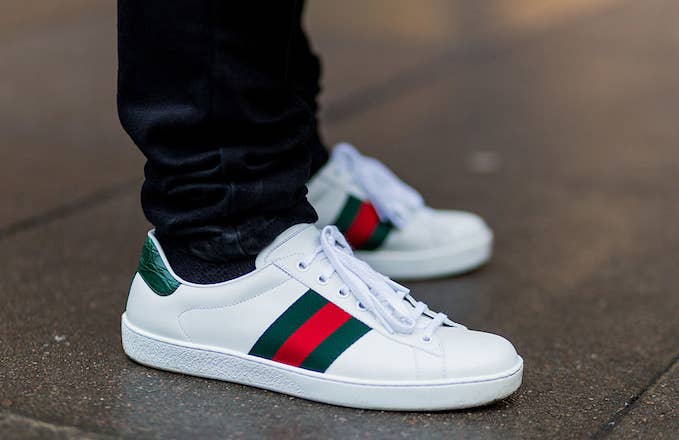 Getty
White Gucci sneaker during London Fashion Week Men's January 2017 collections at KTZ on January 8, 2017 in London, England.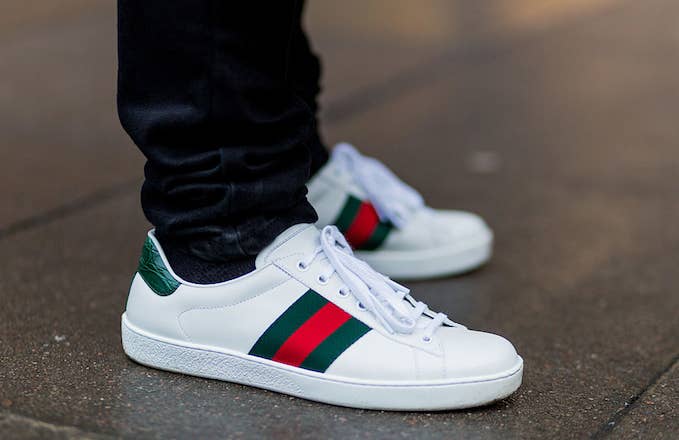 Forever 21 can't stop getting sued.  
According to Refinery 29, Gucci has slapped the fast-fashion retailer with a lawsuit over the alleged unauthorized use of its trademarked stripe design. Gucci sent its first cease-and-desist letter to Forever 21 back in December of 2016. The Italian label reportedly asked the brand to discontinue the items that featured either the blue-red-blue or green-red-green stripes, as they were too similar to Gucci's iconic pattern.
Rather than fall back and comply, Forever 21 decided to take legal action first and filed a suit against Gucci earlier this year. In the complaint, the brand requested protection against the trademark of "a parallel stripe design of alternating bands colored blue-red-blue and green-red-green." Forever 21 insisted it was not guilty of trademark infringement, and asked the court to permit the brand's use of the colored stripes, in addition to canceling Gucci's stripe trademarks.
On Tuesday, Gucci officially filed two counterclaims against Forever 21. The first asks for the dismissal of the brand's initial complaint; the second is for trademark infringement, trademark dilution, and unfair competition.
"Gucci has today taken steps to finally put an end to U.S. mass retailer Forever 21's blatant exploitation of Gucci's famous and iconic blue-red-blue and green-red-green stripe webbing trademarks," Gucci wrote in a statement to Refinery 29. "[…]Despite Forever 21's attempt to use its lawsuit to intimidate Gucci into ceasing its trademark enforcement efforts, Gucci is as committed as ever to protecting its long established intellectual property rights, which are at the heart of the brand's identity, and to ending once and for all Forever 21's reprehensible exploitation of its distinctive trademarks and those of other brands who have suffered the same type of piracy."
This isn't new territory for Forever 21. The brand has been sued by brands like Adidas, Diane von Fürstenberg, Puma and H&M. It's also been accused of ripping off designs from Kanye West's tour merchandise, Thrasher, and more.