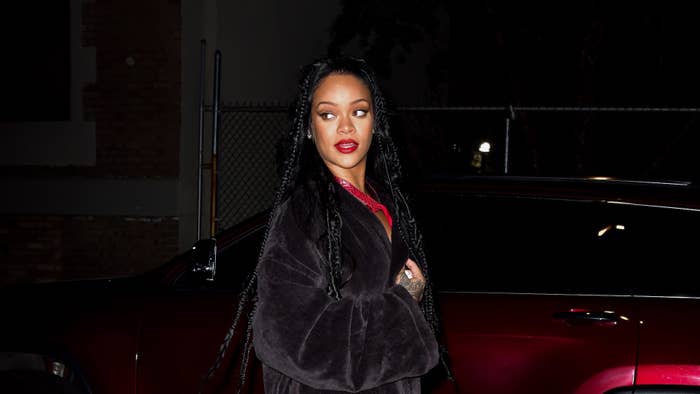 It's an exciting day for the Navy.
For its 30th anniversary issue, Dazed magazine enlisted Rihanna to star on not one, not two, but three covers. Brazilian-born photographer Rafael Pavarotti shot the images, as well as RiRi's entire spread. One cover shows the singer in a white elongated trench coat over white knee-high boots, and a white two-piece bathing suit. She is standing in between two smart dressed men, one of whom is holding a white umbrella over the star.
"The Reign Never Stops," the selling line reads—an obvious nod to Rihanna's 2008 hit "Umbrella."
Another cover shows Rihanna in an all-gold Burberry bodysuit while looking over her shoulder; while the third is a close-up shot of Rihanna donning a tall scultpural wig topped with a Louis Vuitton mesh baseball cap.
"To me, Rihanna is pop culture's most chameleonic protagonist," said Dazed editor in chief, Ib Kamara, "and the perfect cover star for this special moment in Dazed's history."
Other highlights from the issue include Rihanna posing on the floor while donning nothing more than long blond locs. We also see her rocking a gladiator-inspired headdress, an all-red Mugler bodysuit, and a black netted dress by Maximilian. But one of the most-talked about images from the spread is the custom "joint" piece created by Jawara Alleyne x Raw Materials.
The images were revealed just days before Rihanna hosts another after-party for the annual Met Gala. The 33-year-old artist, who hosted the main event in 2018, confirmed the news via Instagram earlier this week, writing "If you planning a MET Ball after party…………don't."
The 2021 Met Gala will go down this Monday.
You can check out additional images from Rihanna's Dazed spread here, and fans' reactions to the photos below.