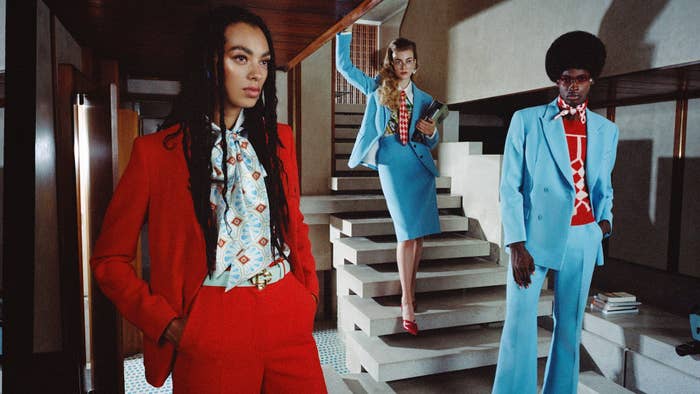 Casablanca celebrates the beauty of Monaco with its fall/winter 2021 tailoring collection.
Inspired by Monte Carlo's famous casinos, the upcoming range delivers an assortment of trousers and suit jackets presented in bold colors that reflect the city-state's lively culture. Founder/designer Charaf Tajer worked with two luxurious fabrics for the tailoring collection: There's a bright green suit made from a silk-blend fabric crafted at the Italy-based mill Ricceri; as well as Alaskan Blue, soft Candlelight Peach, and Persimmon pieces made from Australian merino yarns, manufactured at the legendary fabric mill Raphael. 
The nod to casinos is also reflected in the diamond motif that is seen on the cropped harlequin jacket and pants, as well as the buttons that adorn the suiting. According to Casablanca, all pieces within the tailoring collection were certified with The Woolmark Company.
"Tailoring for us is extremely important," Tajer said in a statement. "Part of our creative process has always been to take classic elements of fashion and applying our modern take on them. For us, the challenge and pleasure of making a suit is bringing it into the modern world through the lens of Casablanca. Shooting this campaign in a building designed by architect Carlo Scarpa was a dream come true, the way he took an impossible, almost untouchable city and left a modern imprint is comparative to the way we design."
You can check out some of the product and campaign shots for the collection below. Casablanca's fall/winter 2021 tailoring pieces will be available later this month.