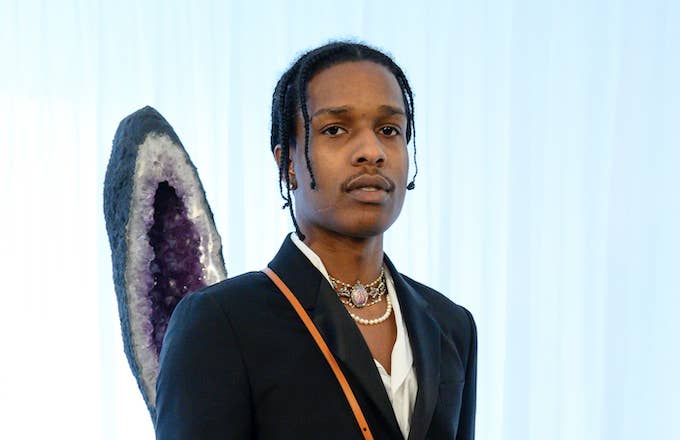 ASAP Rocky isn't afraid to challenge conventional notions of masculinity. Especially when it comes to his personal style.
"I do things that really are appropriate for women: grandma babushkas, painting your nails," he recently told British Vogue. "I do what the fuck I want. It's just like hey, you know? There are no boundaries."
Rocky made the comments during the launch of AWGE's permanent retail space inside London's Selfridges department store. The Harlem rapper explained that his free-spirited, DGAF style is also reflected in the collective's apparel collection, as it was designed for both men and women: "The reason everything is oversized is because I love that look: when girls wear oversized stuff, I think it looks sexy, that subversive unisex look and shit," he said. 
In support of AWGE's permanent retail experience, the collective dropped a capsule exclusively available at Selfridges. The range spans hoodies and button-ups to jersey and bucket hats to trousers and a stitched Rocky doll.
Elsewhere in the interview, Flacko touches on AWGE's synergy and the collective's decision to open up shop in the famed UK department store rather than his hometown of NYC.
"It's like the 'Praise the Lord' [featuring Skepta] video," he said. "Taking London and America and displaying how they're two parallel universes. New York is a derivative of London [...] And I think, even now, the similarities in culture, music, attitude, style, are still the same. Most people in New York, where I'm from, they either don't have much knowledge of London or they love it. They see similarities and I wanted to display that."
You can read the full British Vogue piece here, and shop the AWGE x Selfridges collection online.