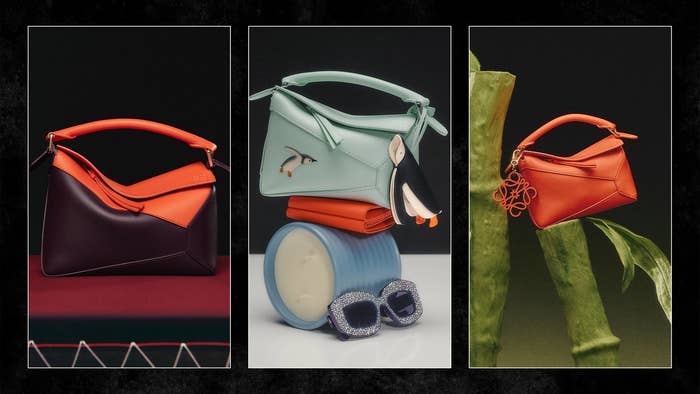 LOEWE has always positioned itself as the go-to brand for discerning luxury shoppers and art world enthusiasts. This holiday season, it's debuting an exceptional new resort collection that's destined to be a must-have for holiday shoppers.
With a collection that balances the brand's signature textural interplay, delightful visual effects, and subtle-yet-identifiable hardware details, the centerpiece of the collection is the introduction of their new festive collaboration with Kyoto-based ceramic studio Suna Fujita. Suna Fujita is the brainchild of artists Chisato Yamano and Shohei Fujita, whose artwork draws on childhood memories, imaginative reveries, and life with their son and pet dog. They weave storylines by hand-painting into everyday ceramic pieces. Their latest work transforms ordinary teapots and plates into enchanting, otherworldly objects, inspired by whimsical animals and natural landscapes.
Suna Fujita takes this collection to the next level, interweaving the couple's signature artwork featuring rich sceneries and sweeping storytelling into classic LOEWE products that make exciting gifts for the season. This includes seasonal stalwarts like the Puzzle bag, Hammock tote, and Flamenco clutch as well as giftable separates from wallets to scarves and sunglasses that fit effortlessly into a winter getaway or seaside escape.
But that's not all. The collection includes essentials for a wardrobe upgrade including the uniquely ruched Squeeze bag, the practical-yet-chic Puzzle Fold Tote, and the sleek, minimalist Pebble Bucket, all dressed up in updated colors. To truly set your style on fire, don't miss the shaggy Dusty Mop heel, the sparkling Crystal pump, and the chunky-buckled Mary Jane wedges.
Dive into this exceptionally crafted collection for the holiday season, available in stores and on loewe.com beginning Nov. 16.