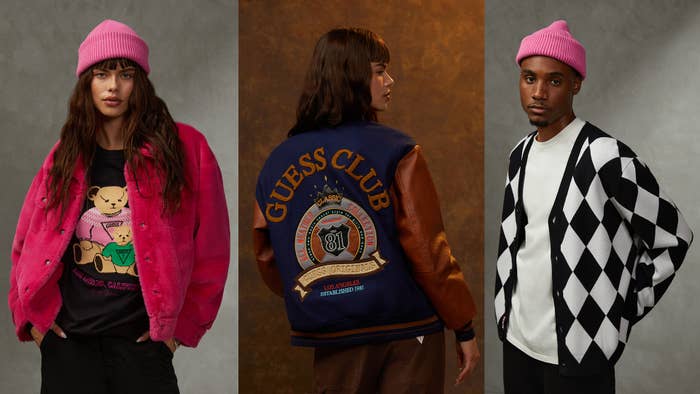 The holiday season is all about hustle and bustle. From gift shopping to get-togethers, your calendar fills up quickly, and figuring out a festive fit on top of all that can be a hassle. Luckily, GUESS Originals has you covered. From elevated essentials to outerwear, there are options for holidays and beyond. Complex curated comfortable pieces that you can wear to a holiday party, throw on to go gift shopping, or simply wear on a night out with friends. Read on to see what's topped our list, then head to guessoriginals.com to see more from this collection.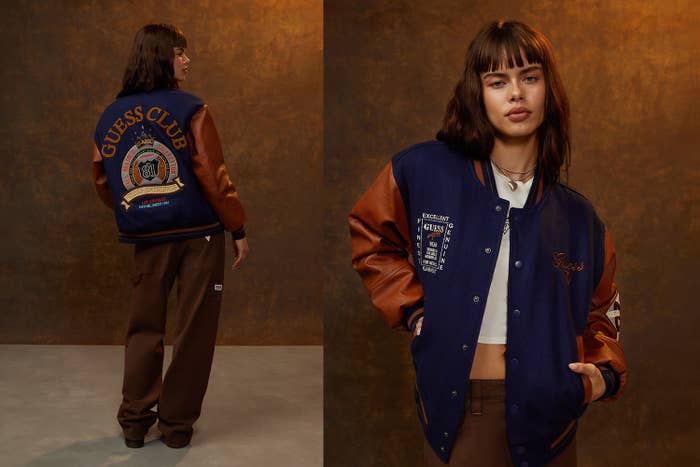 Club Varsity Jacket |​​​​​​ ​$228 /// Carpenter Pants | $98
The type of jacket you can wear with anything. Covered in iconic logo detailing, this wool-blend varsity jacket is designed with contrasting faux-leather sleeves, striped ribbed trims, side welt pockets, snap button closures and quilted lining.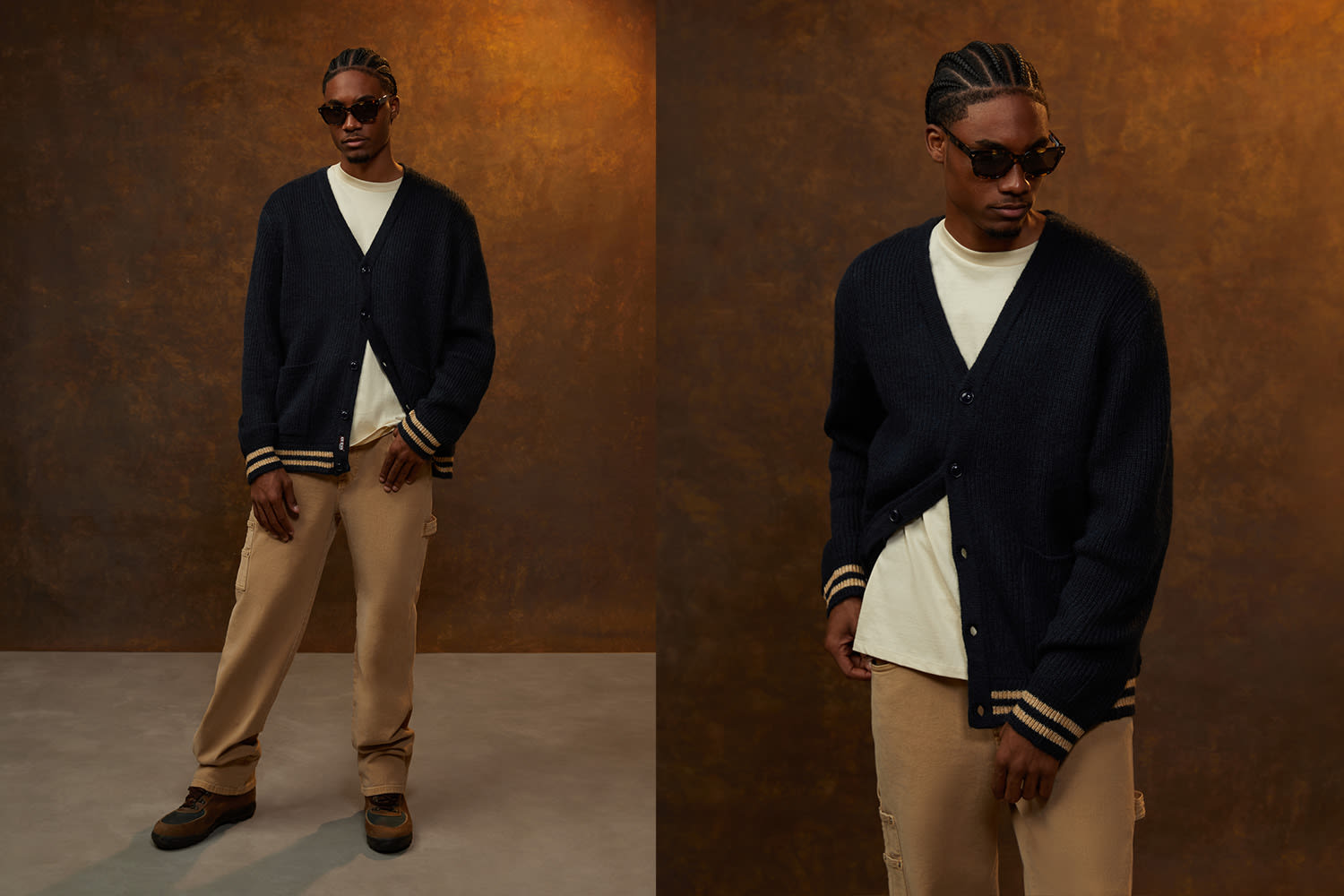 Knit Cardigan | $128 /// Cargo Pants | $108
Cardigans are having a moment this winter, and with good reason: there is a certain sophisticated cool in a sweater that can be that versatile AND cozy. This one boasts chunky fabric for relaxed vibes, with the jacquard-knit stripes giving a touch of varsity style. Layer it with a graphic tee around the house, or over something with a collar for a holiday party, and live in it all season.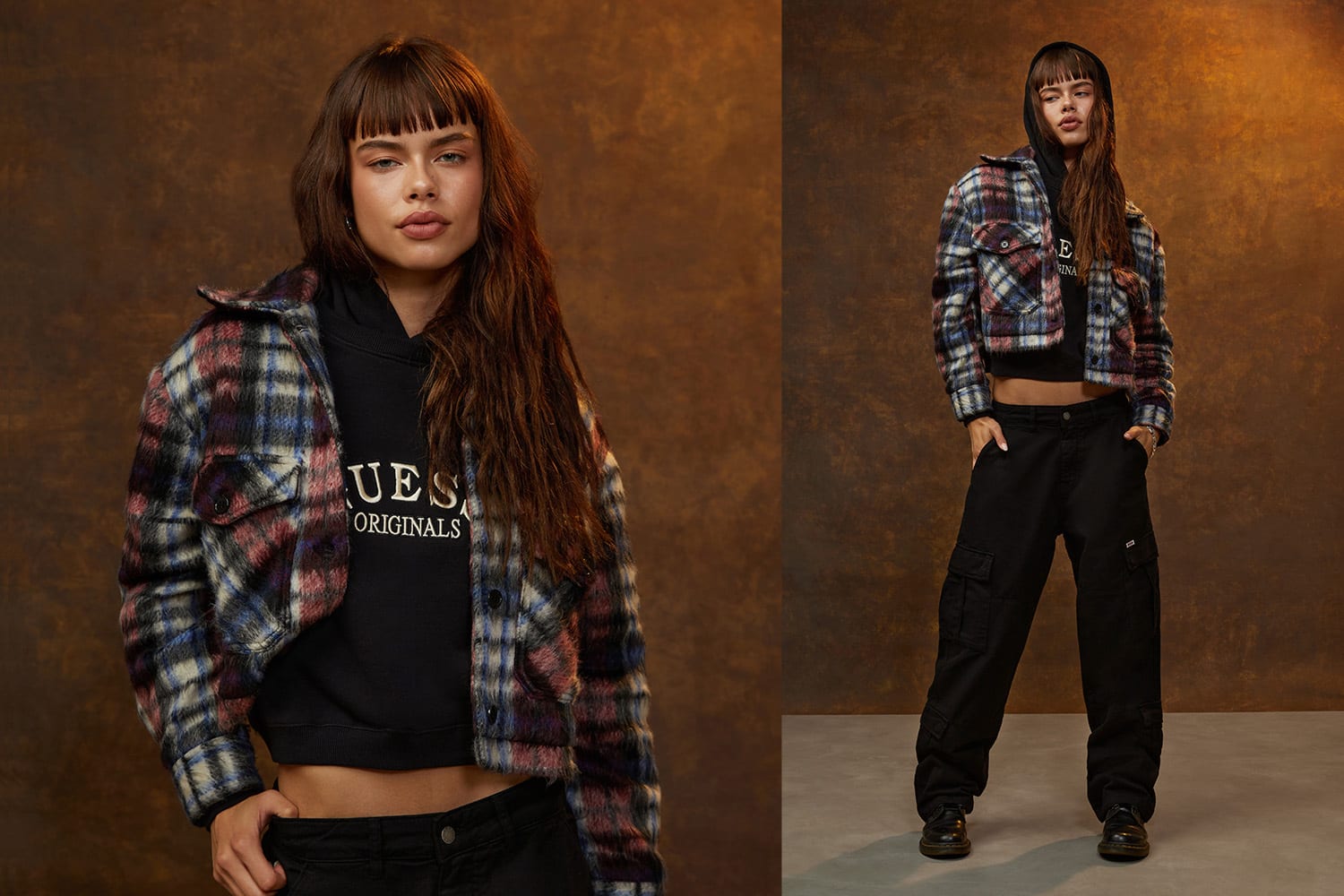 Plaid Jacket | $148 /// Vintage Logo Hoodie | $98 /// Cargo Pants | $108
The right layering pieces can practically multiply your wardrobe by giving you a variety of new combinations. With faux-layering on the sleeves and an embroidered, vintage logo, this hoodie could do double duty as a solo piece. The same could be said for the brushed plaid and cropped cut jacket. Put both together for a stacked style, or combine them with the hero pieces in your closet to see how they compliment each other.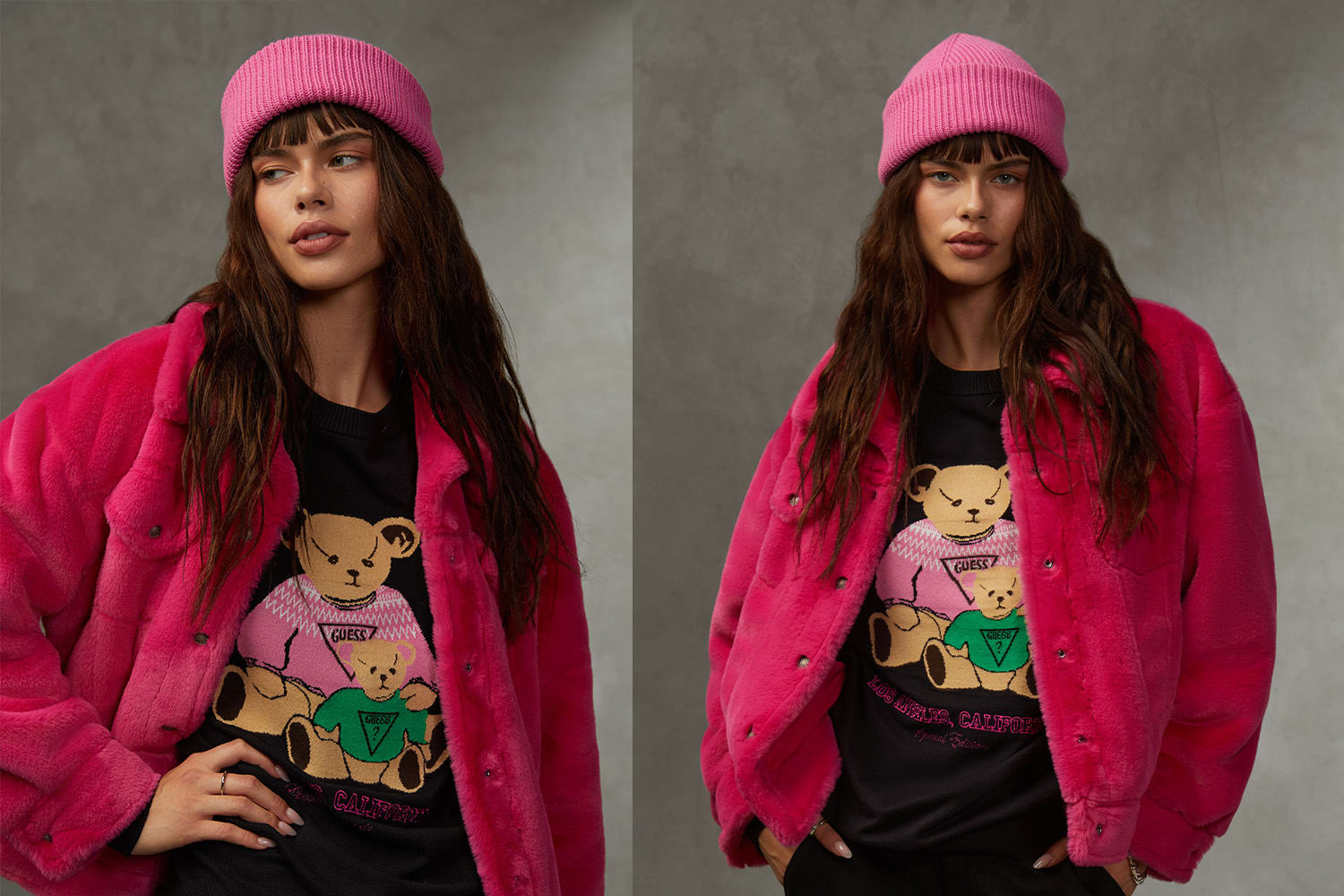 Bear sweater | $98 /// Oversized Faux-Fur Jacket | $148
This '90s-inspired sweater is rebuilt from the inside out, and is made in part from renewable, wood-based fabrics. Luckily, sustainability doesn't come at the expense of comfort. This piece is as soft and cozy as it gets, and the knit bears add a playful, festive component.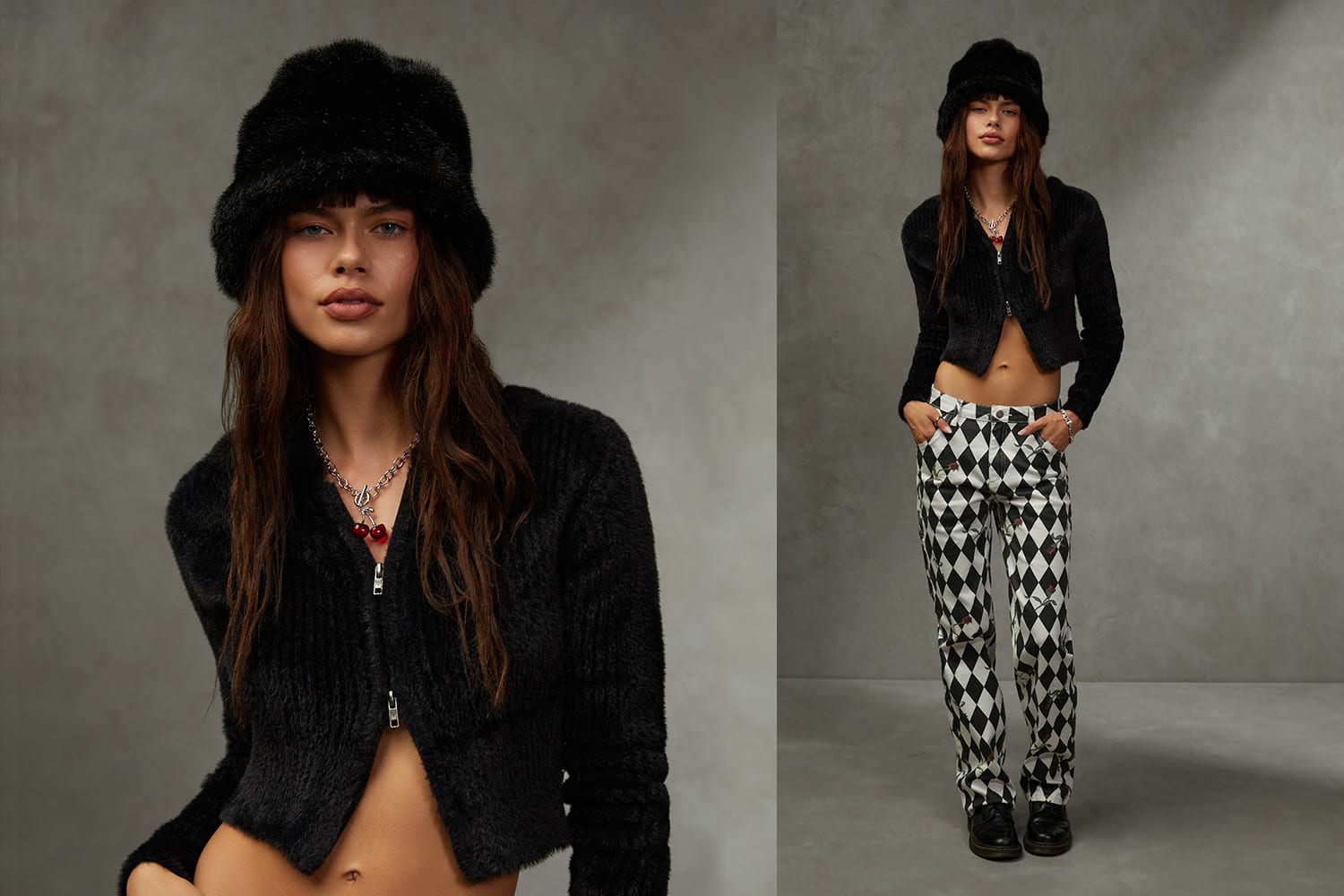 Fuzzy Zip-Up Sweater | $79 /// Diamond Carpenter Jeans | $118
One of the most fun things in fashion is reimagining classic pieces or silhouettes in new ways. Here we have the type of carpenter denim that helped put GUESS Originals on the map, reimagined in a bold, vintage-inspired pattern. Pair it with a cropped chenille sweater to add some texture to this new take on a timeless look.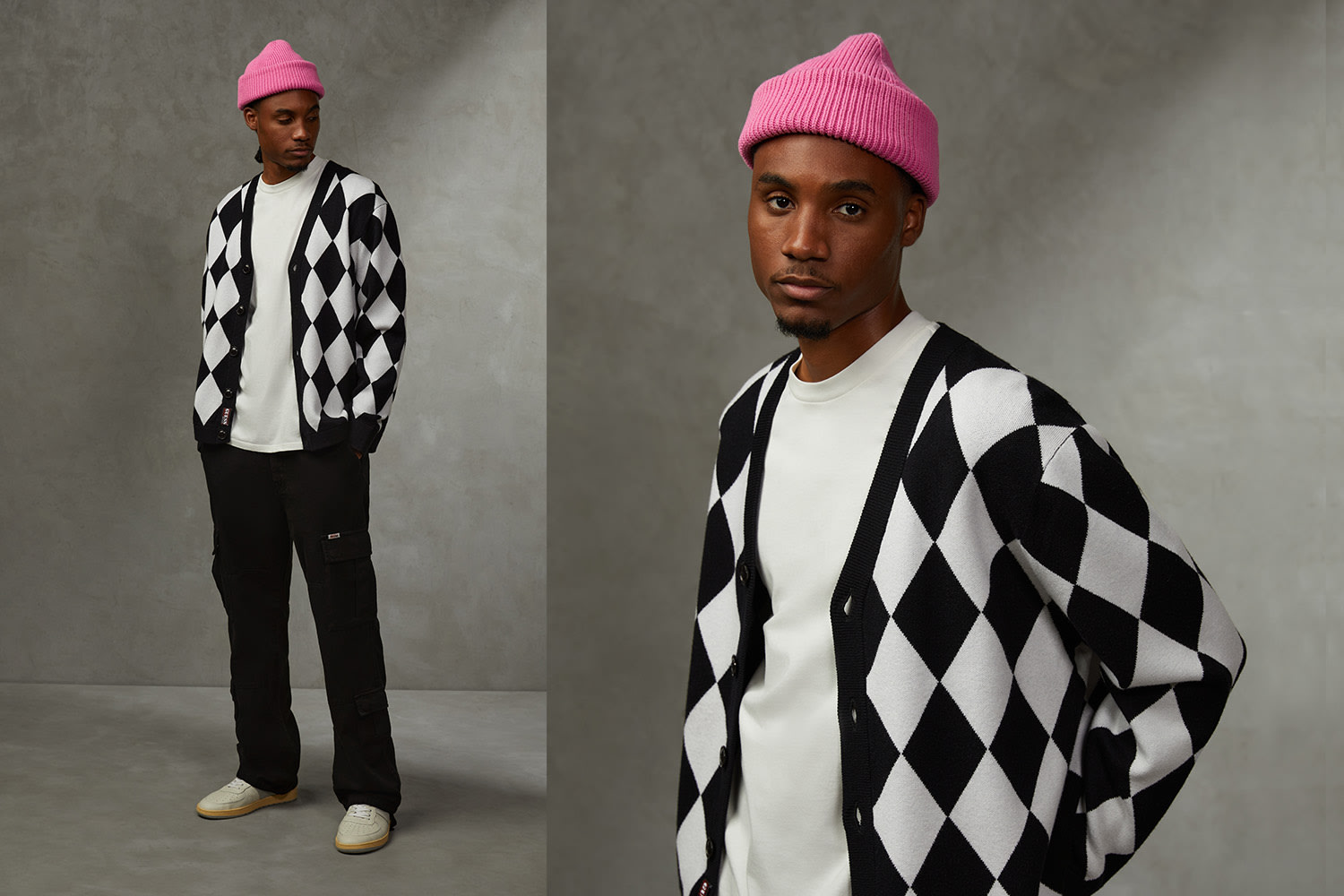 Diamond Knit Cardigan | $118 /// Cargo Pants | $108
Knit patterned sweaters are hot right now, but this one is made from 50% sustainable fabric, making it one of the few environmentally-minded options on the market. The fashionable diamond pattern also offers endless styling options — wear it with a white tee and a bright beanie for a pop of color, or layer it over a patterned top for a retro feel.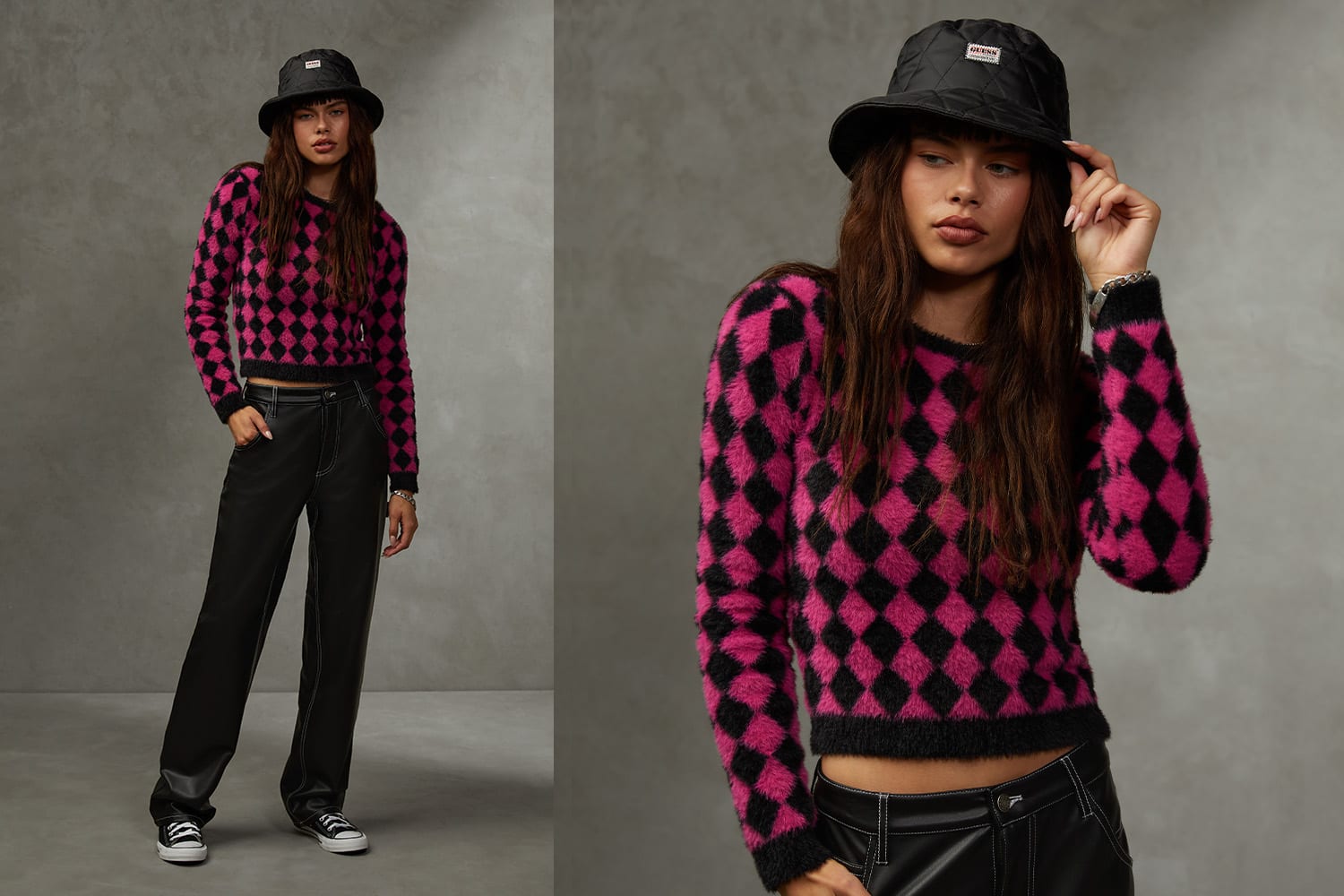 Fuzzy Diamond Sweater | $98 /// Faux-Leather Carpenter Pant | $128
Elevated essentials are a great way to make a statement, and the holidays are full of excuses to dress to impress. The faux-leather pants offer an elegant version of a classic, seven pocket workwear silhouette, and they pair well with the fuzzy sweater to create a luxe-inspired fit that will catch people's eyes without emptying your wallet.
Knit Zip-Up Sweater | $168
A heavy sweater is a must-have at this time of year. Throw your keys and phone in the pockets and use it as a jacket on days with a hint of chill, or layer it with a parka on a sub-zero morning. The Fair Isle-inspired knitting brings an alpine feel, and chunky yarn will keep you warm regardless of whether you're on a mountain getaway or in a downtown apartment.