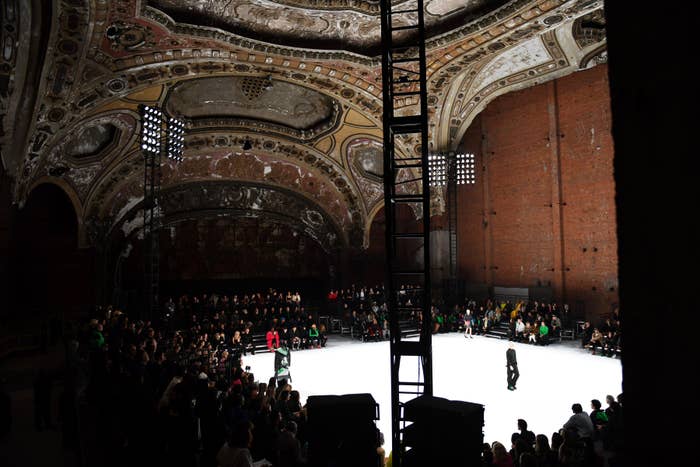 It's not uncommon for a European fashion brand to present collections outside of Milan or Paris. Chanel showed its Resort 2017 collection in Cuba. Dior presented its Cruise 2020 collection in Marrakech. And Louis Vuitton displayed its Summer 2021 collection in China. Sometimes it's just an ostentatious and tone-deaf means of marketing, other times it's a way to promote the brand in a specific region to increase sales.
Bottega Veneta is focused on growth in the North American market, but instead of showing in New York or Los Angeles, Daniel Lee, the brand's creative director, wanted to try something different and selected Detroit as the venue for his Spring/Summer 2022 collection. "I think it's far more interesting to bring you guys here instead of show in New York," Lee told a group of reporters and editors after the show. "A lot of people don't know what to expect and they haven't been here. So I think it's good to see Detroit and experience it."
Lee first experienced Detroit around six years ago, when he unexpectedly had to spend a couple of days in the city while en route to Jamaica. Lee, a big techno fan, fell in love with Detroit's rich culture, which helped foster and create the music genre, and connected with its history as a former car manufacturing hub—Lee grew up in an industrial area in north England and has a fascination with cars.
Initially, hearing that Bottega Veneta was showing in Detroit felt a little off. The fashion industry has a tendency to tap into subcultures, regions, and people, exploit them, and then tap out. But Lee used the occasion to not only present his line, but introduce guests to Detroit as a city that's teeming with creativity—a story that's not always prominent. He worked with Olu & Company, a public relations and marketing consultancy based in Detroit, to ensure he properly integrated the city into the show experience and the Bottega Veneta Firehouse, a pop-up that opened a week or so ago in Corktown, Detroit and will be around through mid January.