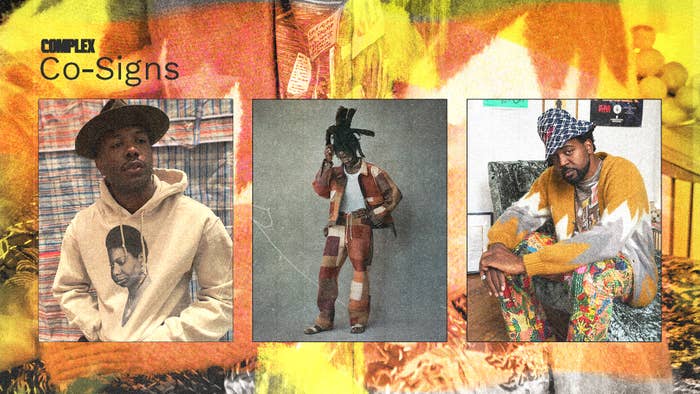 'Complex Co-Signs' is a monthly feature that will highlight up-and-coming or under-the-radar creators within the style space that we are personally fans of but may fall outside the realm of our regular news cycle. Hopefully, it will help you discover a new brand or learn more about someone that you've already taken a liking to. Whether you are familiar with them yet or not, these individuals are surely worth keeping up with.
It's a cool Sunday evening on Fulton Street in Bed-Stuy, and Savant Studios' weekly "Sunday Vibes" is about to get deep. Often the Brooklyn store becomes more than a store, hosting dancing by the likes of glide master Storyboard P, or film screenings, or a place to shoot a vignette starring rapper Navy Blue. Tonight it's an intellectual salon slash therapy session. And everyone's invited.
While 20 or so people mill about the glass-fronted, wood-floored, non-gendered fashion boutique, they sip free habanero tequila, chat on sofas underneath a basketball hoop made from stained glass, and browse racks of screen printed Army jacket liners, reworked flannels, and vintage crewnecks with "Moesha" chain stitched on the front. Many are wearing Savant Studios, including one person rocking pants from the recent Todd Snyder collab—evidence that the larger fashion world is starting to take notice of what's happening here on Fulton Street. Tom Holland and Zendaya have been spotted shopping at the store. And last summer, Savant was one of several New York City-based labels tapped to design a runway collection with Public School.
In the center of the shop, wearing a Savant trucker hat, stands Savant Studios' founder Mike "Grapes" Graham. A Bed-Stuy native who traveled the globe before returning home to launch Savant Studios in 2017. 
 "I lived in Colombia for a while," he says, standing next to a table merchandising beaded jewelry on sheet music for Beethoven's Mass in C Major, Opus 86. 
"And because of that, people would ask me, where did you get your money [for your brand]? Is it a front for drugs? And I would say yeah, it is a front. But it's a front for this," he says, gesturing around. 
"A front for culture."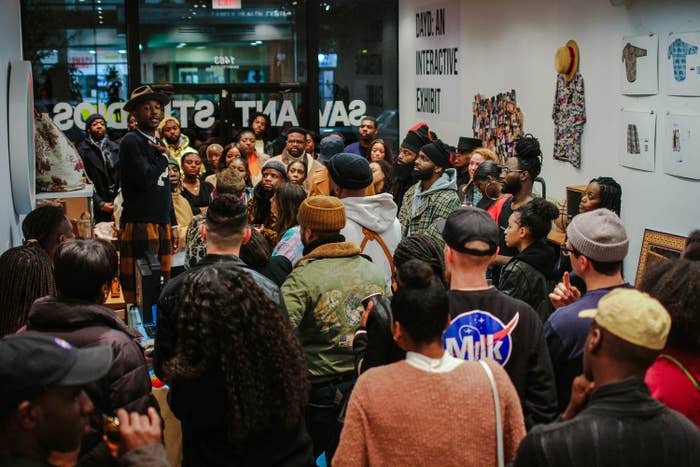 He then casually calls the room to order, and everyone circles up and sits down. Thus begins the centerpiece of the evening, a secular Bible study where booze is sacrament and Enter the 36 Chambers is a holy text, which Graham moderates with quiet authority, flexing his erstwhile motivational speaker muscles (he also moonlights as a filmmaker and documentary producer). Normally there is a theme. Tonight, no theme. 
In the now-quiet space, Graham starts off saying how inspired he is lately by Ol' Dirty Bastard, one of Bed-Stuy's many legendary rappers, along with the Notorious B.I.G., Jay-Z, Lil' Kim, the GZA, and Yasiin Bey. Graham is especially inspired by how ODB was cut from a different cloth and truly lived through his art, which led to both social conflicts and transcendent performances. Graham draws a comparison to Nina Simone's Montreux 1976 concert, connecting her to ODB's uncomfortability, virtuosity, and power. Who are the ODBs and Nina Simones of today, he asks the group?
Forty-five minutes later and many more topics in, conversation drifts to Beyonce's Homecoming, which, someone points out, while widely beloved, seemed to be an album and concert created specifically for a Black, Southern audience familiar with HBCUs. The question is raised: Is all art for everyone? How does our role as audience members change based on who the art is intended for? When are outsiders respectful appreciators, and when are they uninvited voyeurs? 
Later, on a tangent, someone ventures the controversial knowledge that Virgil Abloh's famous "The Ten" series of shoes at Nike was rumored to involve very little design work by Abloh himself. True or not, it makes the group reflect. Do we always know who is behind the culture we love? Are we perhaps, as a society, too eager to ascribe authorship to individuals, when many creative works are in fact group efforts?
Throughout the proceedings, Graham is a smooth master of ceremonies. Before the vibe can lag, he senses that it's time to stop and finishes as casually as he started, thanking everyone for being with each other and sending them off into the Brooklyn night. It's a slow goodbye, with stragglers still talking to each other about the issues and questions that were raised.
A few weeks later, Graham and I caught up on the phone to talk about Sunday Vibes, his brand, the compulsion to create, saying "no" when the ASAP Mob asked to use some of his art on stage, the crystal-studded Crocs he made for Questlove for the Oscars, and finding a strange calm in the middle of a major flood that his shop sustained in 2021.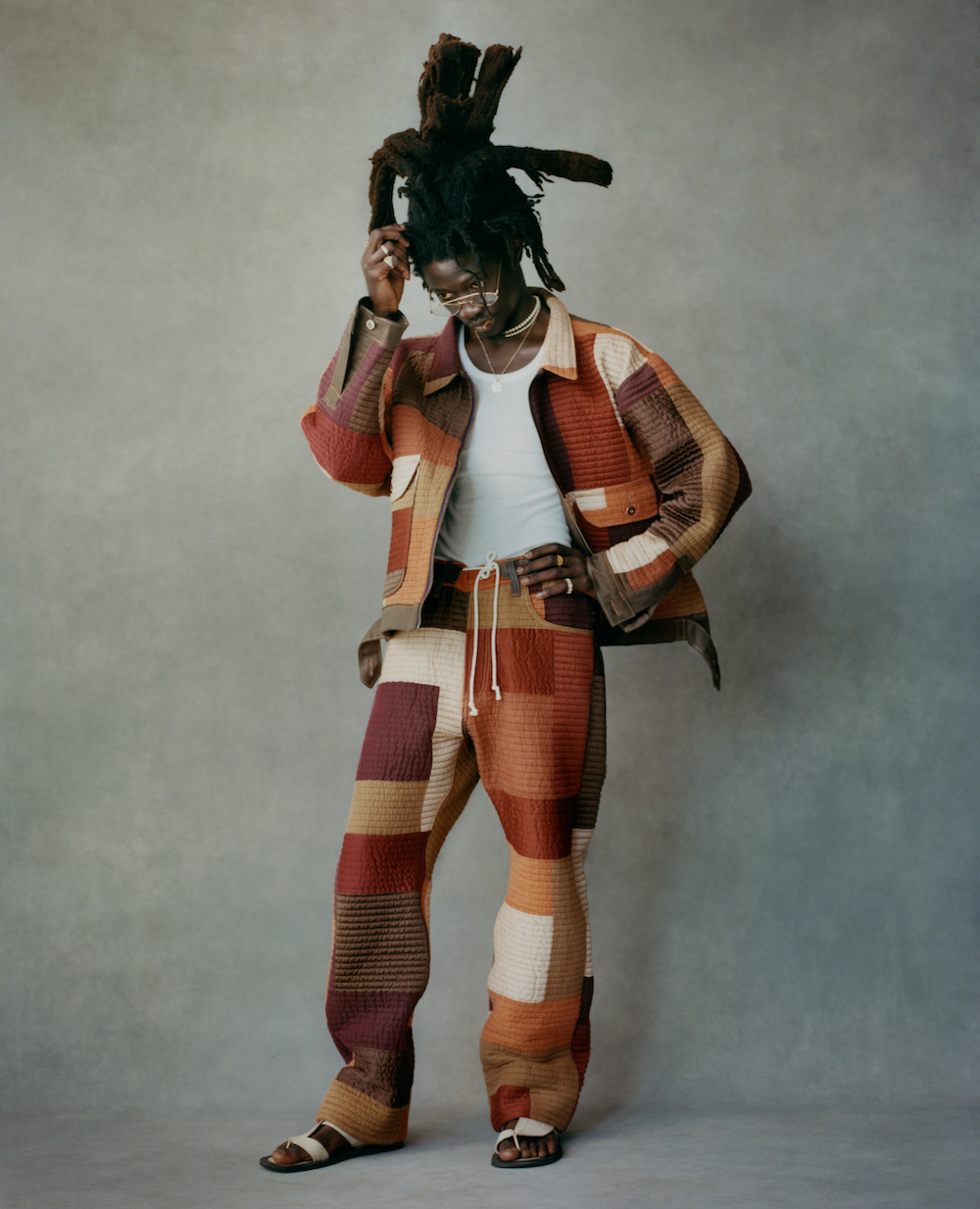 Let's start with your history with design and how it led to starting Savant Studios in the first place. 

It's funny because I just always liked what I like. I would have never considered myself a designer or anything of the sort. I've always been a maker. The things that I wanted that I didn't see, I figured out how to create them so they would exist. That's how the brand started. There was this void between streetwear and high-end. I don't wanna wear Gucci and Dior everyday, nor do I want to wear The Hundreds and Crooks and Castles. So I had to make Savant for that reason. I didn't plan on building something, I just wanted to make stuff that suited my taste and interests. 
Sounds really organic. 

Super organic. And then people liked it and it was like, "Oh, y'all will spend money on this?" I wasn't shocked they liked it. But I was shocked it found a place in the marketplace. 
Does all your stuff find a place in the marketplace, or does some of your stuff remain as more of an art piece?

That's a great question. Some of it I want to keep, and hold onto it for a different presentation. Like some stuff I just make not for commerce, but just for expression. Or I had a dream, and wanted to tinker with this thing, so I created it. Some of what I make I want to exist in the art space rather than straight commerce.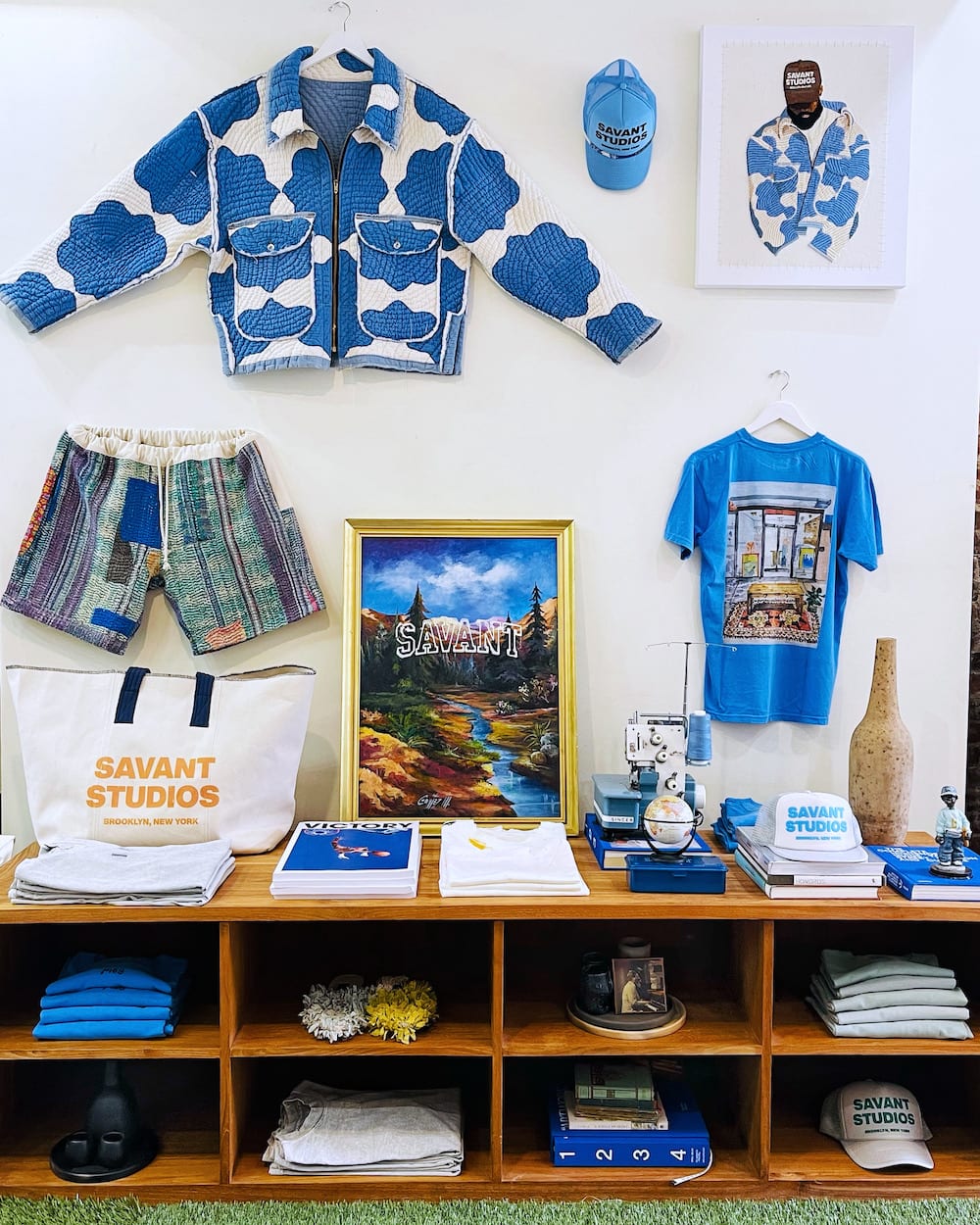 Can you give me an example of a piece you made that was not made for the marketplace?

Yeah, I was living in Colombia, and I had a dream about a black and white American flag that was all leather. I just wanted it to exist. I didn't know what I would do with it, or if it would be a cape, or a throw, or hanging on the wall, I had no idea. So I went down to the garment district in Bogotá, and bought this beautiful, buttery leather, black and white, and spent the next week making this flag. 
I was so proud of it. It was exactly like I envisioned it. But I had no idea what to do with it. I traveled with it. For some reason the guys from ASAP (this was when Rocky was just blowing up) were like, "That's jiggy. Rocky wants to take this on tour with him and take it on stage." I was like, I think it's supposed to be…I don't know…I don't want it to get messed up. I'm not from this world of fashion and stuff…. I thought, I want Jay-Z to see it. I don't know why, I just want him to see it. And you know, I never figured out what to do with that flag. Some people from Restoration Hardware wanted to produce it. Ronnie Fieg wanted it, and I was like I don't know you, I'm not giving this to you. And then he had his homeboys from L.A. make versions of it actually, from Stampd, it was crazy. 
You got bitten. 

But I never felt funny about being bitten. I have so many ideas, and I'm going to do all of them. They're not going to stay in my head. I do stuff. But he definitely bit it, though. My homie was working with him at the time and I showed him a picture, and he was like, "Ronnie wants it." He kept asking, and four months later I saw Stampd do it, and he was parading it. Anyway in the end, I gave it to my buddy, who had just bought a new house. And to this day he has it framed in this amazing floating frame that he got, and it's the centerpiece of his house. 
That's dope, I know what it's like to have a piece of art like that in your living room. It's more important than the TV and it's going to travel with you from this house to the next house, and probably always be displayed, forever.

Yeah he said something very similar to those words. I've always messed with flags. And I love the design of the American flag. I've always done iterations and different things with it. That one, I didn't know why I was making it. But there was racial tension. The Eric Garner situation had just happened, and people were saying the flag was powerful, that this is how America was built. Black skin and white skin because it was leather. And I didn't think about that. I just needed to make it. There's pieces like that, where I just need to get it out of my head and get it into existence. What it does from there, I have no idea. I spent a whole week making it. The stars were intense. I didn't know what to do with it. I didn't even know what price to put on it.
Who taught you to use a sewing machine, originally?

Myself. At one point I was spending a lot of time in Istanbul, and would sit around old Turkish tailors and observe them. My mom sewed but she did hand sewing and didn't have a machine. But these guys, I would watch them use the machines. And my homegirl bought me a machine for Christmas one year, and from watching them and paying attention, I picked up some things. I just sat down at the machine and started. 
What were the first things you made?

The very first thing I made was a pillow. From there I was reverse engineering stuff. I took a five-panel cap apart and remade it. I used the brim. I covered the bill, actually. I would take things apart, trace the patterns, and then reconstruct. And that taught me a lot about how to put garments together. How sleeves worked. 
You gotta take things apart to put things together. Destroy to create. 

Absolutely. And that kind of worked into a lot of my stuff without me knowing it. I needed to take that jacket apart to know how to make a jacket. But doing it, all these other ideas would come. It was a whole lotta deconstruction. 
Where did you get the idea to start putting music figures on your stuff, like Marvin Gaye, or Cannonball Adderly, or Nina Simone?

Again, it's personal. I just love jazz and I wanted a Nina Simone shirt. There was no good one that existed. It just didn't exist. I wanna wear Nina! So I messed around with designs for maybe two years and nothing felt right. Then I landed on the thing that I did by literally making it for myself. It clicked. I made two dozen of those shirts and now we've sold maybe 15,000–20,000 of them. 
Is that your biggest selling item?

It might be. I'm gonna just say yes. Because we sell Ninas every single day. There's not a day that goes by that we don't sell one.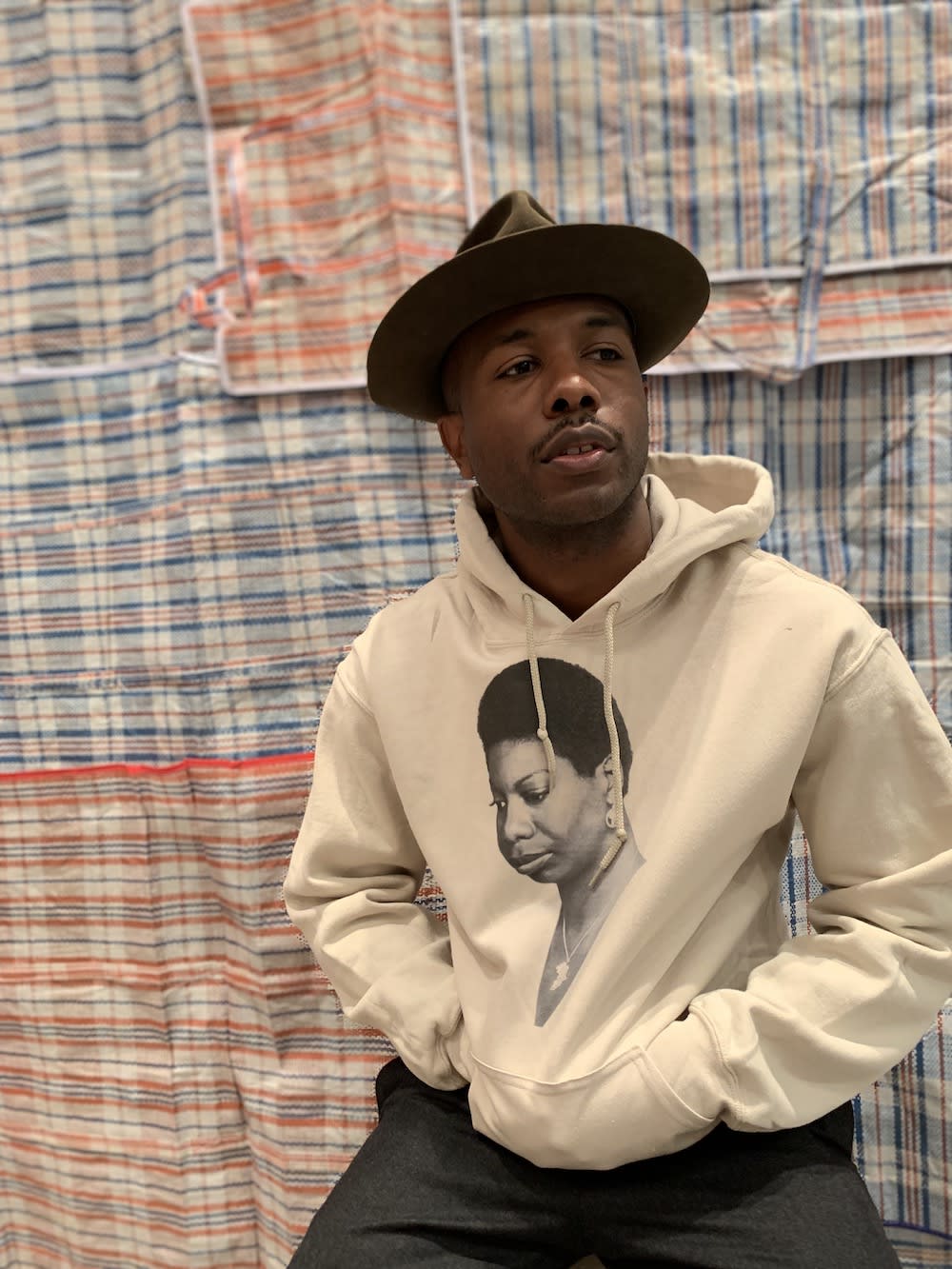 I wanted to ask about the crystal-studded Crocs you made for Questlove. How did that happen?

He's really into crystals. And his stylist was like, he wears Crocs, man. That's what he wears. He has wide feet, he wears Crocs, and he likes them. And I was like, for the Oscars? And they said yes. So I was like let's find some Salehes and let's do this. I had never bought crystals before, so that week of crystal shopping was another world. I dove into that world, found some what I thought were fly crystals, and got busy. He loved how they came out. We had a moment on the red carpet, that was dope. 
How important is the role of stylist to you, artistically? What do you think about that role in general?

That's a funny one, because I don't know exactly how I feel about it. I'm a little bit torn. I appreciate people who have good style. So then when I hear they have a stylist, I'm like, Eh. But I know there's different types of stylists. Some people go out and buy stuff for a person. But others are really dressing them and it's their style they're contributing to this individual. It's a tricky one. I think an image consultant is fly. I like the idea of an image consultant, who helps an individual tap into what's innate in them. But "I'm gonna dress you, I'm gonna put you in this…:" I think that's kind of corny. 
Let's pivot to Sunday vibes. Can you talk about what it is, and what it means? I know how it went from the one I attended, but maybe there's stuff you want to say more generally. 

Sunday vibes happened because I like to host at the shop. The shop serves as a platform in different ways, random creative marketplaces for up and coming designers and small brands, stuff like that. But on Sundays I realized people were coming in and spending time at the shop. After brunch, or on their way someplace else, and just spending time with us. And I would get tea, or wine. And as this was happening, I was like, This is nice. This is an alternative to a day party, or other things that happen in the city. Let's keep doing this. 
It organically happened. I was like let's keep offering this alternative. Smart and thoughtful. That's what Savant is all about anyway: smart stuff. It just clicked. It became a thing because of the people, not because we made it a thing. More and more people would come, and some of the more high profile people started getting a whiff of it. I was like, OK, I didn't know, Zendaya! Why do you know about Sunday vibes? Well, I've seen it on Instagram and it looks awesome. So, OK, come through. We kept it free-form. I don't create the flyer on a computer, I always make it on my phone. Casual. The theme comes to me a day or two before. I just keep it really light in that way, to not make it too structured or too stuffy. And that's how the magic has remained. It's lightning in a bottle, the ideas and sentiments that are brought up. We're hosting something special without making it more than what it is. People come together, we chat, and we build. Sometimes there's a performance, a DJ, an artist talk, tears, dancing, whatever the vibes are for that Sunday. 
It's cool you call yourself a smart brand. I felt the Sunday Vibes I attended had an intellectual feel. I appreciate that being brought to people in a democratic way. What do you think is the power of giving people the floor like that?

I think that's how good ideas come about. Instead of monologues, I like dialogues. I like iron sharpening iron. Ideas colliding. That's where real solutions, real ideas come from. Opposing things, challenges, someone catching your blind spot for you. Did you think about this? I hear you, but one of the illest things I've seen is this conversation with James Baldwin and Nikki Giovanni [on SOUL! From 1971]. It's beautiful, it's smart, it's real-deal conversation. But it's kind of, like, performance art also. I want to take Sunday Vibes and translate it into that space of performance art. It's different to see people working through their ideas in front of a camera. That's what I loved about Nina Simone, she worked through herself in front of an audience, on stage. Which is very powerful and bold to do. Not many people would do such a thing. In that sense, I love it, and I'm not afraid of it. I want people's ideas and perspectives and opinions and thoughts to come out. I know enough about how to facilitate and host these things, and let it be real, and not let it go off the rails, but let people get open. Sometimes it gets heated. Sometimes people are crying. A floodgate of vulnerability opens up and people get raw. And we deal with it. It's so raw that we can't argue it away the way people do on the internet. This is a real person that I actually respect, and their heart is bleeding right in front of me. That's the space that I appreciate.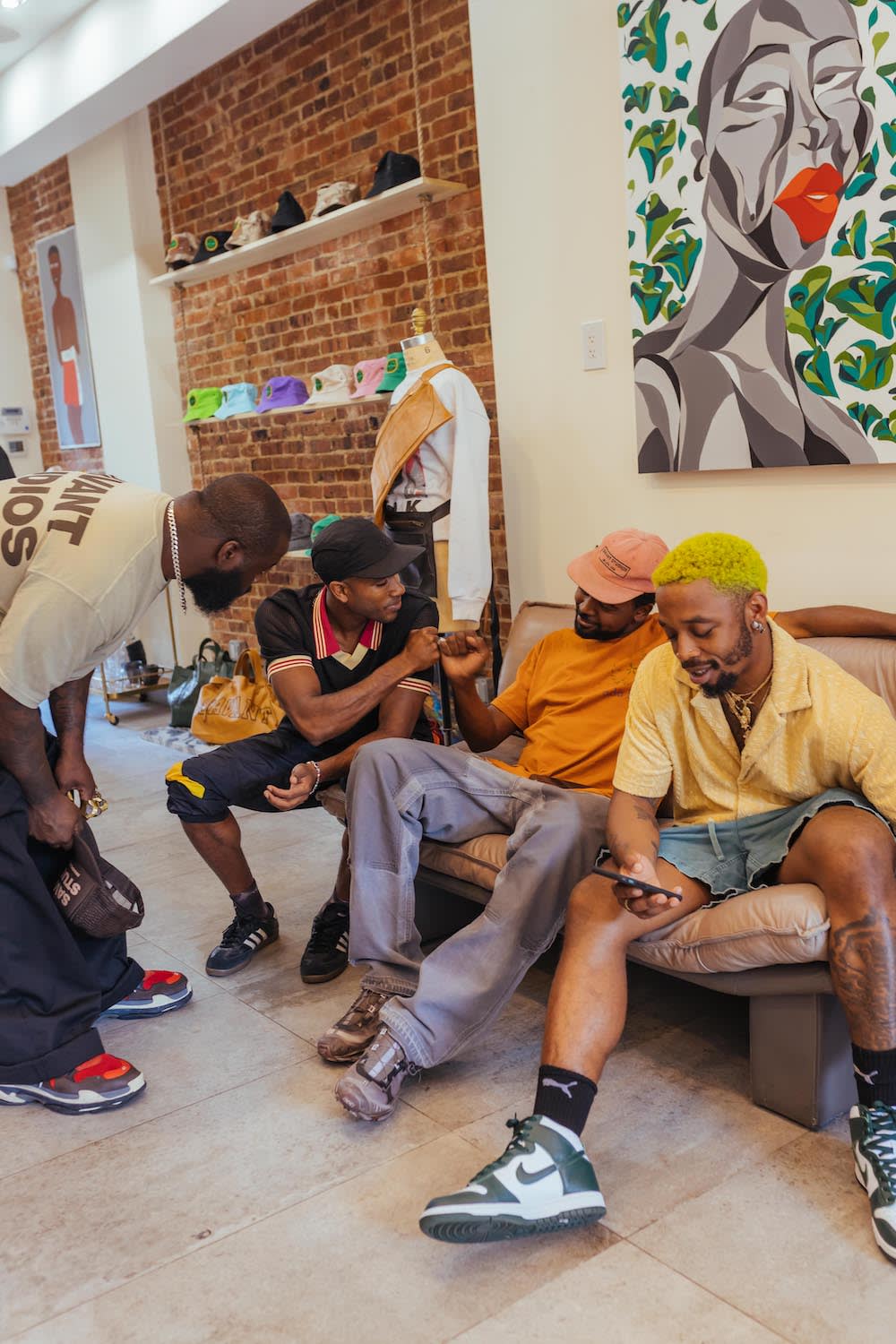 It's hitting me right now as you say it, that it's almost a type of social justice angle to what you're doing, offering group therapy to people in Bed-Stuy to—and most of the people were Black when I came—to people who don't seek therapy, or who aren't served well by the medical establishment. To offer that space publicly is vital. 

Absolutely. And what's crazy is, bro, we've had times in here for Sunday vibes where the topic of therapy comes up, and it's a lot of that: Oh, I don't need that. Or, That shouldn't be pushed on me. Or, I can't afford that. Or, That's not for everybody. And then it's like, after an hour, people realize, That's what we just been doing! It's incredible, bro. 
Can we talk about your collaborations with artists? I know you made that video with Navy Blue. And I know you had Storyboard P dancing in the store. Anything you want to say about those people in particular, or about collaborating with artists?

I would say that I gravitate toward the unsung heroes, whether budding, or have been around and aren't correctly recognized. In an odd way, these individuals find their way to me. So we have this collective of artists that find their way here, to me, to the space, to what we do, and just connect. Without meeting Storyboard P, I knew him. And he came here and we connected. And I had him under my wing for a while. Same with Sage [Elsesser, Navy Blue]. He found his way here. Most of the people that I love, artist-wise, are dead. Thelonius Monk, Nina Simone, Jean Michel-Basquiat, Gil Scott-Heron. I think about, when these people were here, in the flesh, why weren't there more live performances, or T-shirts made, or vignettes created with them? I do that with my designs. That's why I'm putting these icons on shirts and hoodies. And the folks who are alive, I want to do that right now. I want to create things with them, so stripped down performances with them, get them in front of people, create intimate sessions with them. Fifty years from now, will there be a Storyboard P T-shirt that people can go to a vintage shop and buy? There won't be if I don't make it. Someone has to do this stuff to document the time. I think these individuals are special. 
I would buy a Storyboard P shirt. 

He's the best. There's not one person walking this Earth who can do what he does. 
He glides through his whole life. Have you heard the new Navy Blue album [Ways of Knowing]? [The song] "Kill Switch" with J. Rocc scratching on it?

I didn't know that was J. Rocc!
Finally, I wanted to talk a little bit about the flood that happened in your store in 2021. What was it like going through that?

It was heavy. And intense. I came to the shop the night of the flooding, and the only way to get in was to drive my truck and the water was so high it went to the windows. I was like, I'm probably damaging my truck. There was no way to get to the shop. There was a Mini Cooper, floating in the street. Floating. Moving. I was like, What's going on? So I drove through anyway. Got to the back, got into the shop, walking through water that was past my belly button. I came into the shop and the first floor was only a foot of water. But down below, in the basement, where all our inventory, product, and machines. It was all done. Water coming in every which way.  
I started scurrying to the basement trying to grab stuff and realized, What am I doing? 
Water is coming through parts of the wall. I had to accept what was happening. In that moment, I saw everything. I saw the arc of what we were doing. What we were building. And I was like, We're gonna be alright. Because this is a dream bigger than me. This is a God dream. This water? This flood? Nobody can do anything about this. So I had to be grateful for what we had. What's not going to be washed out, what's not going to be lost. Stuff? We'll figure that out. But the people. The community. That's the real thing.