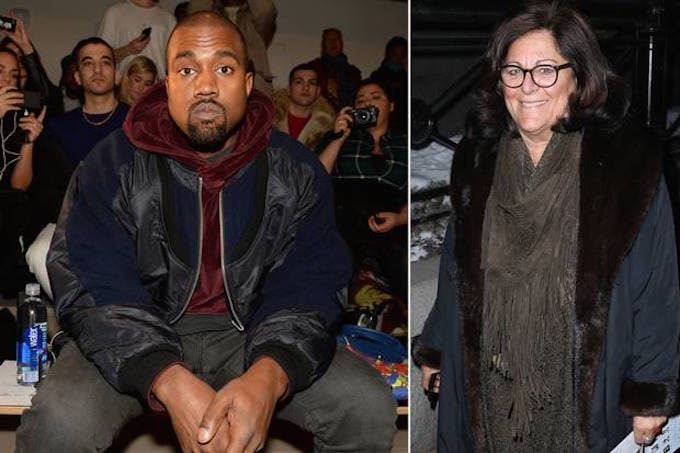 The highly anticipated interview between NYFW founder Fern Mallis and Kanye West, which grew out of a beef over Mallis' opinion of Kanye's adidas "Yeezy Season 1" collection, may not be happening when we all want it to, but Mallis says that it is not for lack of trying. In a recent interview with Style.com, she explained why they haven't confirmed a date yet, and predicted how the interview would be formatted because of the hype.
"Well, we're waiting for that answer," said Mallis. "They're still working; they're trying to clear the schedule. We are in touch with them every few days to see if it's going to happen." She said that a date is being held for Kanye, but they are still unsure of his availability.
When things are sorted out, Mallis said that it will undoubtedly be a popular event. "They're probably going to have to do what they did when I had Tom Ford, which was take the second auditorium and live-stream [the conversation there], because I know that they're going to sell out." Not backing down from her opinion of his work, Mallis also stated in the interview that she is on fence about what the hype surrounding the talk really means. "Is that the good news or is that the crazy news that everybody's going to want to be there to hear Kanye West? You know, [it's] not because he's a designer."
Keep it locked to Complex for more updates on what could turn out to be the greatest Kanye interview of all time.
[via Style.com]