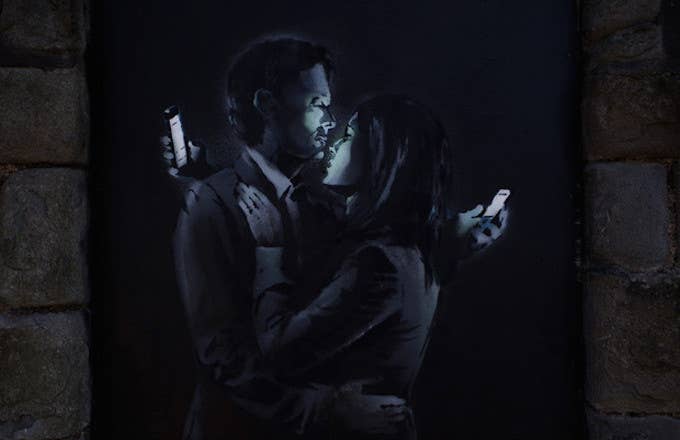 This past April, a Banksy mural depicting lovers preoccupied with their cellphones appeared in a doorway in Bristol, UK near the Broad Plain Boys' Club. Banksy wrote a letter that he gave the club his "blessing" to do whatever they wanted with Mobile Lovers, and because they needed money more than art, the owner Dennis Stinchcombe decided to sell it.
Stinchcombe said that he received offers of up to £1 million, but reports this week say that a private collector bought the mural for £403,000 (or around $668,000), which is still a pretty great payday for the club. According to Daily Mail, the 120-year-old club needed £120,000 to stay afloat after the recession. After the sale, Stinchcombe and the mayor of Bristol, George Ferguson, shook hands and imitated the pose of the couple in the artwork.
The name of the buyer has been withheld since the deal was private, but whoever it is deserves a plaque for saving the club for future generations. It's nice to finally have one street art story with a happy ending.
[via DailyMail]