London-based illustrator and director Stevie Gee has connected with Tommy Hilfiger and their Tommy's Drop Shop series to create a co-designed mini drop packed with psychedelic graphics galore.
Since launching in October last year, Tommy's Drop Shop has been inviting creators from all areas of pop culture to collaborate on limited-edition releases. The series has seen the likes of Johnny Banger, Mago Dovjenko and Mysterious Al co-design gender-neutral hoodies and T-shirts through their own unique artistic lens. 
Putting a modern twist on classic Tommy pieces, each Drop Shop item is also made from organic cotton and 100% recycled materials and available in super-limited quantities – building on the brand's mission to create fashion that 'Wastes Nothing and Welcomes All.'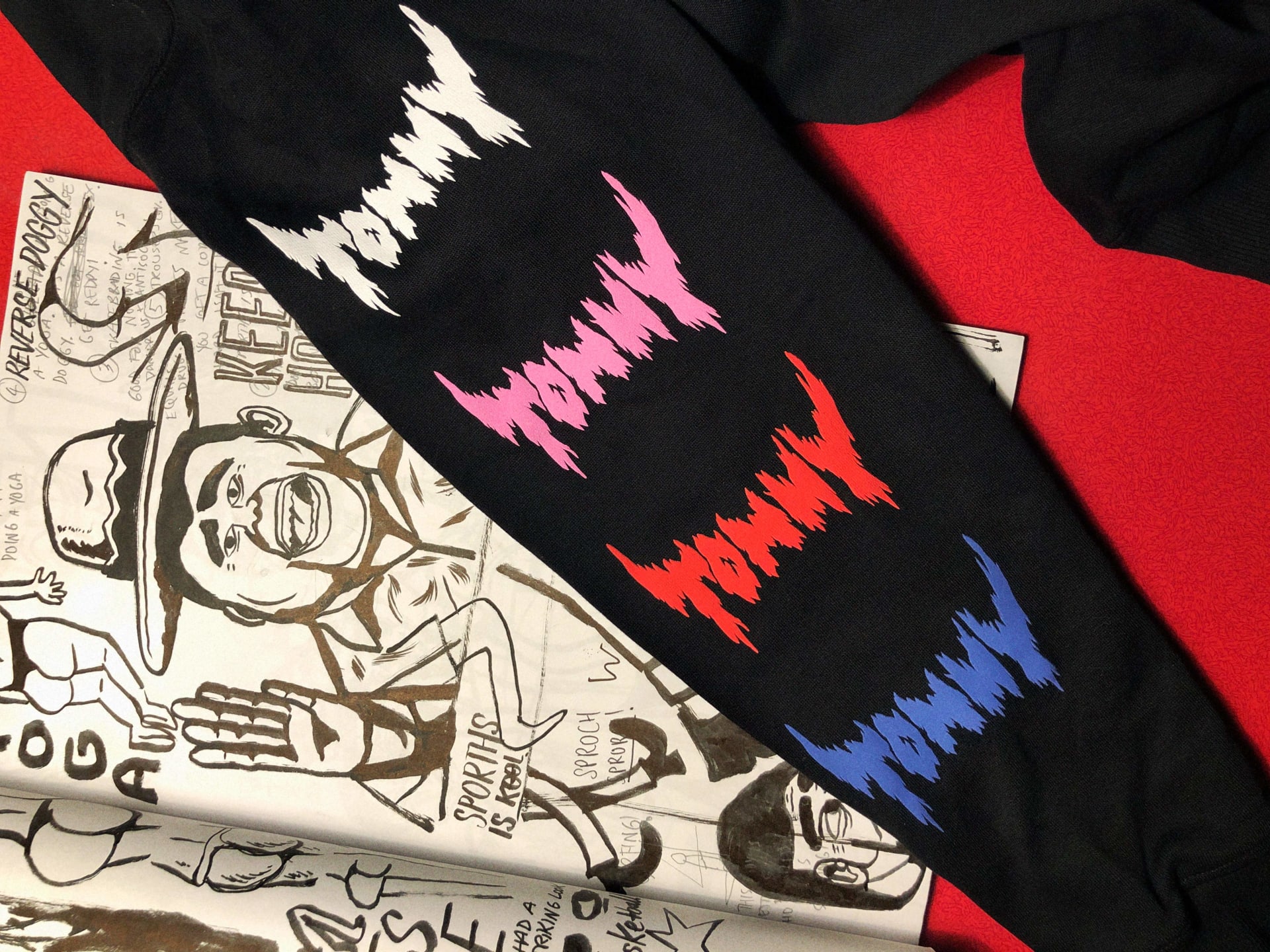 In his Tommy's Drop Shop – aka DROP 3 – Stevie Gee turns up the volume with a loud, experimental graphic reworking that showcases what the UK artist is all about. With a passion for animation, movement, music and dancing, Gee's irrepressible energy and love of all things trippy is channeled through graphics showcasing his offbeat humour and crazy cartoon drawings.
Arriving in a palette that adds pink and purple to the traditional Tommy colour of red, white and blue, DROP 3 features a shirtless, muscular cartoon character, as well as a wilting flower in a flowerpot with a melting face – one of Stevie Gee's signature references. The collection also includes a surrealist, metal-inspired cartoon TOMMY JEANS flag, BMX-inspired sleeve patterns and a host of wavey, 3D fonts to complete one of the most eye-catching DROP's from the series to date.
To celebrate the release of his Drop Shop collab, COMPLEX caught up with Stevie Gee to talk through his unique visual style, creative influences and hopes for the collection.
Can you describe your style as an illustrator/director, and talk a little bit about what – or who – inspires you?
My style is not to be taken too seriously, but hopefully enjoyed. It's just me having fun and exploring the mystical elements of nature and violence within us all. 
People like William Blake, Alejandro Jodorowsky, Basil Wolverton, Charles Burns are the ultimate inspirations for me. These people are endlessly inspiring and have an almost mystical power that draws you to their work – I really dig their stuff.
Before this collab came about, did you have any particular memories of Tommy Hilfiger as a brand? 
I was a teenager in the 90's, so I remember Tommy being on TLCs underwear very clearly. It was a very iconic brand with huge bright logos. 
What were your first thoughts when the guys at Tommy approached you to do this collection – and did you know what you wanted to do right away, or was it more of a process?
With a creative, open, personal brief like this it's a lovely and rare chance to create imagery that I'm really interested in. I enjoy flowers and plants a lot, they are all connected – roots communicating through the earth. Happy flowers, sad flowers, they are everywhere, all around us. 
Kung Fu is also a big part of my life, as is heavy metal – so I was keen to reference the important parts for me. I created everything in the style of 90's skateboard graphics that I'm enjoying right now. 
How different is it translating your ideas onto clothing, rather than 2D work or animation? Are there any particular challenges, and did you draw on any particular style or fashion-related inspiration?
I've actually done lots of clothing capsules over the years with different brands, especially in Japan, so it wasn't too challenging to be honest. The last few years I've done a lot of commercial film and animation work that I have created as a directing with Essy May called FUNTASY films. But yeah, with DROP 3, it was super fun to come back to do some print design again.  I love sleeve prints on long sleeves like old BMX racing jerseys and metal band merch. I was keen to do that… so I did!
Can you talk a little about the characters that feature in your designs?
I like drawing flowers a lot. The pots they are planted in and the flowers all have faces. Some are sad and some are happy. If they don't get watered and cared for they wither and wilt away and some even die. We are the same way. Kind words and encouragement to each other is so important for our mental health. Let's water each other!
The other main guy I drew on the back of the long sleeve and on the tee front is called KUNG FLOWER. He is holding nun-chucks and flanked by Yin Yangs. I was nervous to use these sacred symbols in such a flippant way and I'm no expert on Chinese philosophy but that symbol does mean something to me.
I train in Wing Chun Kung Fu and Yin Yang represents perfect balance: it's all about movement and stillness at the same time. Hard and soft. It's not actually opposites as such, but unity, the counterbalancing of opposing elements. Without light there is no shadow. 
I also enjoy Kung Fu movies, the style, the costumes, the action, I just love them. They are a big inspiration on this character. I was watching Five Elements Ninja when I drew Kung Flower. My desire is that it's a fun and respectful nod of appreciation. 
You've reworked the Tommy logo in a metal-esque style, what was your thinking behind that?
I guess in my mind Tommy has always been more associated with hip-hop which I obviously love but I personally like heavy metal music very much and I sing in a fun stoner doom metal band with some friends called DICKWEED. So it's just a cheeky injection of Metal onto some Tommy sleeves. I wasn't sure it would be accepted by the brand but it was, and it's a fun homage I think. Die-hard metal fans will hate it I'm sure! Oh well, my mum thought it looked nice.
Now you've seen the final collection, actually on the garments, what are your thoughts on it? How does it make you feel?
It's always such a pleasure to see real items in the world with some weird silliness you've imagined at your kitchen table now out there being on people's bodies. That feeling is always a tingly pleasure time!
Finally, who would you most like to see wearing it?
I like to think the designs are for all people to have a nice and casual feelgood feeling wearing these clothes. Just a happy happy feeling inside. And I hope they find balance and peace wearing them. Or anyone from Wu Tang Clan, I would love to see them wearing the Kung Flower shirt as they are true Kung Fu aficionados and have referenced and paid homage to the genre in the best way through their music. 
Tommy's Drop Shop: DROP 3 with Stevie Gee will be available in Europe exclusively on tommy.com from May 6, 2021.