Earlier this year, Miller Genuine Draft launched a creative hub for the beer brand, and their Design Lab's first big initiative was a collection of versatile gear to carry streetwear enthusiasts into the warmer weather. The concept? "Why be one in a million when you can be one of none?"
The limited-edition collection was curated by streetwear aficionado Jeff Staple, and drops online and at Exclucity boutiques across Canada on June 20. Before the black and gold gear drops, we sat down with Staple to get the scoop on the collaboration, the state of streetwear...and which city he thinks has the most style.
Tell us about your collaboration with MGD. How did the partnership come about?
Miller reached out almost a year ago to talk to me about this Design Lab they were creating and they needed someone to help act as curator for it – where together we would source talent from all over the world and give them a platform to create from. And being in the game for so long, I thought I was well poised to take my hand off the mouse and the paintbrush, as you will, and allow other young creatives to do that, and act more as a guide and a shepherd through it. I thought it was a dope opportunity to be able to work with these creatives but then give them the platform that Miller could provide.
Any collaborators in particular you want to shout out?
I'm not saying this because you're based in Canada, but the Toronto guy, Elie [Toronto-based photographer Elie Kimbembe], he was one of the ones that I was most excited to work with, because I was a fan of his photography and work prior to meeting him for the Miller Design Lab. And what we did, it was kind of like a fishtail parka; that was one of my favourite pieces that we worked on.
He has an incredible talent!
Was this the first time you had worked with him?
Yeah, it is. You know, it's weird – in this world of social media, you feel like you know someone because you're following them, and then when you meet for the first time, you feel like there is a familiarity but you've never met before.
So I hadn't met him personally but I was a fan of his work, and then after meeting him it was kind of like we were already halfway acquainted with each other.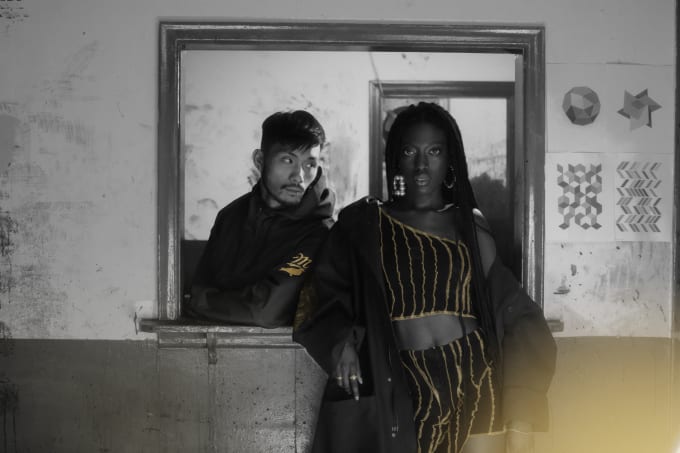 Can you talk about what the MGD Design Lab is doing specifically in Canada with the 'One Of None' concept?
What we are doing exclusively for Canada is creating a capsule collection. I was very much in the driver's seat...as creator and getting my hands dirty and creating a line of my sticker fashion and apparel design, and then to creating an MGD clothing line, not using another collaborator. This is very much in the wheelhouse of the World of Pigeon and everything we have created in terms of our 20 years of street culture creating a capsule collection. We've dubbed it 'One of None' just for the Canadian market.
Yeah, it's a dope collection. You can definitely see Pigeon and your subtle stamp all over it.
There is a notion here of... how do you mix what you wear for nightlife with daytime. And the whole idea of workwear: you know, clothing that you wear at work is becoming a bit more leisurely and even going out at [night] that you don't have to be as formal, you can actually dress down. So there is sort of a cross-section of formal, nightlife [and] leisure-wear all mixing into one, and I feel like what we did was like a nice cross-section of that, you know?
You mentioned that you wanted the collection to have a global feel. What city has the most style?
Tokyo, man. Hands down...can't beat them.
The influence that social media has had on the state of streetwear and sneaker culture today is undeniable. What do you think of the state of streetwear right now?
The one word that comes to my mind is explosive!
The growth of street culture is exploding everywhere.... I come from an era where street-culture was something like a hundred people – you and your closest friends were into it and no one outside of that understood what was going on within that circle. And now it's almost like an eco-system if you will: before, a lot of creators not able to survive or make a living from this culture, but now...even brands like Miller getting involved...it now allows for an eco-system for creatives to be able to actually thrive.
What about sneaker culture: better or worse than before? That's a hot debate.
Here's the thing: 20 years ago, there were, let's say, 20 good sneakers a year that came out. And now there's 20 shoes a week that come out. Right?
[But], even though there's all of these shoes coming out, I think that when you zoom out after the year is up, when you take the entire year and you think about it, there are still really only, like, 20 good shoes that stand the test of time.
And I think that's the definition of the word 'hype' – we get really excited about a whole bunch of these shoes coming out. There's this sort of opium-infused kick, like, try to cop as many as you can! But then when you zoom out and look at it in a year or two.… I mean, this is me speaking about it as a sneaker-head myself – I get caught up in it too and I'm like, 'Why did I buy this? I will never wear this out.' So, I try to be a lot more selective now about which ones to cop....
I think the cream always rises to the top in terms of classic, timeless, well-designed product. And then there's just a lot of other fluff that is entering the market, but that allows other people to enter into the culture, you know what I mean?... The question is, is it for better or is it for worse that there are all these other people that are into it and it is not as inclusive as it used to be.
What up-and-coming streetwear brands are you watching?
I guess one of the ones that stands out for me is Awake NY, Angelo Baque's brand.
Angelo used to work for me, and then he broke out and started his own thing. So it's nice to see someone working within a company and then break out. Seeing the progression of what Awake is trying to do on their own is pretty cool.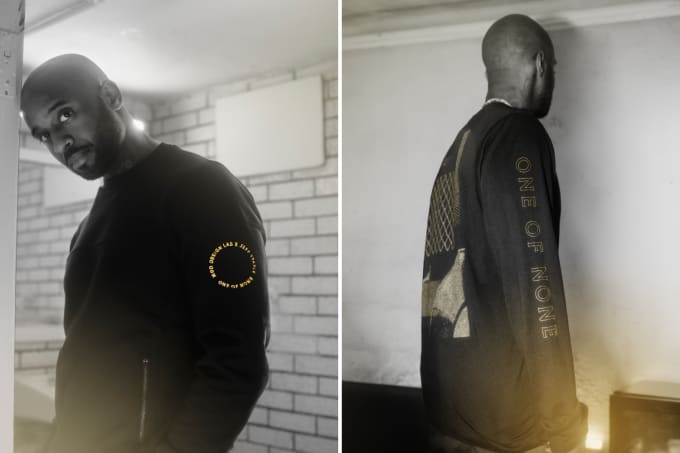 Jumping back to MGD: how did you start to curate the actual collection? Where do you find your inspiration to start off a project like that?
Well, with MGD it's really about the mission that was presented to me as, like, how can we create something that allows for an exceptional experience to happen. Their whole thing is creating an exceptional experience…usually at night, and within a social setting – like a bar or a club or a lounge or something like that – and when you leave that evening, you feel like, man, that was like, one for the books. You know, everyone who knows that feeling can remember that feeling for the rest of their lives....
So finding creatives that can create that exceptional moment and that exceptional feeling was part of the quote-unquote brief if you will. And then there was a visual brief, of matching up with the MGD colourway of black and gold. That was the colour palette of the collection... And then the other thing is, we wanted it to be global at first and creatives to be sourced from all over the world, so there was almost like a casting call, then a selection process.
Looking back on your career so far, what is your personal highlight?
Honestly, the biggest highlight is the fact that there are all these young people who think that owning a brand of their own, or collaborating with a sneaker company, or being able to do something like an MGD-level platform – like, it's possible.
I know that sounds really simple, but when I started, that was impossible, it wasn't a reality. Everyone was, like, 'No, that's not possible – you'll starve to death, you'll be a failure in life if you go down this road.' And, thankfully, for a couple of pioneers that came before me and then the work that I was able to put in over the last 20 years – it's really like paving that road to the next generation where it is now totally doable…totally possible. You look at someone like Virgil now, who came up seeing that – he's raised the bar to a level that's like five steps above this, and now a kid who grows up seeing that, what will he be able to achieve? That, for me, is the most exciting part – it is like a generational thing.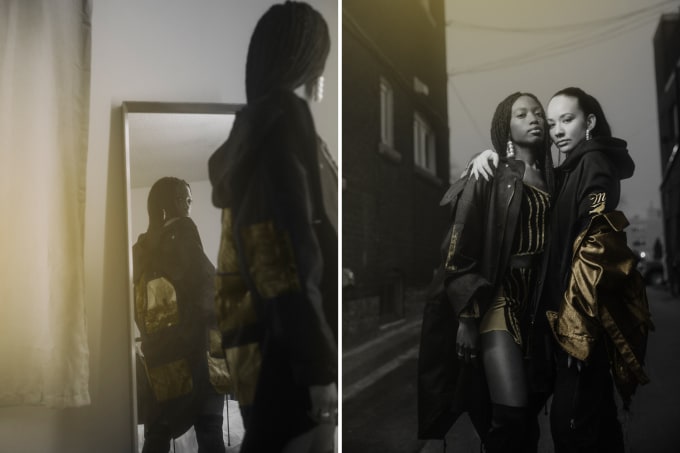 If you hadn't made that initial run of shirts and you weren't doing what you do today, what would you be doing?
I think I'd be a teacher, man. I get a lot of satisfaction from teaching, and I think I probably would be teaching at a university or a high school or something. But, thankfully now, I've built a brand and a platform, and sort of like a culture. I still have the teacher hat on, but now instead of teaching out of textbooks and, you know, exams, I'm teaching through creativity and fashion and sneaker culture and art. It's much more of a fun curriculum that I'm teaching too.
Is there more coming from your collaboration with MGD? Or was this a one-off collaboration?
We are in talks of more coming now. So I think...kudos to MGD for taking the risk, if you will, for believing in this culture and then me. You know, this is a non-traditional wave of marketing and I really want to give them props for just trusting the process we went through. And so far, I think, everyone seems super stoked and happy. I mean, everyone: myself, my team, the creators that we work with...Miller, of course, as well.... Now we are talking about how do we continue this momentum so there is commitment to it.
You've got a lot going on right now.... What's next for you?
We are working on a lot of stuff, haha! I don't know what I can necessarily speak about but there are a couple we are trying to push forward globally. I just came back from Shanghai – and here's a great example: Shanghai has just had its first-ever Sneaker Con, and sneaker-con is like 10 years old in America and it's already in multiple cities, but the first one ever in Shanghai just happened. You could imagine the pent-up energy of China and, like, opening the flood gates! And I got to witness it first-hand; it was amazing. But what that signalled to me was that, going back to the teaching analogy, there's still a ton of students that want to learn.
It's not just about New York City and Toronto and LA.... Shanghai has a bigger population than New York. And they are just waiting, just waiting! So it's exciting for me. I think that's like the next chapter in my life, probably: just sort of spreading the good word all the way.
You'll be back in Toronto to help launch the MGD capsule collection, right?
Yeah, I'm looking forward to coming out to Canada. Toronto is one of my top three favourite cities in North America, so I'm looking forward to coming back up there.
Nice. Out of curiosity, what are the other two?
New York and LA. But Toronto's right up there, man. I love, I really love it.