A few weeks ago, some of the biggest designers in the world showed their upcoming Fall/Winter 2019 collections during Paris Fashion Week. Some of the highlights included Virgil Abloh's Michael Jackson-inspired show for Louis Vuitton and Kim Jones' latest offering as the artistic director of Dior Men. As expected, both Jones' and Abloh's shows were attended by some of the biggest and most stylish celebrities, including Kid Cudi, Offset, and Frank Ocean. But there was another brand getting a ton of attention in Paris: Japanese jewelry label EYEFUNNY. Even the brand's founder, Jury Kawamura, didn't anticipate the turnout. "It was more than [I] expected," he says.
EYEFUNNY's list of supporters is impressive, to say the least. Aleali May, Don C, Daniel Arsham, and Ronnie Fieg are just a few of the faces who've been seen wearing the brand recently. J Balvin also stopped by its showroom in Paris draped in a fair share of EYEFUNNY pieces. The latin superstar was first introduced to the brand when Arsham showed him his diamond smiley watch, a piece the Vibras artist has since said he would choose over his custom Rolex covered in rainbow diamonds. Impressed by Jury's work, Balvin then DM'd Kawamura, and the relationship has stayed intact ever since. "I truly appreciate [J Balvin] and Daniel Arsham," Kawamura says.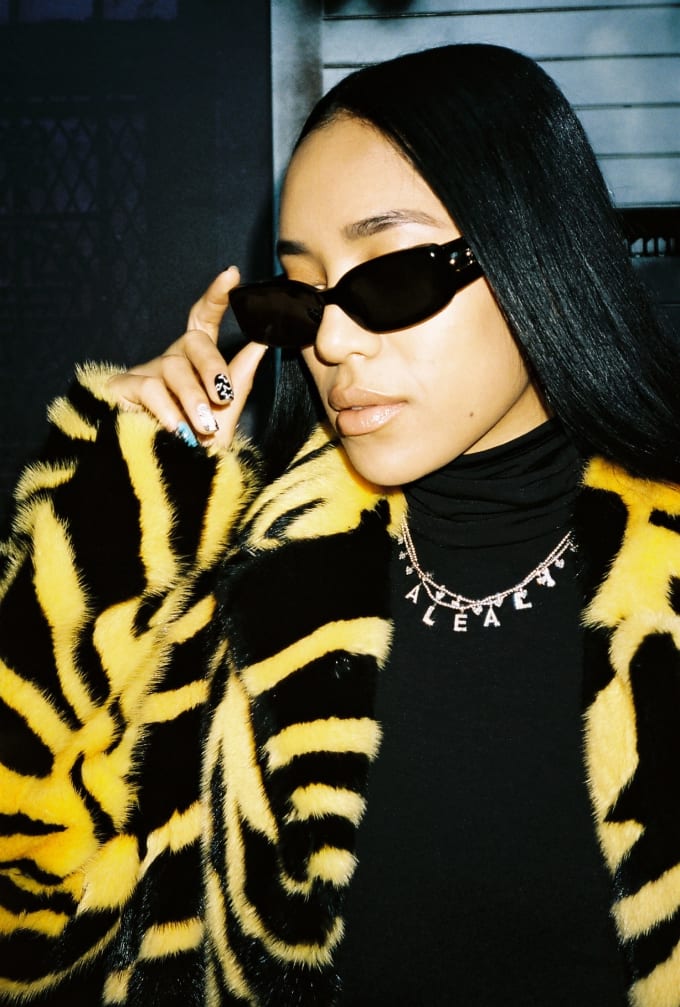 EYEFUNNY was first launched in 2003 by Kawamura out of personal necessity. "I like diamonds, but it was difficult to find my kind of design," he says. "Then, I started creating diamond jewelry for myself." The name EYEFUNNY, he explains, comes from the fusion of the words "eye," which he calls "the most beautiful parts in our body," and "funny," an emotion he ties to happiness.
EYEFUNNY's product lineup is what you would expect from a fine jewelry brand—gold and silver necklaces, bracelets, rings, watches, and earrings crafted using only the highest quality VS and VVS white diamonds—but with a playful twist. For instance, its signature pendant is a diamond-encrusted smiley face. Diamond letters are also strung together to make one-of-one necklaces for clients, like Kim Jones who recently shared a photo of his custom EYEFUNNY necklace on Instagram.
"I researched all designs from world famous brands. Normally, they all have crosses, stars, hearts, but no smiley face," Jury says of the brand's signature design. "That's why I designed the diamond smiley. The smiley face can make people happy."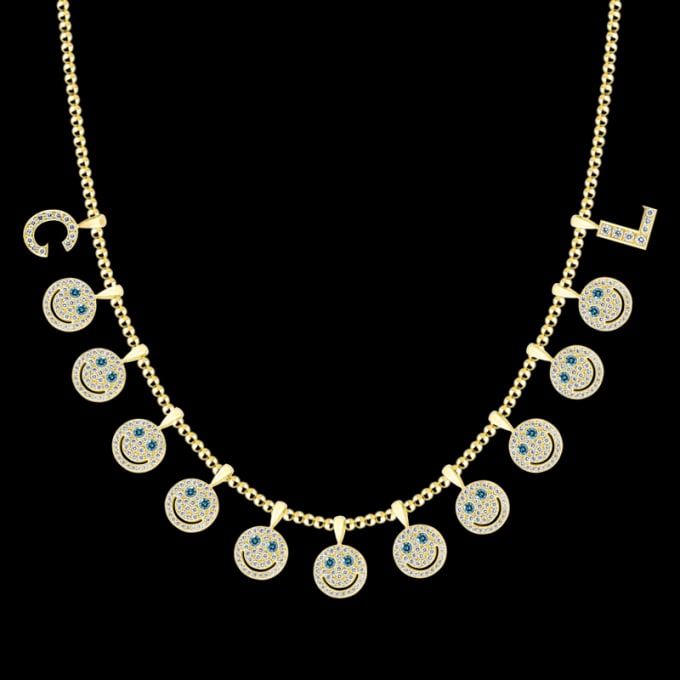 A new addition to EYEFUNNY's lineup will be diamond-encrusted safety pin necklaces and bracelets. While not identical, the pieces take a similar approach to Abloh's recently-announced paper clip jewelry line that will also be offering run-of-the-mill items repurposed as coveted accessories in the near future.
Up to this point, the brand has remained exclusive to Japan, with a few select stockists in the U.S. and Europe. Before its unfortunate closing in 2017, legendary Parisian boutique Colette stocked and collaborated with the brand over a seven-year span. The Webster currently stands as the only stockist in the U.S., though there are also a few of the whimsical jewelry available on online retailer Farfetch. In the near future, Kawamura hopes to expand to even more locations around the world.
"We can control the brand image in Japan, but we need the partners to expand our business outside of Japan," he says. "We want to open our branches in major cities around the world. I think the time has come."