Calvin Klein and Amazon Fashion have reunited for another special event.
Nearly one year after they launched their holiday pop-up shops, the brand and online retailer will kick off a three-day immersive activation in NYC. The physical market will be anchored by digital enhanced experiences that promote Amazon's Calvin Klein Jeans and Underwear page.
Visitors will be able to re-create CK Jeans' Fall 2018 ad campaign through interactive stalls and an on-scene photographer. They will also have the chance to receive swag, play games, and win prizes, including Amazon devices and exclusive CK products.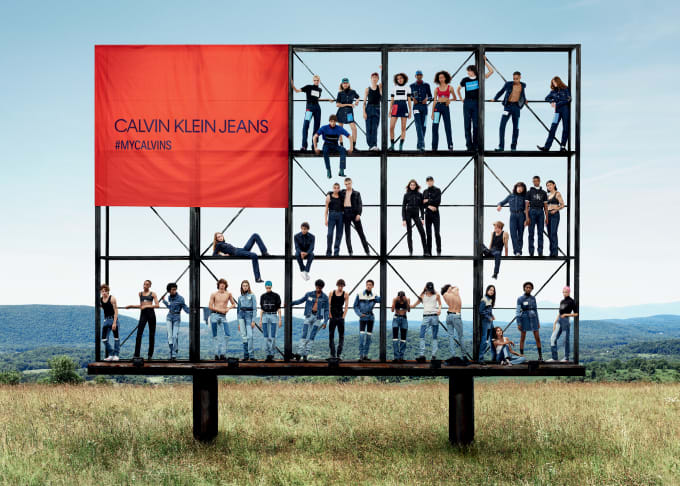 The immersive interaction will also include the Amazon Alexa Jukebox Lounge, a one-of-a-kind photo booth inspired by CK's Fall 2018 ready-to-wear runway show, as well as appearances by the brand's ambassadors.
The event will take place from 5 to 10 p.m. Friday and Saturday, and from 11 a.m. to 9 p.m. Sunday at Flatiron Plaza in New York City.
And the best part of all this? Admissions is free.
"The continued collaboration with Amazon Fashion allows us to reach new and existing consumers through a youth-targeted marketing approach," Marie Gulin-Merle, chief marketing officer of Calvin Klein, Inc. said in a press release. "By joining Amazon Fashion's digital expertise with CALVIN KLEIN's physical presence, we are creating a 'phygital' experience in the middle of New York City, reinforcing our commitment to a consumer-first strategy."
In honor of the collaborative event, CK will also release its limited edition "ASAP Rocky Trucker Jacket" exclusively to Amazon Fashion. The design, which was created for the rapper, will go for $129 at www.amazon.com/mycalvins beginning this Friday. 
Complex caught up with Rocky ahead of the CK x Amazon Fashion market to discuss his relationship with the brand, the creation of his custom trucker jacket, and more. You can check out the brief Q&A below. 
You've worked with CALVIN KLEIN a ton. What keeps you coming back, and how does this feel different?
My relationship to the brand is deep and really goes back to when Raf [Simons] joined in 2016. I was at his first CALVIN KLEIN 205W39NYC runway show, his first Met Gala with CALVIN KLEIN. I got to be in the CALVIN KLEIN JEANS campaign last Spring with the A$AP Mob. I've been there since the beginning. We're family. There's always an open line on doing more together. We just did 'Lab Rat' recently at Sotheby's, right, and that was crazy.
Tell me about the CALVIN KLEIN JEANS "A$AP ROCKY TRUCKER JACKET"? How did this come about?
There are always conversations on how we can partner. Ideas flowing back and forth. I know this is a first for a CK Jean Jacket so it's a special one. We needed to make something to always be able to remember this moment. I like that CALVIN KLEIN is creating something tied to a real NYC moment - it is accessible to everyone, and it's in my hometown. Hopefully my fans like that my album "TESTING" art is at the center, it's fire!
Do you hope to continue to collaborate with CALVIN KLEIN in the future? What could that look like?
Raf and I both love art, right? I can see us working on something that combines multiple mediums of art in the future.
What have you learned from CALVIN KLEIN and Chief Creative Officer, Raf Simons?
You know when Raf came to CALVIN it was disruptive. He's looking at things from this unique place of because he's European at one of the biggest American brands. He's really done some amazing work and the collections are iconic. I work in the same way, you have to disrupt, and not do what is safe and expected. Fuck being normal.