Gucci Finally Responds to Controversy Surrounding 'Knockoff' Dapper Dan Jacket
Gucci faced backlash earlier this week for a jacket many considered a blatant knockoff of an iconic Dapper design.
After an uproar on social media over Gucci's Dapper Dan "knockoff," the Italian brand has retroactively clarified the jacket was intended as an homage. Gucci did not, however, apologize for what many—includingEssence writer Julee Wilson—considered outright "plagiarism."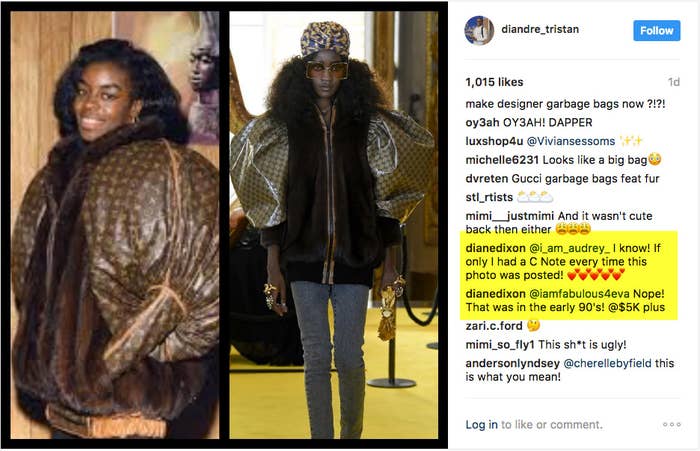 "Legendary tailor Dapper Dan @dapperdanharlem influenced the trend by making such custom pieces for his rapper and athlete clients out of logos from famous fashion houses, including #Gucci," reads a statement on the @Gucci Instagram account Wednesday. "In a homage to Dapper Dan, this jacket worn with jeans and a lurex headpiece is flanked with a striped knit with cross-stitch embroidery, cotton shorts and a georgette gown with trompe l'oeil details."
Dapper Dan's original design was made in the early 1990s for Olympic runner Diane Dixon. She commented on Instagram when photos of the pieces side-by-side started circulating, saying that hers had cost around $5,000 at the time.
In a recent article published in The Cut, Dixon shed more light on the coat design as well as her relationship with Dapper Dan. She said she enjoyed hanging out on Harlem's 125th Street, where the designer's store was located, along with celebrities like Mike Tyson, Floyd Mayweather, and Salt-N-Pepa. Dixon said people would wait on the street for hours just to speak to Dapper Dan or simply watch him make pieces on a whim.
"[W]e were hanging out one night, and Dap was making a lot of custom pieces for celebrities, and I picked out a few patterns. He kept designs in a book, and told me whatever I wanted, he would make it," she explained. "He would sit down with a pen and paper and sketch it out in front of you, and it would be ready in a couple days. That was his genius: taking your thoughts and making it into something cool."
Dixon revealed she originally wanted an MCM jacket, perhaps to match the Dapper Dan-designed interior of her Mazda RX convertible; however, Dan decided to make the sleeves with the Louis Vuitton monogram print. According to her, "Dap always knew ahead of time what was going to be hot."
"I'd wear it to parties or to the club, and everyone would fall out and say how fly I looked. A lot of my friends remember the coat and still talk about it to this day," she said. "I'm not sure where the coat is now—I think I sold it back to Dap in the '90s when he was going under. He was trying to collect his most memorable items. But I may still have it somewhere."
Prior to Gucci's Instagrammed statement Wednesday, the design had been called into question across social media:
The Harlem fashion icon, who's outfitted everyone from Run-DMC to Floyd Mayweather during his decades-strong career, spoke candidly with Vanity Fair in back 2015 about his relationship with the fashion industry at large. "When you've been excluded from the class, and they're going on a trip, you usually don't follow along on the trip," he told writer Rachel Tashjian when asked about New York Fashion Week. "So I never really kept up with what transpires there."