Russell Westbrook is one of the best basketball players in the NBA. He's also one of the most unapologetic—on and off the court. The Oklahoma City Thunder point guard has been known to wear over-the-top outfits—glasses with no lenses, a bright orange "Official Photographer" vest, etc.—because, in Westbrook's words, why not?
Today, Westbrook partners with Mountain Dew on a new campaign centered around that same message—to "do you." The video follows him as he does things he's been advised not to do, including practice shots he wouldn't shoot during a game and pre-game to slow jams. "'Don't do they, do you,' is a great message because it's something I relate to," he said. "It's just about finding new ways, whether it's through style or basketball or campaigns like this, to just do you and not worry about what other people say."
In addition to the campaign, Mountain Dew has organized a 3x3 All Star Game, with Westbrook and Kyrie Irving serving as GMs, plus a DEW x NBA capsule collection designed by Don C and an interactive experience and live performance from Joey Badass during ASW weekend. 
We spoke to Westbrook about why he refuses to hire a stylist, the Willie Beamen jersey he wore the other day, and how Lil Uzi Vert's song "Do What I Want" wound up in his Jordan Brand commercial. 
Do you really pre-game to slow jams?
[Laughs] Sometimes. Sometimes I pre-game to slow jams based on the mood I'm in. I'm more old school, like '60s and '70s slow jams. It all depends on how I'm feeling. 
You don't have a stylist. Will you ever hire one?
I will never have one. 
Why?
[Laughs] Because I don't need 'em. Stylists create looks for you. I create my own look. 
Is it weird to see players dressed in the same thing or look the same way?
No, it's not weird. That's what you get when you get a stylist. That's how it goes. I'm a more creative person. Fashion is something I do. For me, it's something I pursue. I've created different items of clothing. It's something I take seriously. A stylist will just take that away from me, me being creative. 
On Saturday, you wore that Willie Beamen jersey to a game against the Warriors. 
I'm a fan [of Any Given Sunday] and that's just how I was feeling. A lot of my outfits I just wear them because of how I'm feeling. There's no particular reason why I wear something. 
Do you care when people make memes out of your outfits?
No. I don't really care about a lot of things, honestly. What people say don't change much about what I do. And that's the whole concept of the commercial. Don't do they, do you. That's how I do things. 
Do you think you're the most stylish player in the league?
Hm... It depends. It's hard to say if I'm the most stylish... People can say they're the most stylish, but you can't say that when other people dressed them. When somebody's picking your clothes for you, it's a little different. If people think I'm not, it doesn't really matter to me. When I leave the house, I definitely think I'm the best dressed.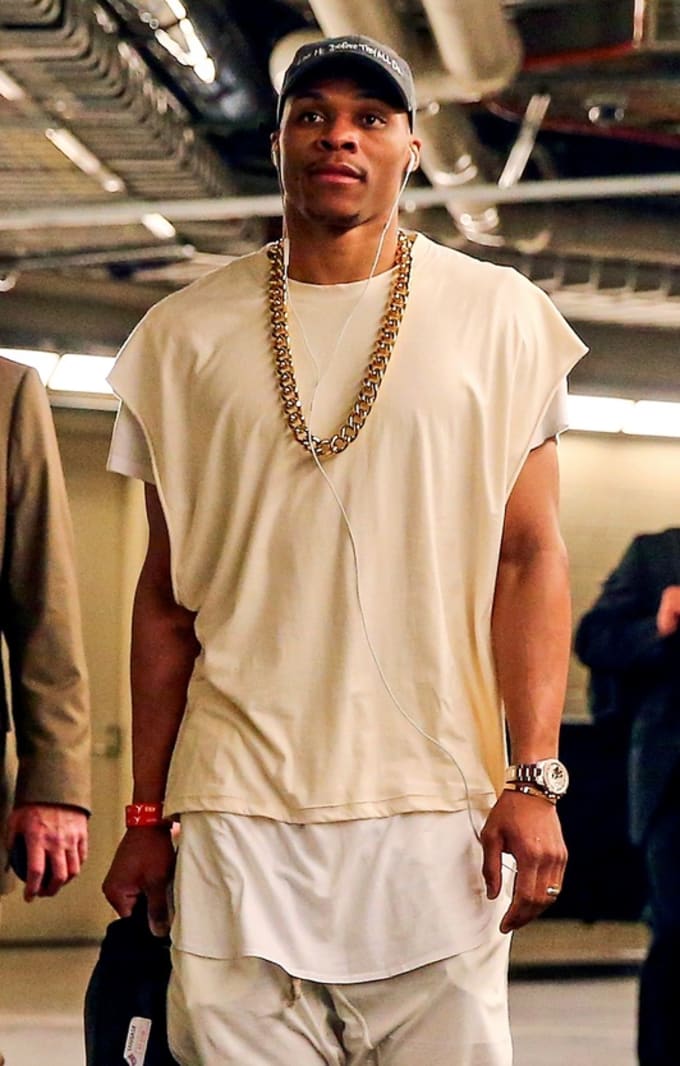 How did Lil Uzi Vert's song "Do What I Want" end up in your Jordan Brand commercial? Did you pick the song?
Yeah, I picked the song. He's a good artist and he has great songs that I like to dance to. ["Do What I Want"] was a song that we were able to use in the commercial, and it came out great. 
Who else are you a fan of right now?
I like a lot of people. I like Migos, YG, Kendrick Lamar.