Shortly after Virgil Abloh arrived at the Moncler boutique on Prince St. in Manhattan last night to celebrate the launch of his collaboration with the French-Italian outerwear brand, an older white woman clutching a wine glass leaned in close to the man standing next to her. "Do you understand the connection between Yeezy and Off-White?" she asked.
To any of Abloh's many fans—or the fanatics who worship all things Yeezus—the question would be amusing in the same way that it's funny to receive an emoji-filled text message from your mom. But, it also speaks to the increasingly high profile Abloh and his line Off-White are enjoying: high enough that even wine-drinking old ladies are aware of his brand, and high enough that established luxury labels like Moncler have come looking for a little bit of his heat.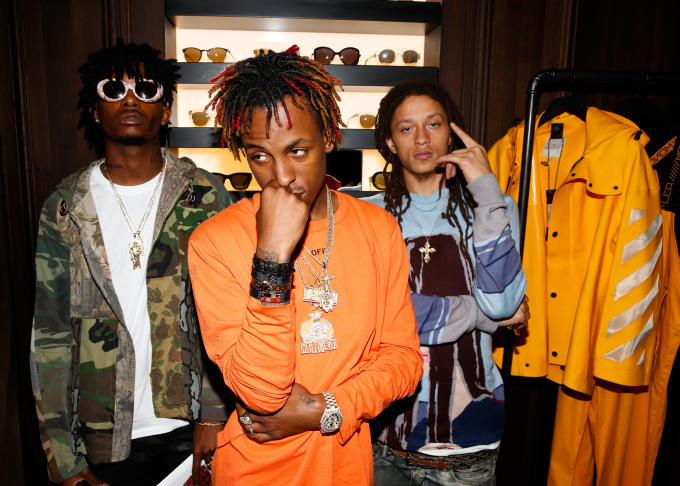 Abloh is a game collaborator, having already partnered with brands like Umbro and Golden Goose this year alone. "I feel like modernization is why I'm in fashion, and I want to have an impact that updates brands and things that I grew up with," he told Complex at the party. "I want to show a new way that it can be relevant and relate to culture." For the first Off-White and Moncler collection, officially called Moncler O, Abloh takes down-filled outerwear off the Alpine slopes and into the icy waters of the Arctic Ocean. "My idea was extreme outdoor weather conditions that weren't [associated with] mountaineering, that related to winter," he said, before name checking the reality show The Deadliest Catch as inspiration. "You watch that show, and you understand these are clothes for protection."
Whether or not any of the gruff fisherman starring in that series would actually drop a few thousand on a bright yellow, rubberized trench coat—even if it does come with a safety light affixed to the front—is beside the point. As he's proven with the ubiquity of his shorts and T-shirts, easily ID'd by their diagonal line branding, there's a demand for what Abloh creates. "To me, Off-White can collaborate with everything from a salt and pepper brand, all the way to doing a building," he noted. The chance to work with Moncler in particular is appealing because it allows him to reach another new audience and to introduce his existing fans to a fashion label he admires. "Both, equally," he said. "I like that interchange that can happen." 
If the diverse crowd gathered at the Moncler store was any indication, that interchange is well underway. Fashion industry vets like W's Stefano Tonchi and GQ's Madeline Weeks mingled with the NBA's Shabazz Muhammad and Atlanta rapper Rich the Kid, who arrived with Playboi Carti and A$AP Illz. The steady stream of well-wishers fawned over sleek Moncler O parkas, purchased T-shirts, and weren't shy about asking Abloh for personal orders. Some attendees were just eager for his take on whatever cultural affairs happened to be on their minds; in the time he was in the store, Abloh happily provided his insight on everything from concert visuals to the merits of a double-kiss greeting. "I'm going to start doing three," one woman told him. "What is that, Switzerland? Where do they do three?" she continued, before pivoting to recommend a "dark" movie on Showtime On Demand. "Is Nike cool?" another guest asked from the crowd. This was an influencer in action; Moncler got their money's worth.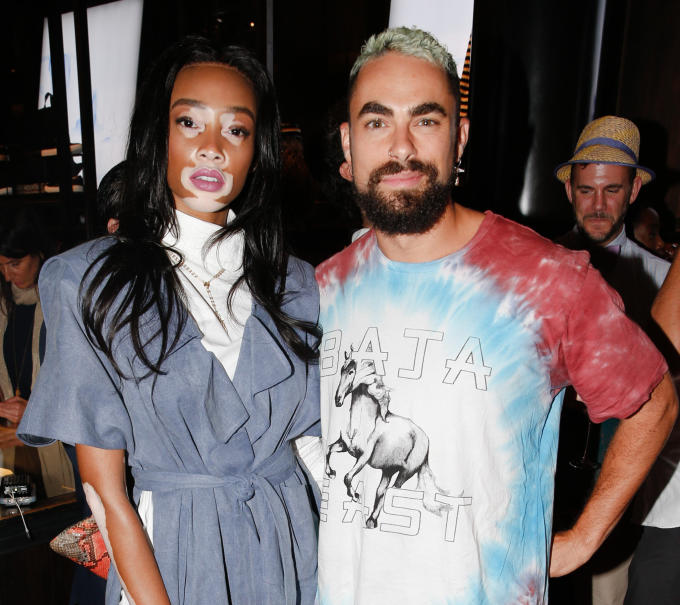 But, there's one potential fan Abloh is still looking to win over. When asked who he would like to see wearing a standout piece from the Moncler O collection—an all-black, shearling, pullover hoodie—​Abloh answered quickly and decisively. "Ryan Gosling," he said, then paused. "That's a good answer."