If you were anywhere in the U.S. of A. this past week and tuned into anything outside of your favorite porno site, you probably heard about Storm Jonas, the blizzard that dumped tons of snow on the East Coast. I disregarded every warning. In faux preparation, I went out and got water, pot smoker essentials, and mentally prepared myself for a weekend of nothingness. When I finally decided to pull the covers off Saturday afternoon, I discovered there wasn't anything to eat within arms reach. I realized this was the moment of truth. It was time for me to put my Kanye West x Adidas 950 Boots to the test. Until this moment, the few times I wore the boots, individuals lower on the style totem pole took shots at me. Of course, there was the corny moon boot reference, as well as comparisons to other Yeezy models, as if I had received the short end of the stick with the 950. Someone even asked if I would wear them in the snow—at the time, the answer was no. But things change, and I decided I was going out into this blizzard. And I was going out in style.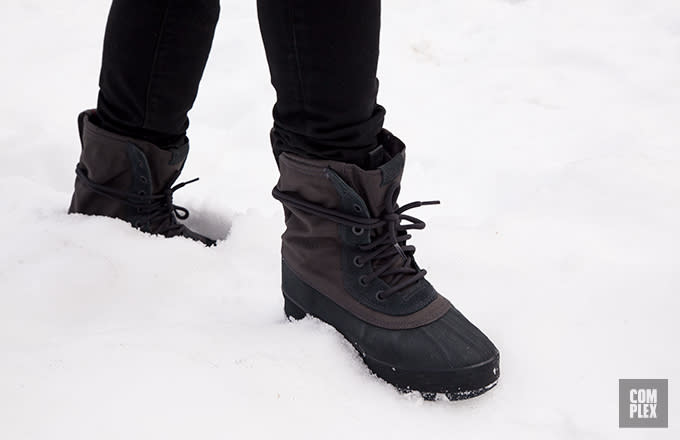 I geared up in hella layers, 950 boots strapped up tight, with my laces wrapped around the top one time on my Army/Navy shit. I found snow higher than both Method Man and Redman. I was practically doing a high-knee drill, marching about, looking for someone serving food on such a day. In an act of Curious Georgedom, I decided I needed to know what the 950s could really do. Earlier, I had come across a post online showing folks lined up at Kith in the blizzard to get the new Ronnie's, so I said screw it. If a bunch of sneaker fiends can stand outside for their Fieg's, I can march my ass down there as well.
Of course, by the time I got to SoHo, everything was closed, everyone had gone home, and I was a jackass. I ended up spending the rest of the evening marching through the snow like a German soldier. But, the whole time, the 950's shielded me from elements. I felt a real sense of pride running around in those boots, like I was wearing a Magnum condom that was too small. When I finally got home, I was happy to find that my toes were not frostbitten; the rubber bottom kept my socks dry. I almost cried tears of joy. I couldn't believe it. I felt grateful, as I bought the boots solely to stomp on the hearts and souls of the competition, but received so much more, despite my malicious intent.  It was as if I'd been blessed by the sartorial messiah for purchasing something in the name of fashion that had a real function. As I lay in bed, I looked over at the puddle of water developing around my now-drying boots, and knew that the real test would come the next day. Did my day with Jonas destroy my Yeezy's, even if they kept me dry?
The following morning as I made my way to the Complex offices, I watched the people of the city make their way to their respective destinations. So many people were #outhere, and not in a good way. Unfortunate guys and gals were rushing through newly formed puddles like a tire drill at training camp in leather sneakers and oxford lace ups, while I glided through even the nastiest of slush. It was like eating dinner with your gorgeous girlfriend, while the guy at the next table swapped spit with Big Ang. Those who did have boots seemed to settle on ones that weren't aesthetically pleasing. I couldn't think of another snow boot that I would want to wear. I proudly gave myself a pat on the back for choosing the "Pirate Black" colorway as well. Not to bang against the other members of the 950 gang, but my selection wouldn't show its bruises like the others might. I was invincible, I was the president, and the 950's were my secret service.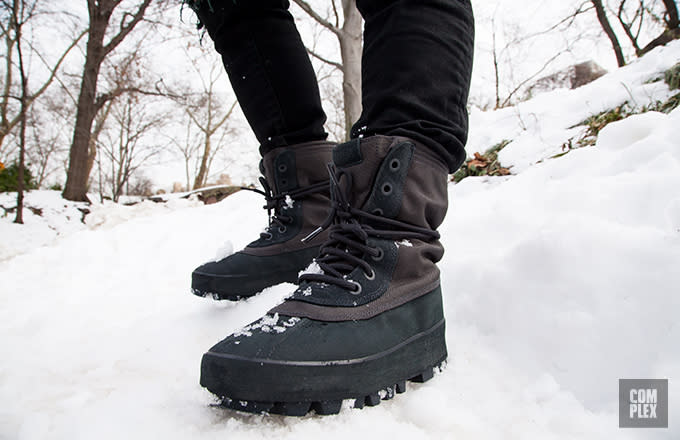 By day three, a lot of snow melted, but I wasn't taking any chances, and opted to wear the boots once more. Even after two days of running around in dirty snow, they only needed a quick wipe down with a wet rag (no Jason Mark). All in all, I am impressed. This is the first time in all of my years of balling out that I actually got more than my money's worth on a purchase. The Yeezy 950's made it through a record-breaking blizzard with very few blemishes. I know many will regret passing up on the boot the next time the weather turns to shit and I float by them in the grail snow shoe. #blessup