Astrid Andersen must be one of the hottest tickets at London Collections Men (LC:M). Every season, her show is attended by a bunch of MCs mean-mugging to the runway's soundtrack—and who she chooses to have do her sound design is bound to be something people talk about. When word got out that the Danish designer was working with Brodinski, aka the French inventor of the genre they call "trap-no"—a trap, techno hybrid which he fused together for his latest album, Brava—we figured Astrid's Fall/Winter 2016 soundtrack would likely make a lot of waves. And it doesn't disappoint: artists on the set include London-based DJ and producer Kamixlo who, according to critics, is "London's best DJ right now", as well as rising hood rapper Kohh from Japan. In an exclusive sit-down, Andersen and Brodinski talk bromance, Ice Cube, reinvention, and how new sounds are pushing culture forward.
Interview by Daryoush Haj-Najafi
​Photography: Red Bull Studios
Astrid, why Brodinski?
Astrid Andersen: He's a legend so, really, you need to ask Brodinski—"why Astrid?" I'm just too amazed he would take time out to work on this with me. I always try and push my aesthetic and people's understanding of my references, so for me to be given this opportunity to work with Brodinski by Red Bull is really huge. 
Okay, so Brodinski—why Astrid?
Brodinski: I've been a fan of Astrid's since the beginning, I remember we talked a few years ago about working together, so I'm glad we're finally making this happen. I've been following her work and I think it evolved into something that's different in every way. I would like to be in be inside her head while she's designing a collection. 
In every creative industry, genuine love is everything—it's a clear reflection of how our generation thinks. 
Astrid, did you first get into Brodinski via his trap-tinged Brava album, or before that? 
AA: I met Brodi in Paris a while back, before Brava. But Brava, to me, was such a power move. Brodinski is leading and creating a new sound. New sound pushes culture. So I seriously can't thank the team at Red Bull Catwalk Studio enough for making this collaboration happen.
When you're looking to collaborate, what is it you're looking for in the music?
AA: I look for people who inspire me and who are brave. I love how Brodinski references American hip-hop culture and has a huge love for the Atlanta sound. But he also creates a sound that is so distinct and mad that he actually ends up creating a whole new genre. I have the same references in my work, but I translate them through my own looking glass.  
Given Brodinski's label is called Bromance, do you think that's something important to fashion? 
AA: I think it's important that you have a tribe of people who get you and who push you to be better. In every creative industry, genuine love is everything—it's a clear reflection of how our generation thinks. We all want to collaborate with friends, and for us all to just be mega successful.
Who's the bigger Ice Cube fan? 
AA: Probably me, to be honest.
B: I'm a big Ice Cube fan, for sure. Lethal Injection is one of the key influences on my musical taste and getting me into rap.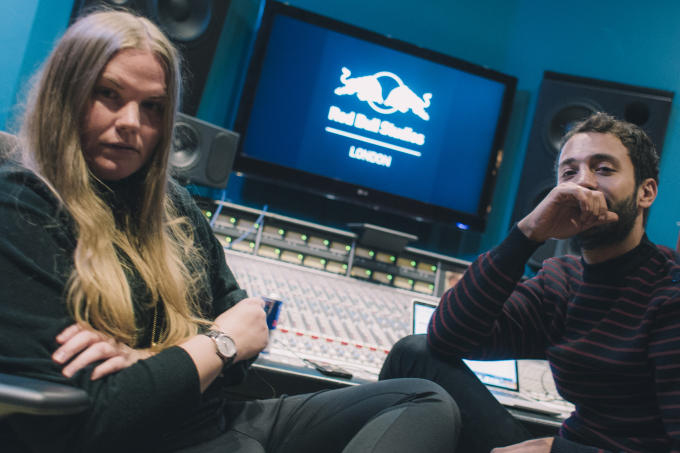 Brodinski, you've spoken before about working with people and getting them to work in a crazy way—so was clicking with each other all part of the fun?
B: It's way easier to work with people whose work you appreciate and their way of looking at things. And Astrid 100% makes that list. It's too easy if you're just working in a way that you both work already.
AA: This collab was like having a conversation with a good friend who gets you, who explains how you feel and you realise they are right because they answer your question before you've even thought of it. 
You two have gone from stars of the underground to new establishment status over the last decade. Is reinvention something that's important to you guys? 
B: Definitely. It's something that I'm learning right now; growing up as an artist, growing up with the label and being able to reinvent yourself often enough to be excited and passionate about a project. When I released my album in 2015, I wasn't aiming for it to be huge, more for it to be a new start.
AA: We have watched how the fashion and music establishment have stayed as "the establishment" forever. Therefore reinvention, pushing forward and learning, is deep within us. 
Both of you have loved hip-hop from afar for a long time. What did it feel like when you realised hip-hop loved you back? 
AA: That's a really interesting way to word it. I never thought I loved hip-hop from afar, it always felt relevant and present to me, even growing up in a small town in Denmark. If you're drawn to an artform, it's because it expresses something about you and makes you feel some type of way and that isn't from afar—that's when you truly embrace something. 
B: For me, when that happened, it felt like I wasn't doing it totally wrong. Now, I'm probably looking for even more love and 2016 promises to be really creative.
Here's an exclusive listen of Brodinski's runway set for Astrid Andersen's LC:M show:
Tracklist:
1. Bricc Baby Feat. Kanobby – Figure Me Out (Prod. By Sam Tiba & Kanobby) 
2. Sister City – Blood Mind 
3. Brodinski Feat. Peewee Longway – Cheddah (VIP) 
4. Kohh – パリ(Sam Tiba Remix)
5. With You. – Snaps 
6. Richelle – Circular Motion 2015 
7. Shy Glizzy – Woah (Prod. By Brodinski) 
8. Tommy Kruise – Ramen 
9. Brodinski – Can't Help Myself Remix Feat. Bloody Jay 
10. Maelstrom – Arteries 
11. Jeff Chery – Power (Prod. by Sam Tiba) 
12. Gener8ion – The New International Sound 
13. Kamixlo – Paleta 
14. Bricc Baby – Choppa Music (Prod. By Richelle & Cosmic Revenge) 
15. 8tm – Airport