ComplexCon returns to Long Beach Nov. 6 - 7 with hosts J. Balvin and Kristen Noel Crawley, performances by A$AP Rocky and Turnstile, and more shopping and drops.
Secure your spot while tickets last!
A$AP Ferg is not like other rappers trying make their way in the fashion industry. Despite a successful music career, Ferg actually started off designing clothes. He graduated from art school; launched his own label, Devoni, which Chris Brown and Swizz Beatz are fans of; created a clothing brand, Trap Lord; and has collaborated the likes of Young & Reckless and PacSun. Now, he's entering the very tough denim industry with a collaboration with L.A. brand AGOLDE—the same project he's been teasing on Instagram this past week.
The Trap Lord personally worked at AGOLDE's factory during the production of the collection, learning the ins and outs of the denim industry while simultaneously contributing creatively to the range. The collection is inspired by his favorite pair of jeans, which he's worn on tour, at fashion shows, and while riding BMX bikes. "I basically want to give the world a piece of me," he says. The collection also includes T-shirts, a hoodie, and denim jackets—but it's the jeans, he says, that he's especially proud of.
We recently caught up with Ferg to talk to get the exclusive on his new denim collaboration, being inspired by Ralph Lauren, plus how the "Dope Walk" video with Cara Delevingne came about.
Ferg's collaboration with AGOLDE launches Spring 2016.
Interview by Cameron Wolf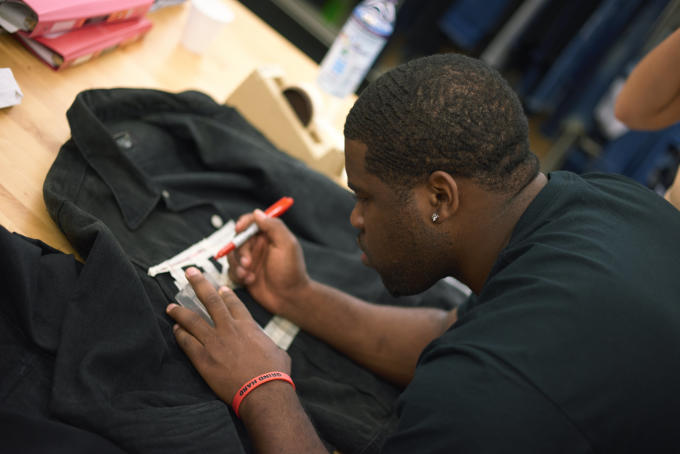 How did the collaboration with AGOLDE happen?
The way the collaboration came about is actually through my friend, Scott Lipps. He introduced us to Citizens [of Humanity], and Citizens [of Humanity] has a company called AGOLDE, which is still going to be the same great quality of jean and denim products, but is going to be sold at a better price point. So, it's going to be more affordable for kids and it's going to be targeted to a more youthful audience. So they just thought it would be a dope project for me to be a part of. I'm just excited to be a part of the launch.
What drew you to AGOLDE?
I like the brand a lot because they're really into the authenticity and quality of the clothing. Like, they brought me in to see how they make all their jeans and the factories, and how they do different washes and taught me about zippers and rivets and a bunch of different things people ordinarily wouldn't really know about. Like, how much goes into the creation of your jeans. Just that right there alone showed me that they really cared about their product and they want to be as organic as possible.
What was it like working at the AGOLDE factory?
It's been really good. Actually, it feel goods to have a scheduled job, because I have a job, but it's not scheduled at all. I actually was just laughing because I can't take off of my job; I'm A$AP Ferg wherever I go. With this job I can actually strip away A$AP Ferg for a bit and become a worker and a student, which is really, really fun because I love learning new things. With me learning these new things, it's good for me because I'm a designer and I went to an art and design high school, so I studied fashion and fine arts. So, there's a lot of things that I didn't pick up in school or that I learned in school that I'm just now freshening back up on and learning more on top of what I did. It's a cool experience for me.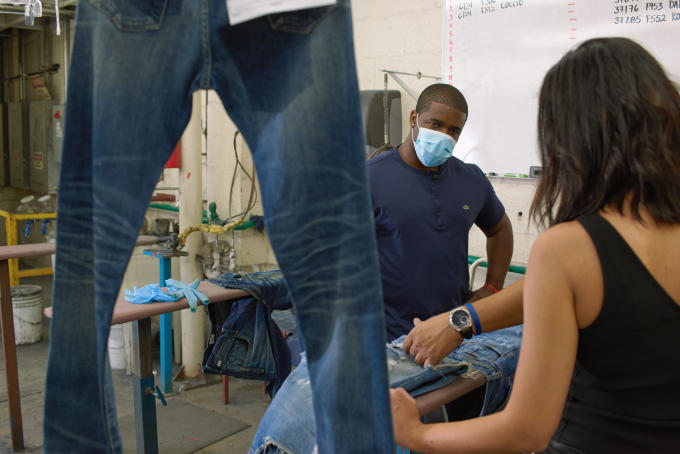 Can you walk me through what a typical day has been like for you?
The first day I spent eight hours in the factory and at the office and it was dope. I came in very cozy, basketball shorts, because I knew we were going to have to get to work and I like to be comfortable. So we all started off by looking at a bunch of denim swatches, light denims, raw denims, and just seeing what we wanted to do as far as the collection goes. I started off by bringing in some of my favorite jeans that I wore and just tried to think about the story and talking about what can we look to build the brand off of, like create this space. And they're big on it being organic so I just brought my own jeans in and we're doing the same abrasions and rips and telling that story. Like, I like jeans with a little bit of elastic in them because it gives it a good stretch and it's dope for me to perform in. I ride bikes a lot and it's good for me when I'm riding my bike and doing tricks my jeans have a grip that makes it easy. I added the grips on there because that's just the style we have. And naturally over time the jeans started to rip and get these dope details on them.
I just wanted to just tell that story through the denim we created and I wanted all the kids to see my jeans. It's funny because when I first started rapping I used to wear the same jeans over and over. And I still do, the same jeans over and over. And kids be like, "You got money now, why do you wear the same jeans?" And it's because I love these jeans and now I can create these jeans for all those kids to wear as well. I can create the same exact jeans.
Is there one big lesson that you've learned working in the factory that you didn't know about the creation of denim before?
Oh, hell yeah. I mean, tumbler machines, the whole washing of the jeans to create these different effects. You would think you just pour Clorox on jeans just to make it lighter or something like that but there's a bunch of different chemicals that they use to stiffen the jean, to keep those creases in the jean, sandpaper, it's a lot to go through for a dope pair of jeans. And after you do all that you still got to go put the rivets and the buttons and the zippers and all that on it. It's crazy how many jeans are around because it's hard to make one pair.
Was denim something you were specifically looking to get into?
It came about organically, but I'm blessed to have this connect because any fashion designer would tell you denim is the hardest thing to do. People can't get denim right because they can't create that organic denim look. Like that Levi's look—that vintage look, basically—they can't recreate that. And certain brands are really good at it. I think AGOLDE embodies that.
I was thinking about what a challenge this is. Everyone talks about how making denim is so hard. Did you ever consider designing denim on your own?
Hell no, that's like becoming a rocket scientist; you're trying to get into the denim industry. I did not want to take on this mission by myself. I got the juggernaut behind me, which is AGOLDE, they guided me through this whole voyage.
AGOLDE is really known for incorporating specialty innovative fabrics. Is there something special that you're using for your collection?
Yeah, it's good quality. In Japan, they're really known for their raw denim. They got the looms out there. That's like the original place where they created the raw denim. So they have a good, good relationship with Japan for their denim.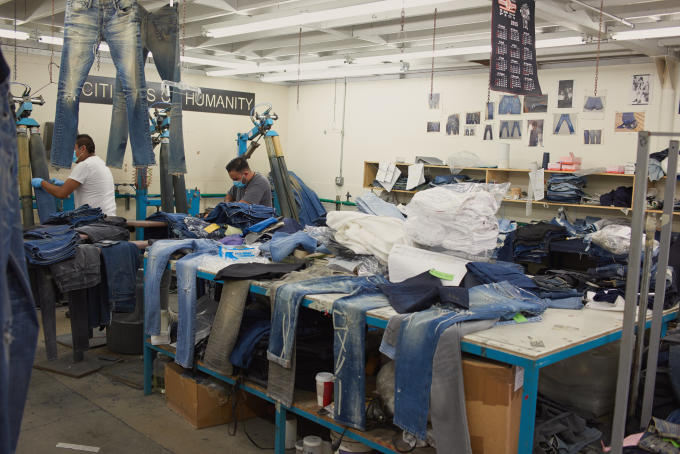 What was the inspiration for the collection?
I think it's just basically me, my voyage through life. It's me telling you that I love these jeans so much and I want people to be able to purchase them because it probably took about five years for me to wear my jeans and get them to this point, but now I can create this look and replicate this look to give to other people. They're a piece of me and I basically want to give the world a piece of me.
The collection also includes T-shirts, a hoodie, and denim jackets. Do you have a favorite piece?
I want to keep some things secret because it's going to be a really, really dope collection. But I think getting down to the nitty-gritty about the denim jeans is the main thing because it's hard to find really, really nice jeans. Even with T-shirts, you can't even go to a bunch of different labels to get reliable T-shirts. And that's another thing, when you asked about different items, our T-shirts are going to be really, really good shirts.
Getting back to the jeans, I'm making really good quality jeans and people are going to want to buy these jeans. Every year we're going to upgrade them to a different color or a different wash. So it gives people something to look forward to.
How do you think this collection is different from your collaborations with PacSun and Young & Reckless?
This is very different from PacSun because I feel like this is a larger demographic. It's like your grandfather can wear these jeans. Anybody can wear these jeans, honestly. PacSun was more for kids. It was more for my hip-hop demographic, my younger demographic. More for the bikers, the DMX bike riders, stuff like that. But this is more fashion and more style, more lifestyle than anything. And I think it's for a bigger audience. Whoever doesn't know that I rap is probably going to think I'm just a designer. They'll just love my capsule collection and then find out that I rap and then I'll be getting new fans through this capsule collection. So I think I'm going to bridge the gap between hip-hop and the elders or those into fashion but not really into hip-hop.
Is that what you're trying to do? Getting back to your fashion roots?
Nah, it's just doing what I love to do. I'm always drawing and I did my own merchandise. I'm very involved; I feel like an artist should be. I feel like, as an artist, you should have a vision for your videos, for the way you want to dress, the way you want to look. All of it's an art, it's what you put out to the world. It comes with the territory. You know you have to dress in your video, so what would I be wearing? I'll be wearing my new capsule collection, you know, it makes sense.
Did you look to other designers for inspiration while designing this collection?
I would have to say Ralph Lauren because Ralph Lauren creates timeless pieces this collection, and that's what I'm inspired by. I would make something and I will always ask myself, "Is this timeless? Could this be relevant 20 years from now?" And if it's not, then I scrap the whole idea.
Is the price range going to be similar to what AGOLDE offers now? Somewhere in the $100-200 range?
It should be somewhere around that.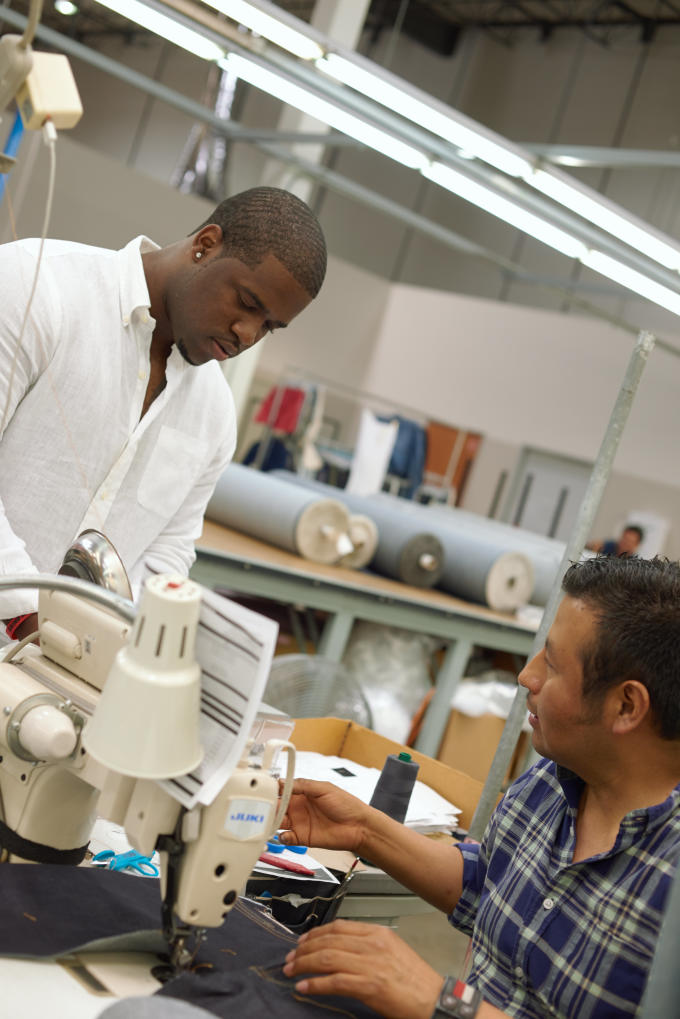 You previously talked about re-launching your own label Devoni. Is that still part of your plan?
It's definitely a part of the plan, but it's kind of early for that right now. I'm focusing on what I have in my head at this point. but I think that I would love to revamp it and bring the topic back up.
What was it like working with Cara Delevingne on the "Dope Walk" video?
It's funny because I was just talking about the video. She's one of the coolest people in the world. It can't be overstated that that girl works a lot—you see her face everywhere. And I admire that because she's so young but she's so militant. She knows what she wants, she has a big vision. She started off as a model and now she's acting, now she's making music. She's about to kill stuff in every direction and it's the same way I am. I'm just an all around artist and you can't box me in. And that's why I think we kind of connected because we're into everything.
The "Dope Walk" video was fun. She wasn't able to come to New York so I just thought of a dope, innovative idea to shoot a video instead of some boring shit. I did a FaceTime with her and I showed her fashion week. She's supposed to be like this fashion goddess that everybody's obsessed with and I'm telling her, "I'm gonna teach you how to dope walk, I'm gonna show you how to kill fashion week." And I walk into Kanye West's fashion show and you see Beyoncé, Puff Daddy, Justin Bieber, and all these different people. Then I go to the Moncler fashion show. I also hosted Jeremy Scott's fashion show, did behind the scenes with Jeremy Scott. But I actually walked everybody through all of these different worlds of designers, and I think it's just dope. And not to forget I brought the LiteFeet kids, Chrybaby [Cozie]'s crew to come dance at Milk Studios. We bombarded Milk Studios and danced in their hallways. I had the Haim sisters in there. So it was just dope, a dope video. And it ended with Jeremy Scott telling Cara Delevingne, "You got nothing on me [referring to A$AP Ferg], you got nothing on me." That's the best part of the video.