Living as an artist in San Francisco means getting used to change. At least that what's APEX, also known as Ricardo Richey, has learned over the years. Third generation born and raised in the Bay Area, APEX remembers learning about the history of the city. The biggest lesson: the city can and will change drastically from one decade to the next.
If any medium of visual art changes most easily, it's perhaps street art. It finds surfaces everywhere from freeway overpasses to billboard advertisements. And street artists create works knowing full well that they could be tagged—or removed—the next day.
APEX remembers seeing his first piece of street art in third grade. But creativity found him first through the form of doodles. He vividly recalls seeing his mother, a soprano singer, doodling while talking on the phone. These imaginative drawings became a window into a mode of expression that would later take APEX beyond street art. In his studio work, he employs a number of mediums and often investigates how both of his practices can inform each other. In the city he found inspiration for both his public and gallery work. Now his work has been displayed not only in the Bay Area but also as far as Taiwan.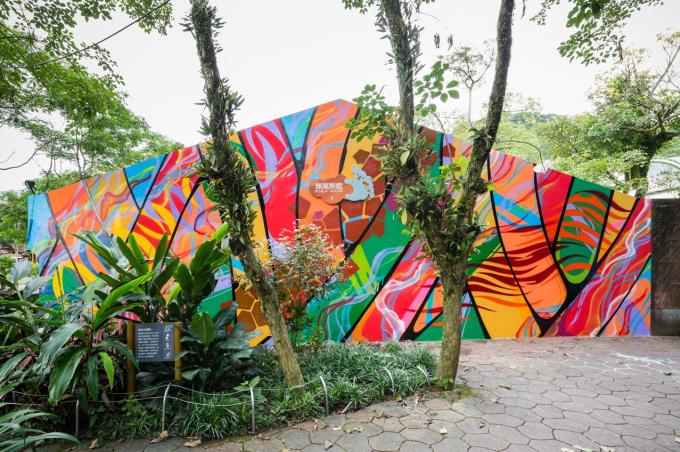 "San Francisco is a pretty green city," said APEX. "So nature, architecture, and how they interact with one another definitely influences my work and always has, from an early beginning, to this day. A lot of my work is very structural but organic at the same time."
Working with abstraction, APEX creates vivid murals that seem to be floating on the wall. In fact, movement plays a large role in his work. Each piece is like a freeze frame, a moment suspended in time. His work seems to be always moving, the viewer catching only one quick second of its momentum. APEX hopes to spark the viewer's imagination and have them imagine his art as something always in motion.
After studying architecture, graphic design, and art history, APEX began investigating how these areas might collide in his own work. He found guidance in other artists and the San Francisco-based community organization, Precita Eyes.
"I'm very fortunate that my life journey purpose has put me on this path that allows really amazing people to spread their knowledge to me so I can hold it, you know," said APEX. "Be a filter and give it back to people."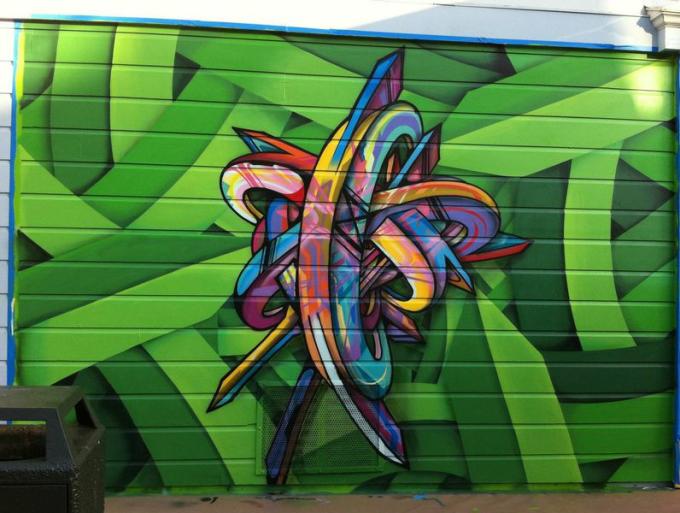 In fact, community plays a large role in his career span so far. A few years ago, he created the artist group Gestalt Collective. Working from the idea that "one individual is not greater than the whole," APEX started the group in order to facilitate the display of art within spaces. This effort led to the displaying of the artists' work in multiple shows, including Bay Area Now 4.
APEX also remembers one of his earlier murals—"before the first dot com hit"—as an homage to San Francisco. A painted view from the top of Twin Peaks, the collaborative mural depicted the city with cherubs in the sky holding a banner behind the words "San Francisco is like heaven on Earth." A familiar phrase from columnist Herb Caen, the words floated above a city that looks a little like paradise. However, the cherubs became the most important part of this piece. A group of passersby asked why the cherubs were white and not another race (APEX is of Puerto Rican and African American descent, while the other artists also came from diverse backgrounds). It was the last time APEX would paint a representational work in an effort to create something more complex.
"If I'm painting from my imagination, I'm representing everybody," said APEX. "I'm not representing one person. Or one race."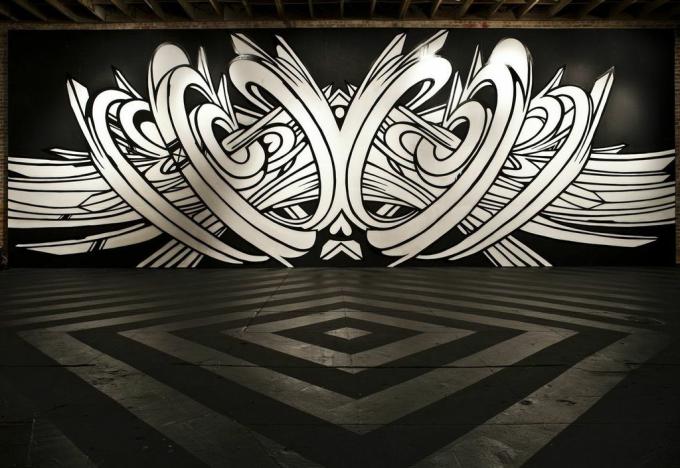 But while his work might not scream political statement—abstract work, after all, notoriously causes viewers confusion and refuses any direct translation—it still carries many different meanings specific to APEX.
"I'm abstract because I don't want to be another billboard telling you what to eat, what to wear, when to go to sleep," said APEX.
Sometimes viewers can spot an obvious design element or symbol—like a Merkaba star in a mural on Haight and Masonic streets—but for the most part the pieces are an invitation to get lost in thought.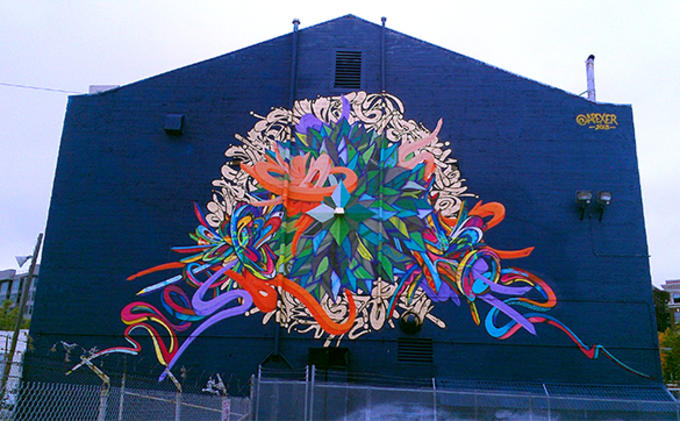 "It's really important to present I call it a 'breather,'" said APEX. "If you come across my mural, you maybe can't read it, you can't decipher it. But maybe if this is on your commute home every day, you're gonna slowly see it, understand it."
For a pop-up show with FIAT, APEX will curate a group show that will also include his own work. It's his first time working with the brand but he's always appreciated the cars—especially in a city as hectic as San Francisco.
"It's a good thing FIAT vehicles are here because of their size," said APEX. "It makes sense for major cities to have them—for parking, in-and-out of traffic, what not."
After all, it's important to park and stop once in a while. Somewhere amidst the Victorian houses and modern skyscrapers that inspire APEX, you might find your own calling.