Last week, we caught wind of a pop-up between fashion curators Byronesque.com and NYC boutique Hotoveli. The event pays tribute to the designers and pieces that helped shape the contemporary fashion we see today. We were excited to hear that labels like Comme des Garçons, Maison (Martin) Margiela, and Yohji Yamamoto were slated to be on display, but it was the chance to see some deadstock (and super rare) Supreme collaborations that really caught our attention.
The entire pop-up consists of pieces curated by Byronesque's editor-in-chief, Gill Linton, and Hotoveli owner Michael Adjiashvili; but the pieces from Supreme's first collaboration with Bape (which was back in 1999) are pulled entirely from the private stock of U.N.K.L.E.'s James Lavelle.
For the unfamiliar, Lavelle's influence over the last 20 years has pioneered the musical genre of trip hop through label Mo'Wax; helped introduce the wider world to Japanese streetwear, Hiroshi Fujiwara, and Futura 2000; and even prompted a collaboration with Alexander McQueen. So yeah, it's safe to say that Lavelle is the definition of a streetwear OG.
While Lavelle's private collection of Supreme and Bape pieces won't be available to see (or purchase) until the second week of the installation, we were lucky enough to snag a preview of what may be some of the rarest streetwear pieces of all time.
At the preview, there were five T-shirts on display, all from Supreme and Bape's first 1999 collaboration collection. It's worth noting, that every piece display from Lavelle's personal stash is limited edition, never worn, and rarely seen merchandise.
The box logo tees are very recognizable to even a the most casual of streetwear fans. These tees feature the classic box logo, with a Bape camo base. While there are few widely distributed colorways of this t-shirt, the woodland camo version is particularly rare, and usually seen only on Lavelle himself.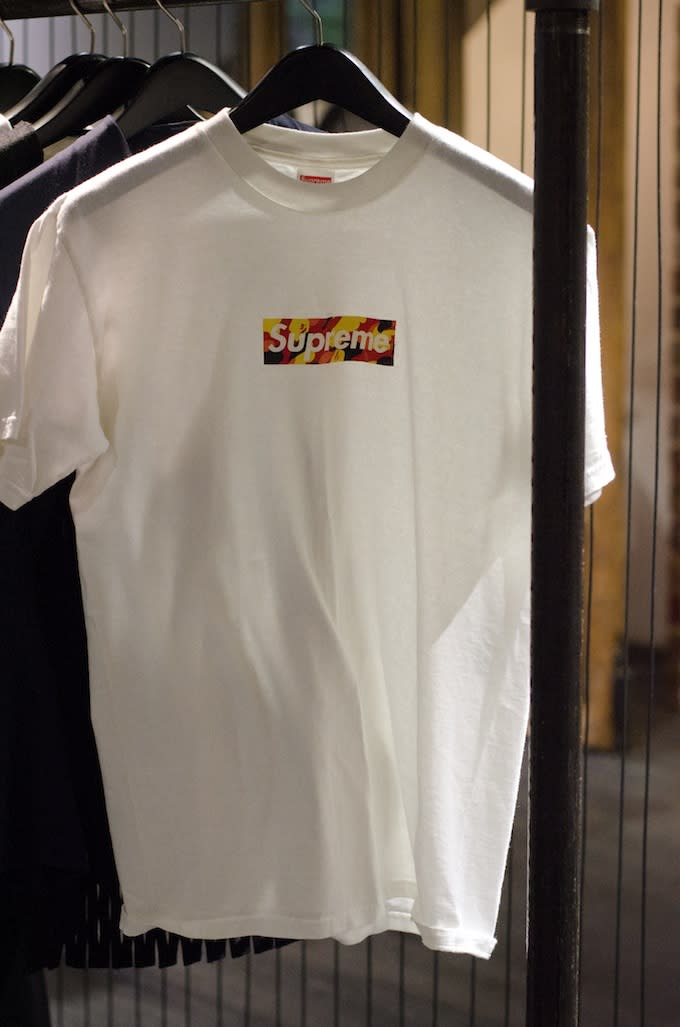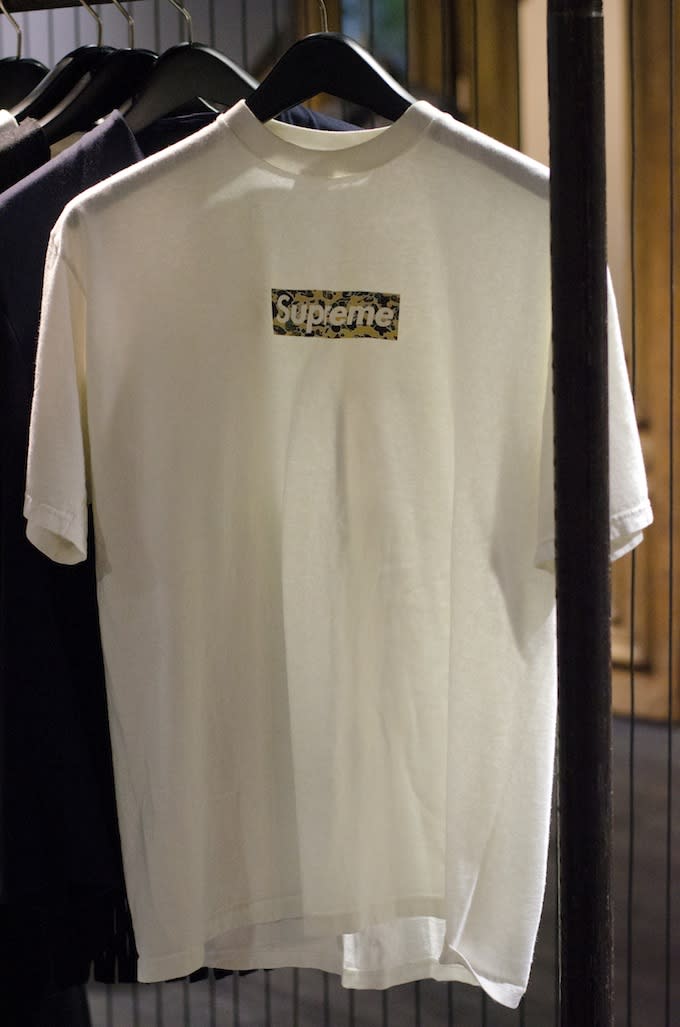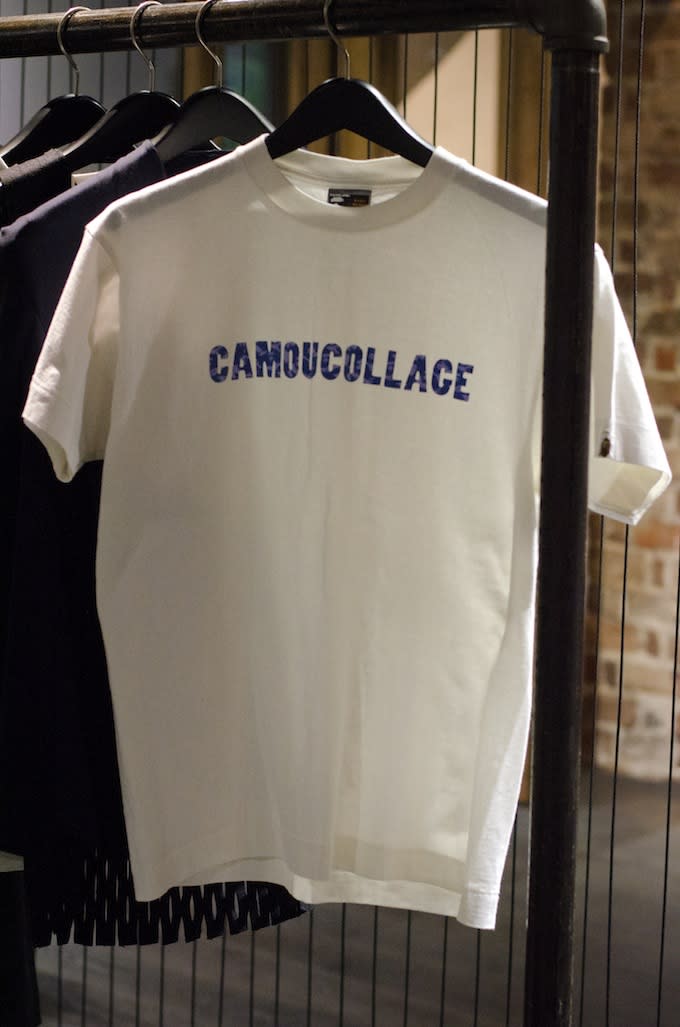 A true standout is the "soup can" T-shirt. An obvious riff on the classic Campbell's tomato soup can, this tee is one of a kind in its origins. Nigo himself worked on this particular piece with his own two hands; including screen printing the graphic onto the T-shirt.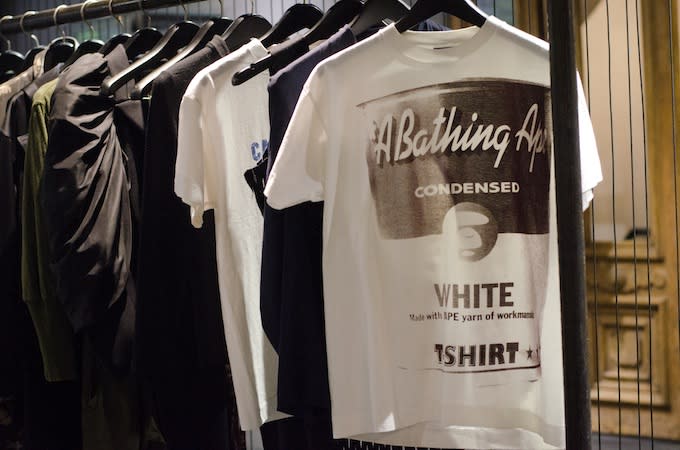 But the biggest prize of all, has to be the Bape t-shirt on display with a Rick Owens jumpsuit. The T-shirt features a screen printed Andy Warhol image over the BapeSta star logo. Most interestingly, it's the first time Bape experimented with glitter on their T-shirts. That may seem like an extraneous detail, but considering Bape's larger design archive, this is a major milestone.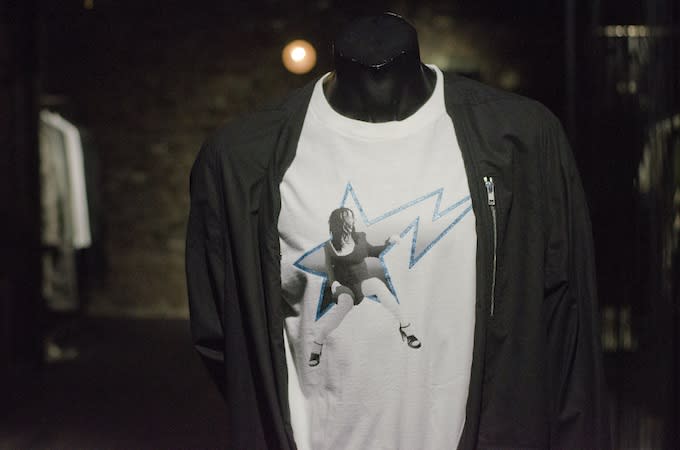 <span></span>
This exhibit-meets-shop is only the first chapter in James Lavelle's collaboration with Byronesque.com. Lavelle's archive is unsurprisingly deep, and this is just the first step in what will become a larger project. Basically, expect even more gear to be released for public consumption (and purchase).
But you're probably asking yourself, why is Lavelle releasing all of these priceless pieces? Well, in Lavelle's eyes, brands like Bape and Supreme are finding new footing as streetwear's audience continues to grow. Add in Byronesque's excellent reputation in vintage clothing and subculture, and there's never been a better time to open his personal collection to the public.
For those interested in heading to Hotoveli to actually cop one of these prized streetwear pieces, you'll have to wait until the stock hits the floor on May 25. But whether you're a casual fan or Supreme disciple, you'll want to see these slices of streetwear history up close and personal at Hotoveli's 271 West 4th St. location.