ComplexCon returns to Long Beach Nov. 6 - 7 with hosts J. Balvin and Kristen Noel Crawley, performances by A$AP Rocky and Turnstile, and more shopping and drops.
Secure your spot while tickets last!
Travel the skies in style with this new Nike-approved luxury jet from the Seattle design firm Teague. With the goal of conquering home field advantage in mind, Teague set about designing an ultra-luxurious cabin to help athlete's find their peak performance, even when away from home.
Teague's design team has done away with the many rows of seats and overhead bins one would expect, which means even Yao Ming could walk through the aisle without stooping and the widest wide receivers will have plenty of room in the special chairs.  By limiting the number of passengers and eliminating all the rows of seats in commercial private jets, the plane now allows for distinct zones: seating/sleep, socialization, recovery, and nutrition. There's even a social zone, where cargo would normally be stored, for among other things, "celebrating victories," as well as a rest/recovery zone, a mandatory feature for even the most modest games.
Of course there is sophisticated on-board entertainment, specially-designed to allow players to review gameday footage and study opponents.  The design team has also drawn upon Nike to provide novel athletic materials, using flyknit mesh to create privacy filters for the player's seats.  Lifestyles of the rich and well-conditioned...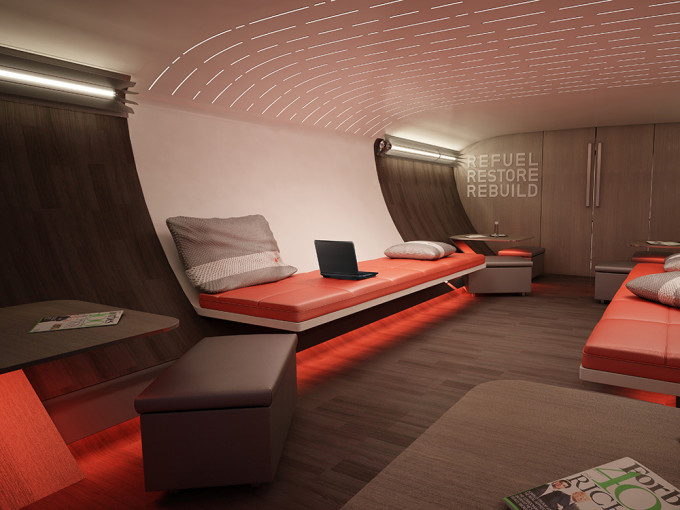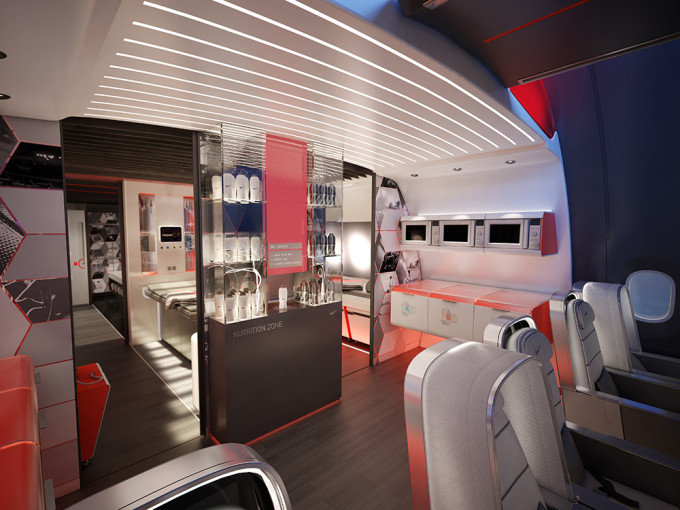 [via Wired]