There's more to Hawaii than hula girls and colorful leis. In her latest exhibition, "Business Casual" at AMO Studios, Nicole Reber challenged every preconceived notion about the 50th state. Shattering stereotypes left and right, Reber's unrelenting examination of the mainland's attitude towards Hawaii revealed the misconceptions many of us have about a land that is far from utopia.
In her stark portrait of Hawaii, Reber took us beyond the façade of honeymooners and hibiscus flowers to a land where Hawaiian culture is more than a symbol of escape. Translated through photo-collages on collared button ups, "Business Casual" revealed another vision of the island state. We talked to Reber about her work and exploring the dark side of paradise.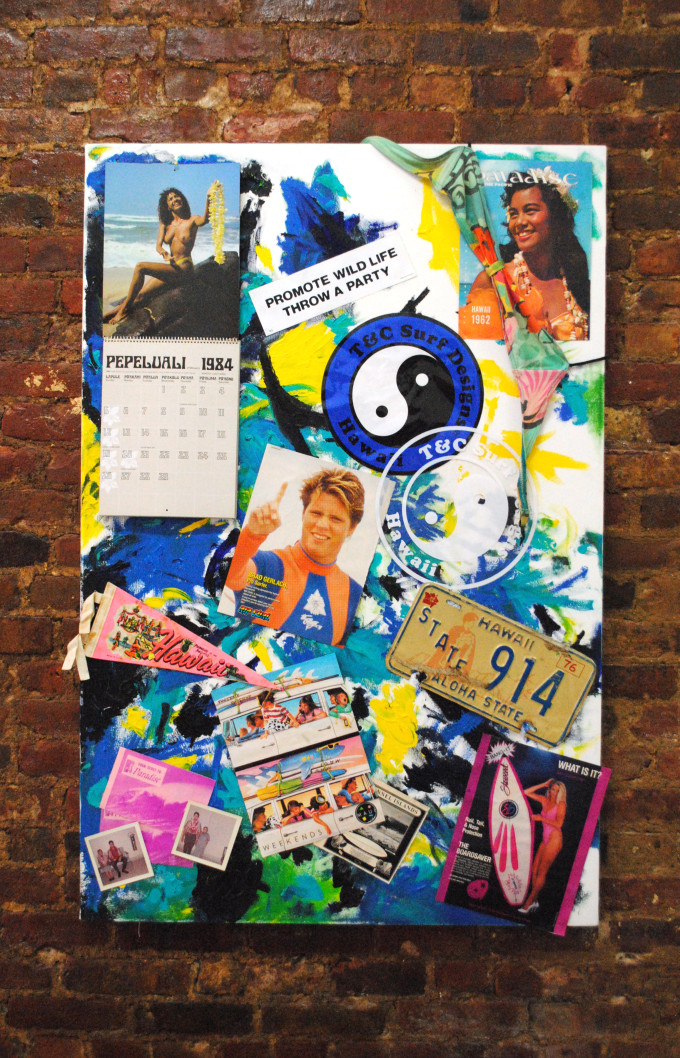 What personal experiences did you draw from when coming up with "Business Casual"?
Ever since I was a kid, I always felt drawn to Hawaii. My dad moved there to shape surfboards in his late teens, and later on in life his sister moved there too. Considering both of them never graduated high school and the obvious hippie allure, I always equated Hawaii with a type of rebellion. I visited it a lot when I was a kid, and it was the first place I ever traveled to without my parents. I even did this big state report on the economy and history of Hawaii when I was in the fifth grade. I was always fascinated by monarchy, and I loved the fact that even though Hawaii is part of the U.S. it had this rich cultural history so different from what I grew up with.
Two years ago, I bought a Hawaiian guidebook at a used English bookstore in Germany. I was on a backpacking trip alone, and I started making collages to pass the time because I found it really hard to read when I wasn't speaking English all day. Considering that I was feeling like an "other" in Germany, I wanted the work to parallel that "other" sensibility that Hawaii has in relation to the continental 48 states.
"I always equated Hawaii with a type of rebellion.​"
When in Hawaii, do you feel like a visitor, an outsider looking in, or do you experience it as someone who is integrated in the culture?
I definitely travel like a researcher. When I went this past May, I had already been obsessing for months over all these Hawaiian magazines from the '40s and '50s where they were debating the state nickname and talking the new mall being built. Doing that gave a historical resonance to the personal mythology that I had already built around Hawaii. I spent a few days alone in Honolulu, exploring the big attractions but also just going out and taking photos, trying to find the places that I had read about in these old magazines. I was riding the buses, stopping off in industrial parks, finding the last remaining Tiki bars, and talking to people in antique stores.
Traveling on my own by nature forces me to be open and talk to strangers, and one night I was lucky to meet a couple ex-NATO guys in their 50s who took me to some of the more local, and probably shadier, parts of the city. They really wanted to show me the parts of Honolulu where real Hawaiians live and go to. They were open to answering any questions about their lives there, and their insight helped me be confident in the messages I expressed in the show.


How does your family feel about their influence on the works, especially your uncle, whose feature on Dog the Bounty Hunter appeared in one of your collages?
My dad was really into it. He lived in Hawaii when he was my age, and we talked a lot about his time there. I'm not sure if the rest of the family even knows I've done this project, though. I don't really keep in contact with them. I haven't heard about my uncle, who was arrested on Dog ever since I was a kid, so even re-watching the episode was strange because he almost seemed mythological at this point.
One of the most special things I was able to use for this show came from an album of photos taken by my grand uncle while he was stationed in Honolulu in the 1930s. My dad had talked about him, but I didn't know he had served in the military. He sent me this beautiful leather bound album that had an engraving of Waikiki and said "Aloha Hawaii" on it. Inside was his whole life from that time: his friends, the base, and even a picture of Duke Kahanamoku looking into the camera, just hanging out on the beach. That's when I really knew I had to do this project; it was just too much of a connection to my own personal history to not do him justice. I used the photos he took of the USS Arizona and himself on the Pearl Harbor shirt. The Dog and Pearl Harbor shirts both serve as a memorial for relationships I never had, and in that I take on the role of being a tourist in my own life.

In your perfect world, how is the Hawaiian lifestyle portrayed and marketed to the masses?
We use our clothes to tell the story of who we are, but I would like to see that interpreted even more literally. I would like the kitsch factor of Hawaiian shirts get toned down a little bit. Nowadays we're really used to seeing heavy print action on our clothes, like Peter Pilotto and Mary Katrantzou, and I would like to see Hawaiian shirts function more like these designs. I want to use them to tell a story rather than to identify a lifestyle choice like a Tommy Bahama shirt does. I don't like clothes that try to use the connotations of a culture to make money.
One of my paintings in the show was of the word "Malaho." I had seen a misspelling of the word "mahalo," which means "thanks" in Hawaiian. I started to think of all the Hawaiian lingo that I have seen on Hollister and Pac Sun stuff growing up and how it failed to occur to me that it was coming from an actual language. We've been so brainwashed by tourism to think beaches, babes, and Mai Tais when we think of Hawaii. You would never see "merci" on a shirt and not think about the French language. It might be embarrassing to mispronounce a French word in Paris, but blundering "mahalo" is almost worse because you're using it as more of a vacation catch phrase than an attempt to respect this someone's culture. Hawaii had its own language, history, and traditions long before they became a state in 1959, and that's the part of the culture that I want people to be more aware of.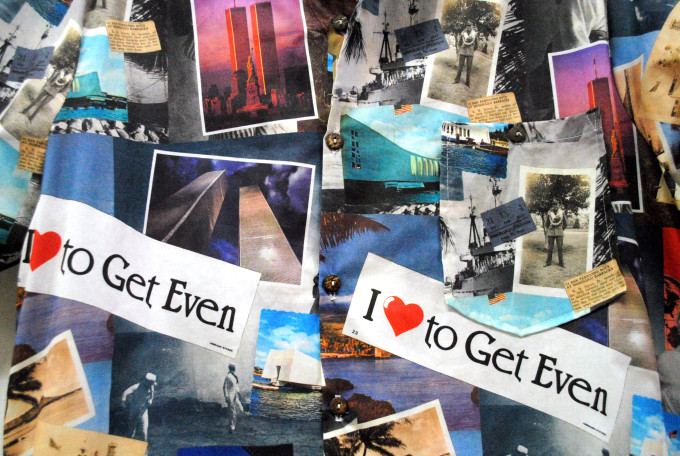 What is it about the shirt format that made you use it as a canvas, as opposed to more traditional avenues of displaying art?
I wanted to play with an object that made me feel like a consumer. The shirt is so ubiquitous that we're not used to reading a deeper meaning into it. I studied poetry in college, so I'm always inserting double entendres everywhere in my work, whether they be in the language or the placement of the characters. When you sew the shirt together, where the parts get put together reveals new jokes as well, which was an exciting lack of control. Someone could see these shirts and like them solely as fashion objects, but if you're wearing them it's almost like you're wearing a secret. It takes a second to notice that the shirts are actually delivering political messages about feminism or war.
The Hawaiian shirt is such an inherently male object, yet the word Hawaii instantly conjures up the female body in a hula skirt and coconut bra for most people. When you're putting juxtaposing designs on a shirt that already has that kind of history, it made sense to make them as subversive as possible. Because our clothes are so closely associated with our sense of self, I want the person wearing these shirts to feel like they're revealing a message about themselves whether other people catch it or not.
"We've been so brainwashed by tourism to think beaches, babes, and Mai Tais when we think of Hawaii.​"
What role does Trader Joe's play in your exhibition?
I did an installation of all the foods from Trader Joe's that are not branded with the Trader Joe's name: Trader Josef, Trader Ming, Trader Jose, Trader Jo-San. The more I looked around, the more apparent it was that they use cultural names on different products to make it seem like the food is more authentic and regional. 
Despite all this cultural appropriation to sell food, Trader Joe's doesn't have a store in Hawaii. Obviously, using Hawaiian shirts as a uniform makes Trader Joe's seem less uptight, yet they're corporate enough to not value Hawaiians as a consumer base. Hawaiian culture is unique in the same way that Italian, French, or Chinese culture is, so it's offensive to me when someone uses it to build brand authenticity and sell things without fully giving back to that community.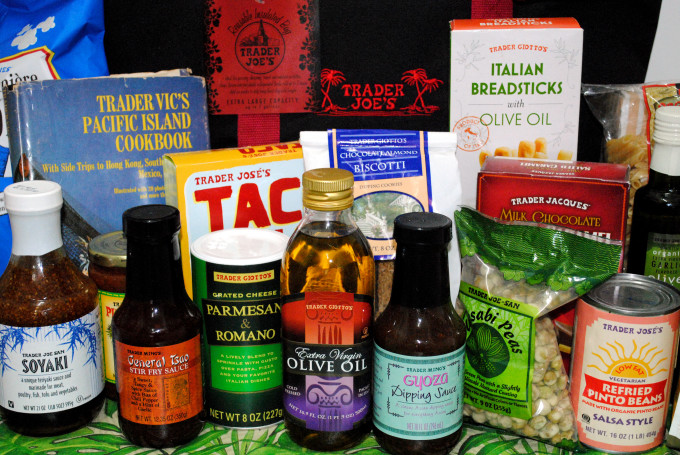 What role does the current drug situation in Hawaii play in your work?
When I was in Hawaii, I had to buy some nail polish. I went into the drug store, and right underneath the nail polish bottles was a sign saying that to buy nail polish remover, you had to be over 18 with ID. I was totally confused by that until I read that the acetone used in nail polish remover is also used to make meth. That was shocking to me. In the few days I spent on my own walking around Honolulu, I really noticed how different the drug atmosphere was there. There were a lot more aggressive situations than I would have expected in broad daylight.
I thought a lot about the phrase "deserted island" when I was making these pieces that dealt with drugs in Hawaii. Just because people tell you live in a perfect place doesn't mean that's how it makes you feel. We often equate drug use with isolation and physical ugliness, so the fact that Hawaii is both this quintessential honeymoon destination as well as the top state for workplace meth use just adds to the pile of contradictions that state has in mainstream American culture.

What's next for you?
I'm looking forward to the New York Art Book Fair next month. I'm going to be tabling with the biweekly magazine I help curate called Packet. I'm launching a cassette album called Motivation that's going to include a new chapbook of poetry in it. Inside, there's going to be a mix tape of motivational songs that will also feature me narrating at certain points in a throwback to the subliminal self-help tape craze. I definitely want to keep making collage shirts. Putting them together made me realize again how personal fashion is an a form of expression. Hopefully you see more people wearing these in the future.