For an essay on sexism and the objectification of women in fashion campaigns, writer Holly Eagleson and photo editor Lauren Wade created a series of images using controversial photos taken by Terry Richardson as templates. 
Richardson's original ads feature what DailyMail calls "hyper-sexualized" depictions of women for companies like American Apparel, Marc Jacobs, and Tom Ford. "I think as a whole we've just gotten used to seeing women depicted this way, and the only way we can change it is if we stop staying silent and demand change," Wade told Huffington Post. The article she and Eagleson wrote for Take Part explains that "the style world is abuzz over two influencers allegedly abusing their power with young women. We examined what their iconic ads might look like if guys were the ones in compromising positions."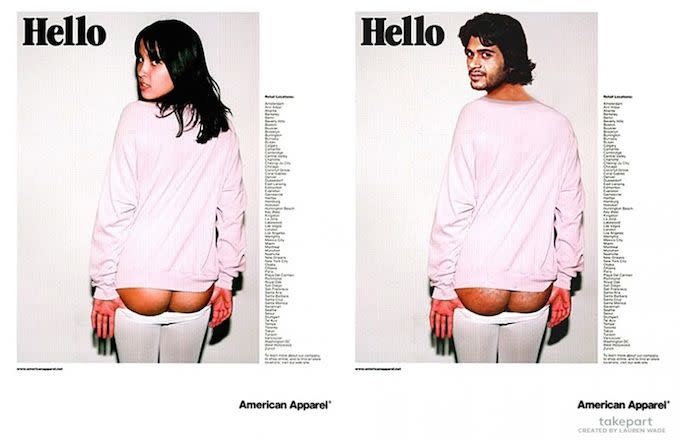 The new ads are funny, but the message they send is a serious one. Eagleson and Wade comment on the firing of American Apparel CEO Don Charvey and the numerous allegations against Terry Richardson but also argue that those two men aren't all that's wrong in the industry. "Richardson and Charney aren't the first to create hostile work environments, nor are they pioneers in exploiting sexuality to sell clothes. The Mad Men of the world mastered that in the '60s​. However, their porny influence has trickled down through the ad industry to an alarming degree in the last two decades. Whether or not the recent controversy will lead to the downfall of either, it's time someone called out the rampant sexism they've fostered."
Check out a few of the reimagined ads, and head to Take Part to read the full article.