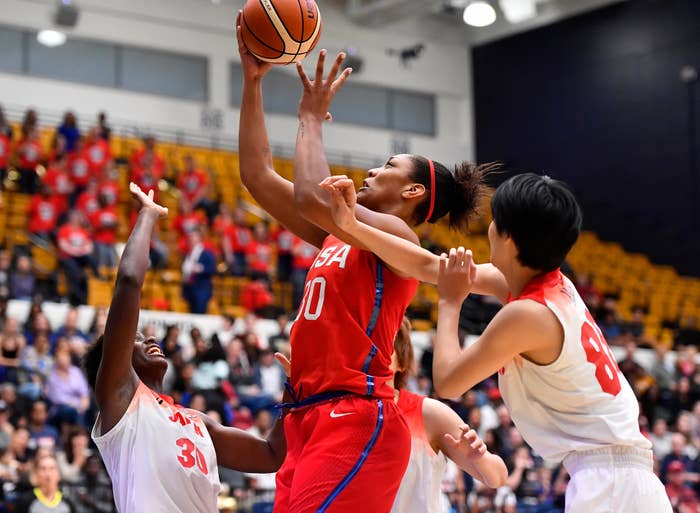 A'ja Wilson exudes poise, strength, and toughness on and off the court. The 22-year-old WNBA Rookie of the Year and the first overall pick in the 2018 draft for the Las Vegas Aces has played against the best of the best, but it was getting a shoutout from the best that was one of the highlights of her first season as a professional.
During September's Harlem Fashion Week, Wilson was a part of LeBron James' campaign for his latest sneaker release. The campaign, titled #Strongest, introduced the newest version of his signature shoe, the LeBron 16, that was "designed by women for women." James highlighted women in fashion, sports, journalism, entertainment, and his family who have remained beams of strength and perseverance in their careers. James selected Wilson as one of the eighteen women featured in the campaign and gave her the caption "rookie with a voice" due to her tenacity.
"It was a cool thing being on the story and for him to kinda say I'm the 'rookie with a voice.' It made me feel like I was doing something in my life other than play basketball. And that's one of my main goals," says Wilson.  
This season, Wilson went on to lead her team in points per game (20.7), games started (33), and rebounds (8.0) and earn the league's top honors for a first-timer even though the Las Vegas Aces finished with a 14-20 overall record. But after an impressive first campaign, Wilson and the rest of the Aces' squad will definitely be a force to be reckoned with in the coming seasons.
During the WNBA off-season, we chatted with Wilson about winning ROY, transitioning from college basketball to pro ball, her new partnership with MTN DEW, LeBron James recognizing her as a "rookie with a voice," and living in Sin City.
(This interview has been edited and condensed for clarity.)
WNBA Rookie of the Year. It has a great ring to it, and you've had other awards as well. Did this one feel particularly different?
Due to my collegiate accolades, it was a goal but it was something that I kinda had at the back of my head that I really wanted to go after. Rookie of the Year was really something that I really I didn't pay any mind going into the chapter in my book of life. I didn't really know what to expect, so I didn't really want to put those expectations to make things harder on myself. I just wanted to focus on my game. I knew I was going to be surrounded by some future Hall of Famers, so when I got the award it was pretty shocking to me because I didn't expect it. I wasn't expecting to be the player I was on paper, and it was a huge accomplishment to me that I just felt special about. And the presentation was great. I mean, Lisa Borders, she's my sorority sister, so to have her there and giving me the award was definitely something special.
Are you really tight with anyone in the NBA? Are you eager to meet any NBA players that you haven't already? And have any shaped your career?
Josh Hart and I—we've been close to since we did the Wooden Awards together in college when both of our teams won the national championship. We've always been cool, but I know he always has my back and I always have his. So, we [have] been coolin' it since I don't even know the year, honestly. I know quite a few—I mean Myles Turner, he's a great guy, he's a great player as well. So I'm pretty cool with a lot of them. I'm not trying to name drop being if I leave them out, they're going to be mad at me. But definitely those two for sure. I would love to meet LeBron James. I think he's someone I'd love to meet just to get to know him. Not like creepy though. He's someone I'd not necessarily shape my game after but just kind of want to be around.
"we weren't really paying any mind, running around caring what people had to say, because you know what we do to—we give it our all."
Speaking of LeBron, he added you in his #Strongest campaign last month in the drop of his new sneaker. So how was that knowing that he even recognized you and found your voice influential and as a pillar of strength?
It's definitely something huge. It was a cool thing being on the story and for him to kinda say i'm the "rookie with a voice." It made me feel like I was doing something in my life other than play basketball. And that's one of my main goals. Just coming into being a professional athlete, I just want to use my platform to help young girls, and young people understand they can do anything if they put their mind to it. So that's something—it was a lot of fun to see that, him giving me a shout out.
Aside from being ROY, you said your performance on paper was great, better than you had even expected for yourself, but people are saying that it was arguably one of the best in WNBA history. So run me through what was going through your mind as you transitioned from college to professional basketball?
Coming from college to professional [ball] was definitely not the biggest shock that I expected because coach [Dawn] Staley really helped prepare me for the league. The simple talk, the simple mental aspects of it, and at the time I didn't know to listen to her because I was saying "Ok" "Oh Yea, I got it." But getting into the league and understanding how huge it was being mentally prepared at all costs was something I really took to heart my rookie season. Physically, I thought I was going to be out of it. But I was actually playing the same, but my mental aspect of the game; being a coach of the game was something that I know I have to work on. I mean I'm competing against the best of the best every night in the league. Their basketball IQs and through the roof, their bodies through the roof—I'm just trying to make it through the week. So that was definitely the hardest transition for me was just the mental part.
Ok so let's briefly touch on the WNBA-NBA pay gap. You and several other WNBA players brought more attention to it and people on Twitter were coming for you guys attempting to lowball your talents. So why do you think that the general public holds the WNBA and NBA to such different standards, even though you guys have the same job?
I wish I had the answer to that, I wish I could tell you the answer to that. I don't think it's just in sports, I think it's across the board. I think society as a whole—I wish I could change society, but I can't. Obviously we're getting paid, and that's great, but at the same time we love the game and what we do. So, we weren't really paying any mind, running around caring what people had to say, because you know what we do to—we give it our all. I wish I had the answer to that but only time can tell. We're just going to continue to do us as women in our league and just play basketball and not paying any mind to them and just inspire others.
Congratulations on your new partnership with Mountain Dew. You're the first WNBA player on the Mountain Dew roster, so tell me about how you plan on using this new venture to your advantage to connect with your fans?
Honestly, you're just going to have to wait until the near future, I'm pretty sure we have a lot of new stuff in the works to connect to the fan base. I mean that's one of the reasons why I partnered with Mountain Dew because they don't focus on us as athletes, but us off the court, so I'm excited to show the fanbase what else I can do besides put the ball in the hoop. Because for our team, for athletes, we rarely get the time to show people that we like to have fun, we like to do things other than just go out there and play basketball and play our sport. So, I'm excited to tag along with Mountain Dew and help bring my own flavor of myself to our fanbase.
Let's talk about your brand—SportsPro highlighted you No. 39 on their latest World's Most Marketable Athletes List. So how do you plan on expanding the A'ja Wilson brand as your career continues?
I have so much in mind about how I can expand my brand. What can I do and that's why I'm the people person type of athlete. I like to connect with my fans on social media, in real life, anywhere. I just like to be there the chance to broaden my brand. And I started a foundation actually also with my parents, they helped me out. It's a foundation that helps bring awareness to people with dyslexia and also helps with research and resources for their families the correct resources for children with disabilities. I firsthand have dyslexia so for me to go out there and help in my community is something that I'm excited about to help expand my brand, getting out into the community, bringing awareness to something that is—people think it's just "Oh you're not studying well" when actually people might have a learning disability. So for me to kind of use my platform and understand what people are going through is what got my foundation out there and running.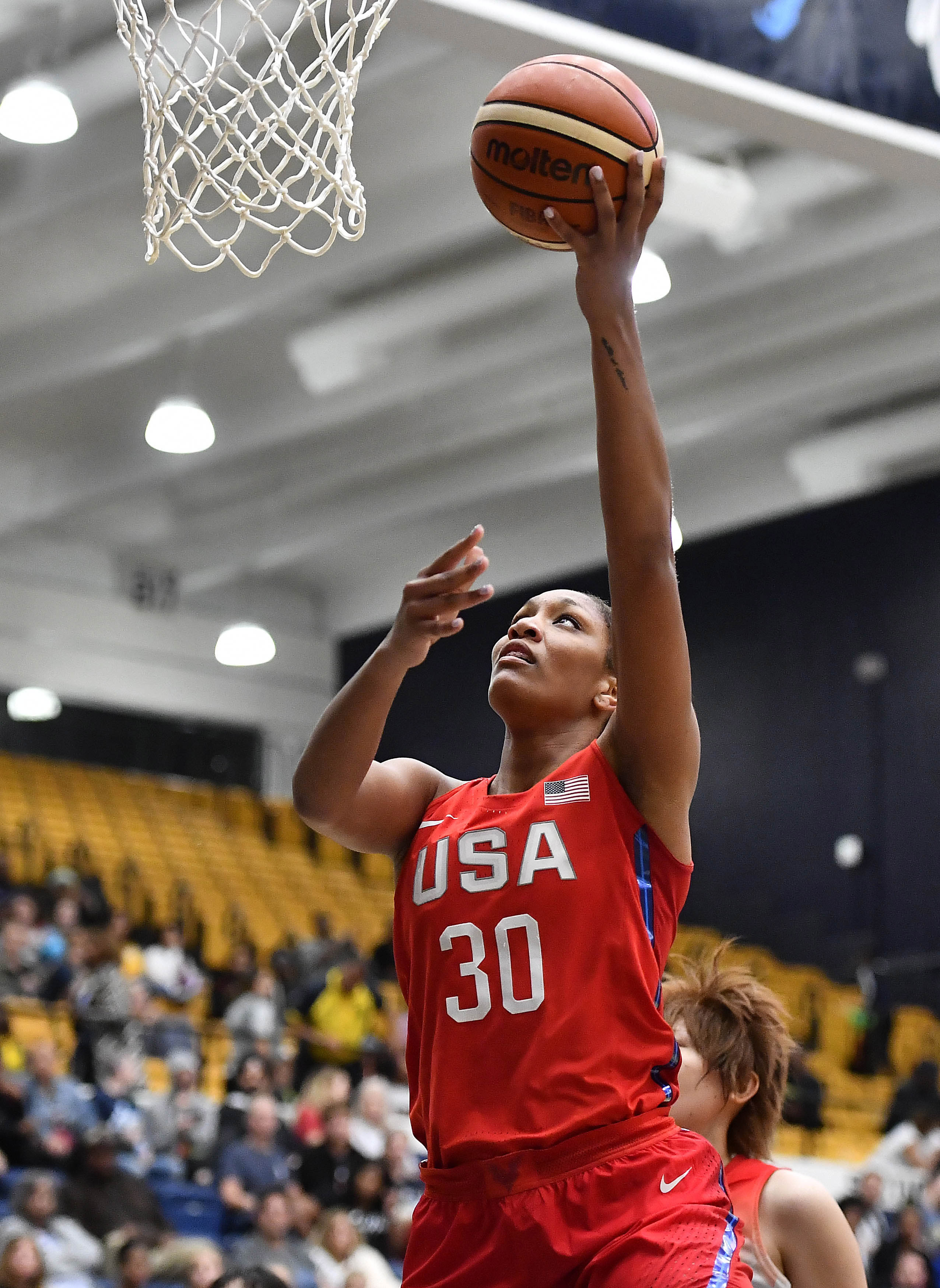 To switch gears, we're going to talk about music for a second, what is your favorite album that has dropped this year?
Favorite album, that is a tough one. I like Scorpion.
Good choice, what are your favorite songs on that one?
Ooh, I like "After Dark." And "In My Feelings," of course, is always a good go to.
Let's switch gears again to sneakers. What are your favorite shoes to play in?
Oh, man, I'm definitely the Lebron 15 lows type of girl. It's such a light shoe, so I love my LeBron 15s. I saw the 16s and was like "Oh my goodness these are so beautiful," so I had to give them some love but my favorite sneaker on the court would have to be the LeBron 15 lows.