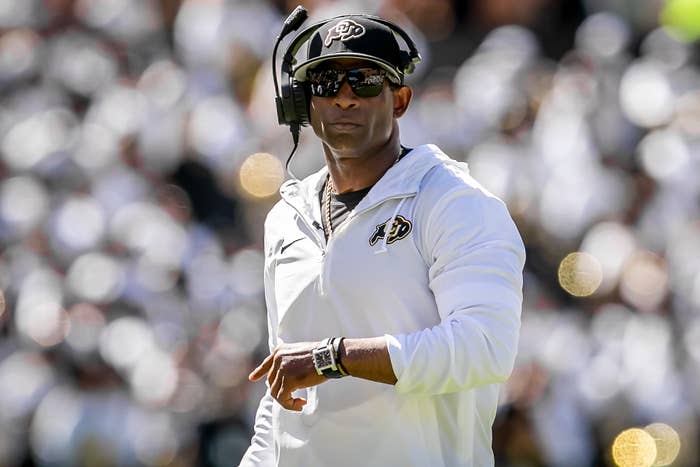 Deion Sanders has garnered all the attention from his impressive 3-0 start at helm for Colorado and rightfully so. There were a lot of doubts and questions when Coach Prime made the decision to leave Jackson State for a Pac-12 team that won one measly game last season. Coach Prime has a reputation of winning and he's reaffirmed that reputation in the first few weeks of the season. While a lot of the talk has been on Colorado, Sheduer, Travis Hunter, and Coach Prime, there hasn't been much discourse on the program he just left.
Jackson State, fresh off two recent SWAC Championships, is in a new era after Deion's departure led by new head coach T.C. Taylor. Taylor has done his best to hit the transfer portal and has brought in a lot of new faces to the program but there are still quite a few players that remained at the school to continue what has been built the past couple years. While players have admitted that Deion's departure was bittersweet, they're still rooting for Prime and their former teammates.
"At the end of the day, Coach Prime was nothing but good to me," Tight end Jency Riley tells Complex. "I would be a fool to say I'm sitting up here rooting against what he's got going on."

Although Riley and his temmates have praised Coach Prime and their former teammates, they admitted that they've noticed a few differences in the team this year versus the team last year.

"Last year, it was kind of divided," Riley says. "You can see that in a couple of losses like in the Celebration Bowl. It was a group full of individuals playing the game. (This year) we've played as a team."

We sat down with three Jackson State football players Jency Riley, Rico Powers, and Devonta Davis to talk about life after Deion for Jackson State football, Deion's success at Colorado, why they decided to remain at the program and more.
(This interview has been edited and condensed for clarity.)
How is the new era of Jackson State Football going so far?
Jency Riley: Our season is off to a solid start. All the coaches are putting the team and the whole offense in position to make plays and we make them. I've been a product of that environment being able to be put in certain situations to where I can make plays. I wasn't really able to do that last year.
Rico Powers: I feel like my season is going well so far. In the four games, I got about 14 receptions for 309 yards. I still got more in me. I'm just really excited for what we could do as far as the offense with the other playmakers on the team, especially at the running back position, but also as well receivers in the group as well.
Devonta Davis: I'm doing good, we're doing good.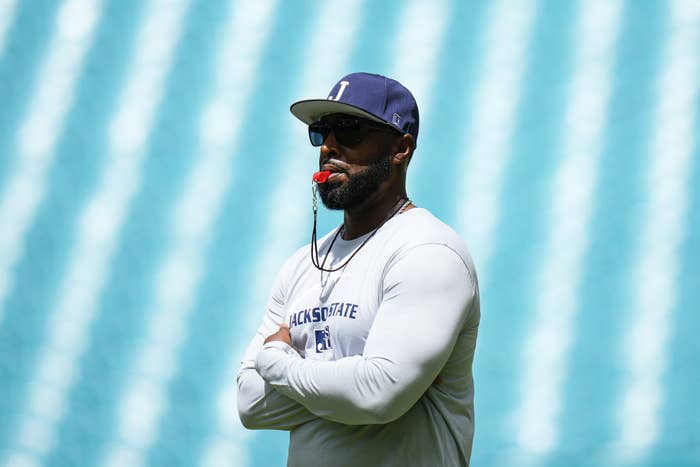 Is there major difference between this year under Coach TC and last year under Deion or even the teams in general?
Jency: Yes and no. The standard has always been the standard at Jackson State. We've always been expected to win. But from the standpoint of yes, a lot has changed. When you look at Coach Prime, you look at who he is, who he was and how he is. And then you look at Coach T.C. as a head coach, it's two totally different people. Coach Prime is Coach Prime. He's a great man, but you know, Coach Prime he is who he is. Coach T.C. is more of a laid back guy.
Coach Prime is the media machine. We would have different people just show up like journalists, players, artists and things. There would be a whole lot going on. I'm not saying that we don't have that now because we still do but it's like it's more controlled. We really focus on ball when we focus on being a member of this team. Last year, it was kind of divided and I feel like you can see that in a couple of losses like in the Celebration Bowl. It was a group full of individuals playing the game.
Even though we're not 4-0 this year, every game we've played hard, we finished and we've played as a team.
Devonta: It wasn't so much of us being divided. It was more about people were worried about how their stats were looking. Everbody now is focused on winning the game and making sure they're doing everything right.

There's no drop off to me (between the coaches). There isn't a drop off because they both preach the same thing and they both make us better as men.
Rico: Not really. I feel like it's the same mentality. We preach the same thing. I feel like pretty much everything is the same. We just have to put it all together.
Why did you stay at Jackson State? Did you have any thoughts of leaving?
Jency: Coach T.C.. A lot of people don't understand the relationship that I have with Coach TC. He recruited me, I was with him every day and then last year, he moved to the wideouts coach and even with him being the wideouts coach, he would still come to me still talk like almost every day. I'm gonna be honest with you, when (Deion to Colorado) came out I mean, yeah, I would be lying if I said I didn't think about leaving. Not even just going to Colorado, but just leaving Jackson State in general. When we made the announcement that Coach TC Taylor is the new head coach, any doubt I ever had went out the window.
Rico: I did consider going with Deion, but talking with my family, I just felt like it was the best for me to just stay.
Devonta: No, I didn't want to leave. Me personally, I just want to graduate. So with it being my senior year, I want to graduate and then I can just further my options after.
What are your thoughts on Deion's success at Colorado so far? Are you rooting for them or do you have a feeling of 'man, Deion should still be with us?'
Jency: I'm rooting for them. There's a lot of guys on that team that we played with, played against every day of practice, so I'm gonna definitely root for them. I mean, at first, it was bittersweet for him to leave and go up there to Colorado but he's dominated. He's 3-0. He got two games coming up that they said that they're not going to win but they said this all season. I'm rooting for him, but I know a couple of guys, a couple of people in the country that might not be rooting for him. At the end of the day, Coach Prime was nothing but good to me. I would be a fool to say I'm sitting up here rooting against what he's got going on.
Rico: No, it's all love at the end of the day. I still got a relationship with them. I'm glad that they're doing what they're doing. It's a bigger picture. It's not really surpirising. Deion has a reputation of winning.
Devonta: It's all love still just because he was my coach but I'm gonna be where my feet at. At the end day, we're rooting for them but we still gotta handle business here. I'm not surprised on their start, you know what I'm saying?
Last year all the attention was on JSU. Do you feel like you have a responsibility to keep JSU on the map now that most of that attention has shifted to Colorado?
Jency: Most definitely. JSU has been expected to be dominant. Coach Prime coming in added a million times more media attention but we have to keep JSU on the map because it's weird to see a lot of our young Black men go to these other schools when, you know a couple years ago you couldn't get in them schools. They wouldn't accept you. But when it comes to sports, then they're starting to accept us for our atheltic gifts. Not even just JSU but just the SWAC in general. There's a lot of good football players in the SWAC and we obviously get overlooked.
Rico: I feel like we had multiple chances to show our showcase on a big platform. I know we were playing on ESPN most of the time so far. So I feel like we still have that light that's going on right now. It might not be as big as Deion but as far as HBCUs, I still feel like we the hottest HBCU and have the best players in HBCU.
Devonta: Yes, we do. You know what I'm saying? Because everybody wants to see what we're gonna do with a new coach and stuff. Everybody really wants to see what we're gonna do with our players and how we've overcome a lot of situations.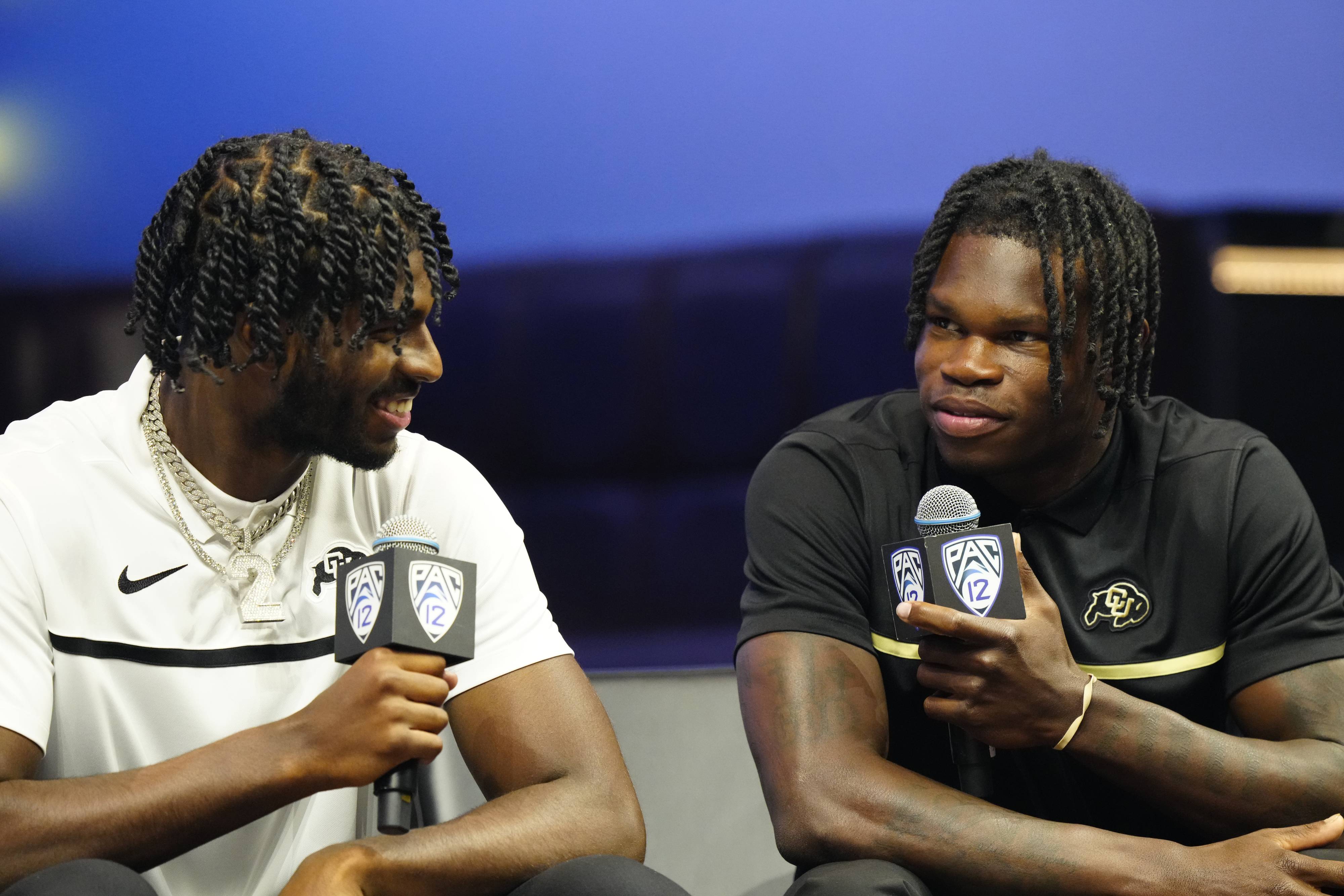 Have you been surprised by the performances of your formers teammates Shedeur and Travis?
Jency: Hell nah. I seen it every day in practice from him and Travis. Shedeur is a great leader. He just knows what he's doing. Like there's very few times where he gets a snap and he's unsure. He's very confident with what he got going on and even when it doesn't go his way, he still finds a way to make it. Then you go look at Travis, that's stuff that we see every day.. That's the No. 1 athlete in the country. He ain't have that number for no reason.
Rico: No. I'm not surpised. I played a whole year with Shedeur. I've seen him through practice and through games and he pretty much look like to me like he's gotten even better, he's gotten stronger, he got more accurate and he was already accurate. Travis has been balling for them even though obviously he's hurt right now. He's proving everybody wrong. I'm proud of him.
What are you thoughts on the people that are rooting on Deion's downfall after he left JSU and brought all the attention Colorado?
Rico: I feel like people are gonna always have their opinion on things, but I feel like people just gotta understand that people have to make decisions for them. He made me feel like his reason was for a better good. But I also felt you just gotta look at the good side of of it and what he did do for us. You know, the chances he gave us and the spotlight he did put on us, it's still going.
Jency: I think it's kind of messed up, he didn't really hurt nobody. He probably hurt some feelings but he didn't hurt nobody. He made this decision that he thought it was best for him and his brand and his crew. He's still successful. I feel like anybody who roots against Coach Prime, they need to just take a look at themselves in the mirror, because at the end of the day, he did nothing wrong. You might feel a way about how he left and things he says but what did he do?
I mean, he came here and he won two SWAC championships. He got to the two Celebration Bowls. He brought a lot of media to Jackson, Mississippi and like I said, he did everything that he set out to do. He left us with a great blueprint and a great plan.
Devonta: I don't really pay too much attention to so much of that. Social media is so gentle because like it's on the outside of everything. It's not on the inside of the program at the end of the day. Everybody is entitled to their own opinion.
What's one thing you Deion instilled in you last year that you still use today in your game?
Jency: Oh yeah, just going all out every snap, every play on the field and just believing in yourself. I feel like me personally, that was kind of one of my biggest setbacks coming into college. Coming into my freshman year, I was expected to play a lot and I didn't really play and then we go to, sophomore year, I was expected to play a lot. It was a me thing. I had the tough battle going against myself every day and I had poor performances and practice, which led to me not playing. He taught me to just go all out and just believe in yourself and have fun. That's all I've been doing this season and I can see everything starting to pay off.
Rico: I took a lot of things from him. I feel like he was Michael Jordan of football. So when I first met him, I just knew instantly like the way he just carries himself, the way he just walked, the way he just kept it real, that was something I needed. And especially as far as a Black coach, that's something that I needed as well. I took away everything, everything he told me I took it.