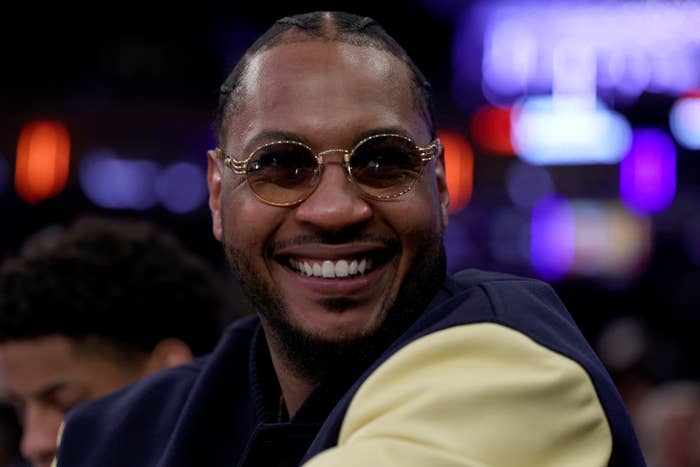 When you're speaking on Carmelo Anthony's legacy, do not put him in a box. He doesn't want to be solely known for his multitude of career accolades, or how many points he scored in a Nuggets or Knicks uniform. He doesn't want to be recognized for his lethal jab step or his automatic midrange jumper from 15 feet. The late, great Kobe Bryant once told us that if basketball is the best thing he's done in his life then he's failed. Melo carries that same sentiment in his post-career endeavors.
"You can't be one-dimensional," Anthony says. "I hate it when they say 'oh, you're an athlete or you're a basketball player.' Don't put me in a category because culture is not just one category."
Melo has certainly lived those words in retirement. He's dabbled in different industries like fashion, wine, and restaraunts after 20 years of basketball. More recently, Melo teamed up with 1800 Tequila for a holiday collaboration that features four produced items designed with his personal apparel lifestyle brand STAYME7O.

We sat down with Melo in New York to discuss life after basketball, his legacy, claiming New York or Baltimore, ring culture, and the skill of NBA players today.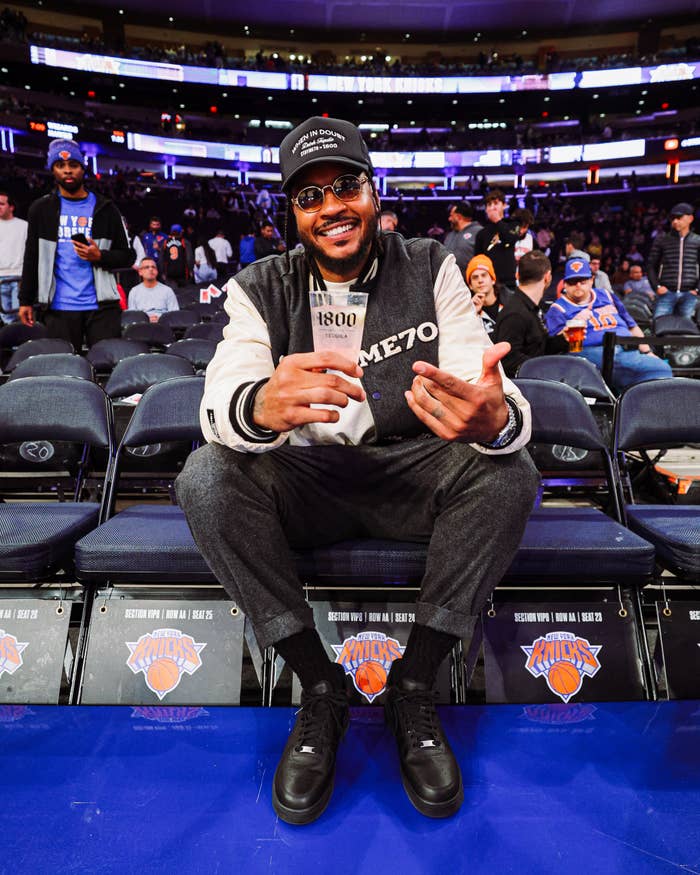 This interview has been condensed and edited for clarity.
Talk about your involvement in this 1800 Tequila x Carmelo Anthony Holiday Drop Shop and why you wanted to partner with 1800 Tequila?
I just thought both brands like the messaging. I think we were saying the same thing in our own different arenas. They were saying they think his taste is everything, his mindset is everything. So it was just more about aligning the messages and making sure that we put out the same message. There's two different ways of saying it, but the meaning behind it is really the same.
So you deisgned the varsity jacket yourself?
Yeah. We did a four-piece collection with one of my partners. So it was just a matter of us kind of figuring out what we wanted to do and how we wanted to kind of elevate because it's different. It's a spirit. It's tequila, you know what I mean? So it's how does fashion, tequila and culture all work together?
It's a four-piece collection for the holidays: a jacket, hoodie, hat and you get the patches. We just try to bring something different and try to just merge two different lanes and two different games.
What would you say is your favorite piece of the collection?
I'm a hoodie guy but I think we did a great job with the actual varsity jacket and in the time that we had to get it done. Me and my team did a great job of just keeping it simple, but also kind of elevated.
All the proceeds go to recreational activities such as basketball courts. How important is that to you?
It's big. That's a major part. Again, we talk about pillars and we talk about what we stand, you know. A mindset. But to be able to give back and the community to benefit from what we put out there from what we're doing is the most important thing.
Speaking of communities, I wanted to quickly address which community you came from. I always see the arguments that 'Melo is from New York' or 'Melo is from Baltimore', which one is it?
Haha. There's no argument. Let me clear it up. I was born in Brooklyn. I moved out when I was 10, 11, 12 years old, whatever. I grew up in Baltimore, right? Like me learning how to survive and learning how to be a young man. I love that from Baltimore because my roots is Red Hook. So I can't say one or the other because they both played a different role in my upbringing.
I can see if I left at two or three years but it was kind of teenage years. So it's split. It's like Denver and New York. I did 7.5 years in Denver, I did 7.5 years in New York. I represent the whole.
Back to your life after basketball, I know Kobe once told us in an interview if basketball is the best thing you've done in your whole life then you failed. Do you have that same mindset?
Yeah, which makes it the Mamba Mentality. You can't be one-dimensional. So, for me, I hate it when they say 'oh you're an athlete or you're a basketball player.' Don't put me in a category because culture is not just one category. It's broad. it touches different lanes. It touches different genres.
You have so many different dimensions to you. I think the surprising part about it is that people don't know that. So they just want you to be a basketball player until they see you doing something different and they see no otherwise, right? Sometimes we just got to let people graduate.
I saw this a lot with discourse of James Harden last week, but does it bother you that you didn't get a ring or that ring culture is oversensationalized?
No, it don't bother me because the game changed and the culture of the game changed. It was like in the '80s, '90s, when it was about ring culture. I think now it's the money. It's the bag, It's let me go get 200 (million) and rightfully so. But the focus is not just rings no more, you know what I mean?
You still wanna win the championship but it's like I'm gonna get the 60 million before I go get the ring. So I just think that the mindset has shifted tremendously when it comes to ring culture. Like, there's no way that guys who haven't won the ring shouldn't still get the credit that they deserve.
(Charles) Barkley is who he is. You know, Reggie (Miller) is who he is. We are who we are. So because we didn't get win the NBA championship, we shouldn't get credit? Like we should just be dismissed on everything? So I will always kind of disagree with that but as far as ring culture, I think people understand that not everybody can win it.
And especially nowadays with teams doing everything they gotta do. They bring 4-5 All-Stars together so for the teams that are developing and young, they ain't got no shot right now. So they have to work their way up.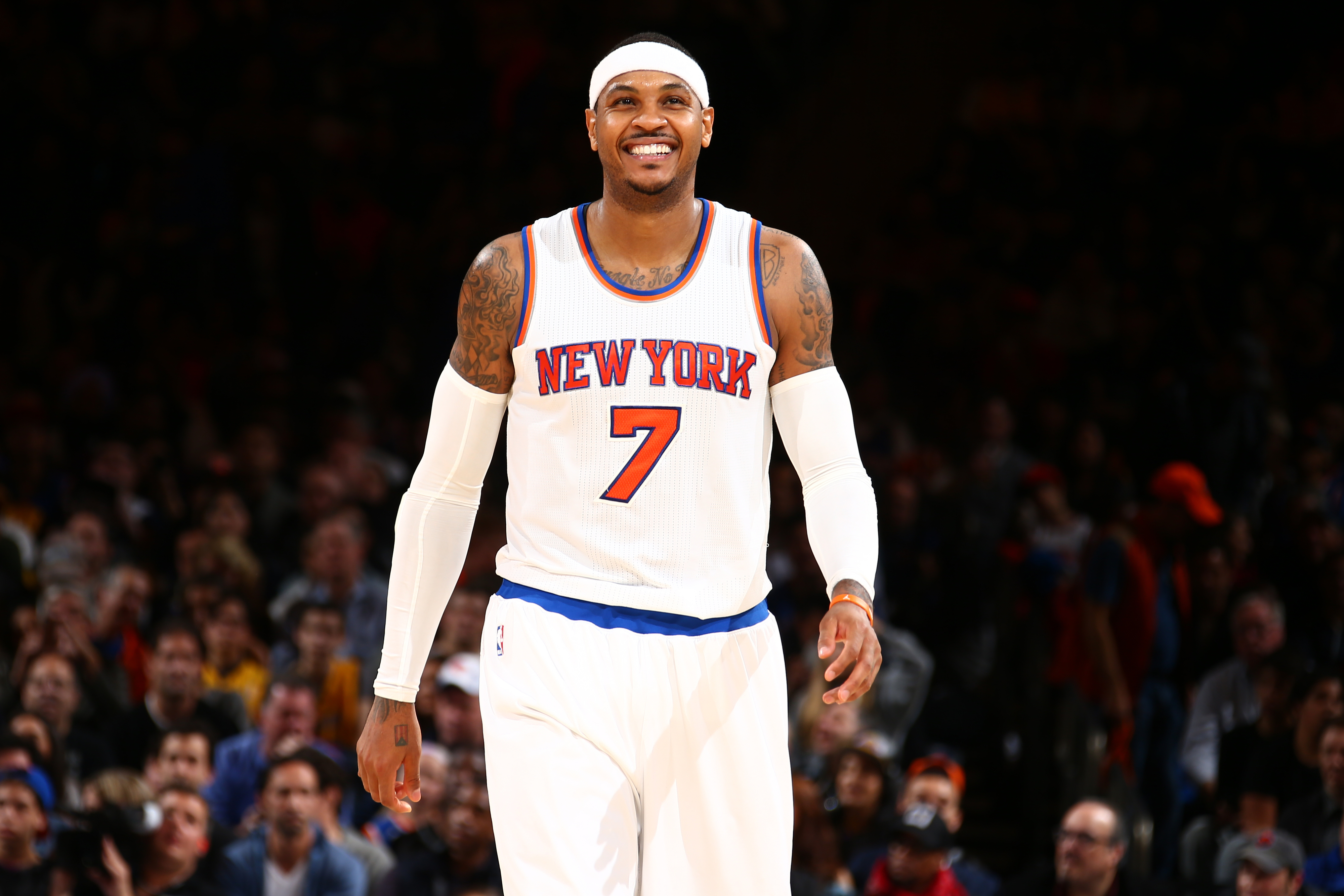 As one of the most skilled players to ever play, I want you to settle this debate. Is there a big difference between being the most skilled player and being the best player?
There are skilled guys in the NBA that are not the best players. So I don't know what side you was on.
I believe there's a difference because a guy like Kyrie can be top five in skill but not a top five player but others might say Giannis can't be a top three player because of skill.
There's a big difference. Kyrie may be the most skilled player in the NBA. Him and Jokic. Speaking on Kyrie, a lot of people may say he's not the best player but he's the most skilled. The best player comes with different things. You know what I'm saying? There's a lot of that comes with being the best player in the NBA. You got to be one out of 400. Like you put that in perspective. and that's very hard, very difficult.
You're a FIBA ambassador and one of the greatest players in international play. I've worked with the Nigerian olmypic team myself and have witnessed us beat the USA a few years ago. We just saw the USA didn't medal at the World Cup. Do you feel like the world has caught up in talent?
I don't think so much it's that the world has caught up or what you call it? I just think that there's more resources and more outlets. I think athletes and ball players in particular are starting to get opportunities to come over to this side of the world and they're taking advantage of those opportunities. Before it was just a handful of international players that come over here.
Now, if you look at a 60-man NBA draft, it's maybe 20 international players. You see the game growing rapidly internationally and the development of guys getting younger and younger and younger.
Finally, we've seen you in fashion, wine, restaraunts in your post-career. Is this what you want your post-career to embody?
To be honest with you, I don't know. I'm doing things that align with what I like to do and with my message and my brain and work. I don't have it figured out. It's just I know what makes sense. I'm very intentional with who I work with and what I do and creatively what I do. I just came from playing ball for 20 years, you know what I'm saying? So, I don't know what's next. I'm into wine, I'm into fashion. I'm into a whole bunch of things.