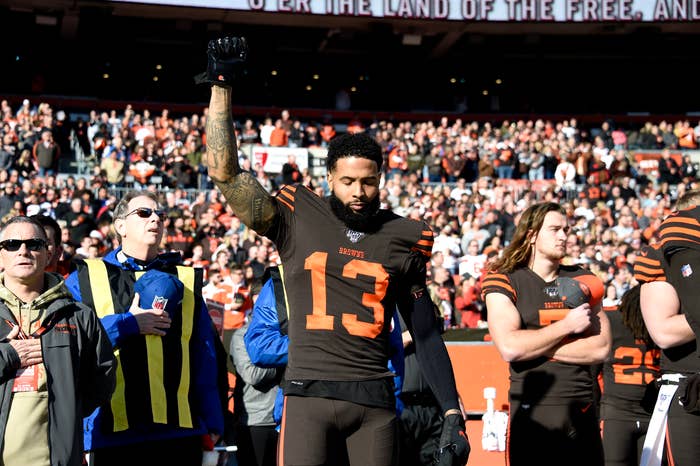 2019 didn't exactly go as planned for Odell Beckham Jr. on the gridiron. The superstar WR played through a core muscle injury the entire season and the Browns finished with a disappointing record of 6-10, which led to the firing of head coach Freddie Kitchens and general manager John Dorsey. The Browns were pegged as a potential playoff team to start the season, but things quickly went south in Cleveland, with Odell and QB Baker Mayfield never really getting on the same page. 
With a new staff in place, both the Browns and Beckham are looking forward to a big year in 2020. And for Odell, that also means working closely with Nike on the brand new Vapor Edge cleat, which launched on February 2. Beckham is the lead athlete for the cleat, and a proud spokesman for it. The airy aestheic is complemented by a second-skin fit that employs Nike Flyknit 360 degrees around the foot. Essentially, it feels like a sock with spike and allows a guy like Odell to be even more dangerous on the field.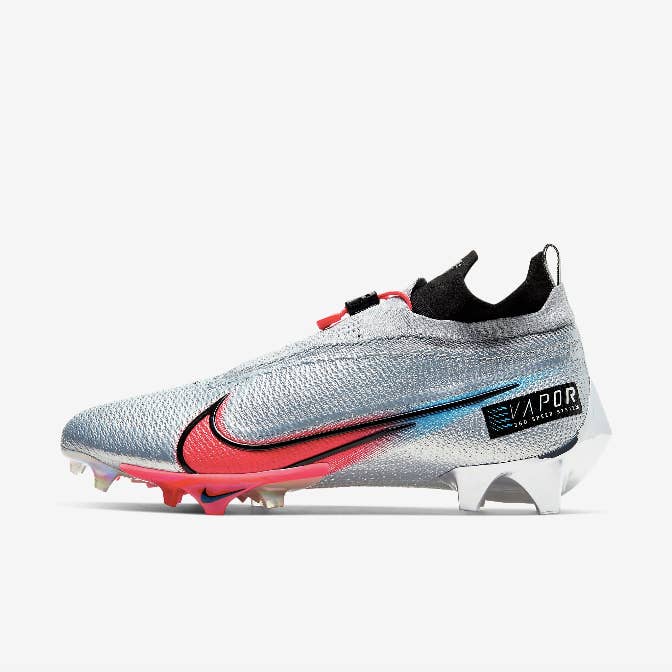 "With the Vapor Edge Elite, I think the biggest thing here is, this is considered a revolutionary product, so we're not really looking to anything that we've done in the past to design this," Kyle Strek, Nike designer, Football explained about the new cleat. "We're looking far out into the future to design it, so it started off in a pretty unique way. We set out this goal, this kind of North Star Project of what does speed look like for the year 2024 or how do we create the world's fastest cleat." 
For Beckham, the new Vapor Edge Elite cleat is all about being comfortable to maximize speed. "I always tell them I need some new technology, I need something to give me a little stronger play, better grip, better cutting," Beckham said. "And that's kind of how we came with this mixture right here of the laceless cleat." 
With the Nike Vapor Edge Elite cleat available now, we linked with Odell Beckham Jr. down in Miami to talk about the new shoe, Kobe Bryant, the Browns' new direction, Baker Mayfield, and more. 
(This interview has been edited and condensed for clarity.)
Walk me through the creation of the Nike Vapor Edge Elite. 
So pretty much, growing up I played soccer. The whole soccer story. And the Nike Mercurial Vapor was always my favorite cleat. They called me Academy growing up because I would always try and have a different cleat for every game. That's literally all I would ask my mom for is cleats and a video game. Other than that, she wasn't buying me anything else. It was just the cleats and video games.
The Mercurial Vapor was always my favorite cleat, and then I ran into an inspiration when I seen—obviously we don't rock with Adidas, but Messi came out with a cleat and it looked like almost as if it was laceless and it had this sleek look to it that I really appreciated and really liked. And I always wanted to combine that look with—I always tell them I need some new technology, I need something to give me a little stronger play, better grip, better cutting. And that's kind of how we came with this mixture right here of the laceless cleat.
And one version has got the laces inside, you still don't really see them. The other one's got the drawstring with technology. So it was definitely a fun project that I was pretty involved in from the beginning. And just to see how it turns out now is definitely appreciated on my end.
What do you think that this is going to be able to do for you on the field, specifically?
You know, I'm pretty excited about the opportunity I have next year to play football anyways and just the amount of work that I'm ready to put in in the off season to prepare myself for next season. But as far as the cleat, just being able to get in and out of cuts faster, faster feet, and obviously it looks good. You know what I mean? And that's something that I always am a big fan of. Like Deon used to say, "Feel good, look good, play good"—that whole sort of thing. So this is definitely something that I like to see the masterpiece of it. And between Nike and myself, I think this is probably going to be one of the best cleats that have been made so far.
Have you been thinking of some colorways? Have you started that process? 
Definitely. I've already started the process for sure—colorways and stuff like that. I've already got a whole Kobe line ready since that happened, which was very tough. He was somebody who inspired all of us. And thinking, like, for the Christmas time with the Grinch shoes that he had, there's a lot of colorways and ideas that I have in mind for this cleat. And since it's such an open canvas, there's so much you could do with it.
You created a lot of buzz this past year when you would drop pics of your new cleats each week. 
There definitely was a lot of buzz around it. I know a lot of kids were hitting me up trying to get some of the cleats that I have. And some of those colorways I just knew were going to be big just because it's made from—you could tell where the inspiration came from, and you could see it on the actual shoe. So I'm excited about this one and having another opportunity to do that each and every week. It's kind of a summer project that we do, so that way, when the season comes around, you don't have to really worry about it. So it's pretty much all just planned out early in the off season.
What does the Mamba Mentality mean to you going forward, and Kobe's legacy in general? 
Shaq was like an uncle to me. So growing up, me and my dad watched Kobe and Shaq. And his drive, his work ethic, he shows you that talent can get you as far as talent can get you, but there's no substitute for hard work, the dedication that he had to the game. And I think that was really his legacy. You know, broken fingers, Achilles, knee, whatever it is, he always overcame it all and he's always going to find a way to win. And he's going to impose his will on opponents early in the game and with the very last shot of the game. So just that mentality that he had was always to kill, and that's something that I definitely have in me, and now even more so with what was going on. So definitely inspired even more to do some great things like he did, and the legacy that he left is something that we all can be appreciative of.
He seems to be every player's favorite player. Can you guys just sense that competitive edge that he carried with him? 
Yeah, he's got it like that. That's something that there wasn't many like him at all, if there was. I would say Jordan was probably the only one. So he was definitely a one of a kind.
As a Browns fan and supporter, let's get into your feelings on the new coach and direction of the team. How are you feeling about it? 
You know, it's going on year seven for me now, but this business teaches you that anybody's replaceable and there's always going to be new coaches coming in and new staff, unless you're in one of those places where it just happens to not be like that. But where I've been at, unfortunately I've been on some teams, not-so-good teams, so we've kind of reestablished it. And with the new coach coming in, just seeing what he did with the Minnesota Vikings for a long time with Thielen and Diggs. These are people who I've watched closely on their film, and just seeing the things that he did and meeting him and seeing where his mind's at for Jarvis and myself of how this will all work out, I have a good feeling about it, you know?
And I'm always optimistic and looking on the brighter side of things. And I'm hoping that it's a tremendous season for us. We were so close last year, but yet so far away, and it shows you how being so close can land you from 10-6 to 6-10, you know? It's really a game of inches. So it's just little things we need to correct. I'm excited about the opportunity, excited to work on it.
Something I recently talked with Jarvis about was you and him recreating that Thielen and Diggs sort of role in Kevin Stefanski's offense. Is that the goal? 
Yep. I think that's the plan, and I'm hoping that that's the game plan. It takes an army to get a team right. There's no one player who—it's not basketball. Basketball is a little different. One player can can dominate an entire game, offense, defense, and the team pitch in here and there and they still could win the game. Football is not like that. 
No iso-ball in football?
No. I mean, to be honest, it's all iso. It's line versus D-line, wideouts versus DBs, running back, linebackers, quarterback, safeties. It's kind of like that. And every man has to do a job and every man has to win at the job. So 10 people could do the right thing, everything's perfect. One person doesn't do their job and that play is over with. That's the difference between the receiver getting the ball and scoring a touchdown and he's wide open, because now the quarterback is pressured and he gets a sack, or the wideout having a touchdown. So it's definitely the ultimate team sport, but at the same time it's an individual sport as well.
Baker did some TV recently. He talked about how he got humbled a little bit this past season. Everyone is saying Baker needs to be fixed going into next season. Is that the sense you're getting? 
The thing is, people don't get to where they're at by not being who they were to get here. So when people say they need to fix me or they need to fix this person, I don't believe in fixing anybody. Improving somebody is definitely more the word that I would say. I think myself as well had a slice of humble pie this year, because I was hurt all year. I couldn't really say I was hurt. I didn't want to make it seem like I'm having an excuse, but I really couldn't do what I wanted. I just couldn't move the way that I wanted to, so I think that's why I'm more motivated now than ever. This is probably day nine or 10 after surgery and I'm just starting to move around and just mentally get ready for the process all over again, and just put my best foot forward. So I don't think there's really changing anybody, but I definitely think you'll see a more focused, improved version of himself. Not what someone else wants him to be. And myself as well next year.