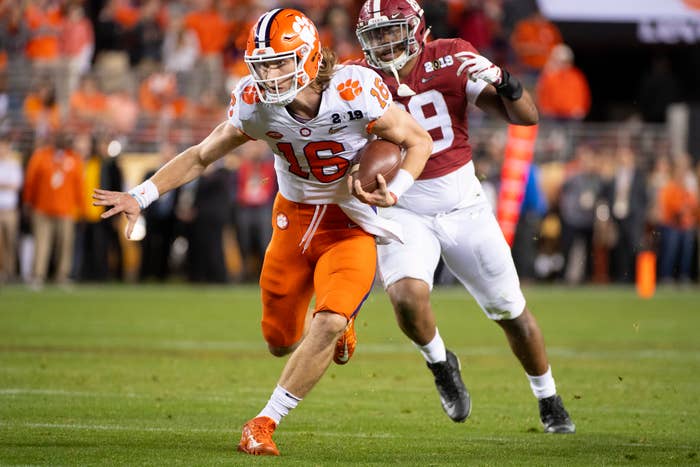 Today, the NCAA announced in a major shift that they're going to start to allow athletes to profit off of their names and likeness going forward. This means a few things, but most importantly, it means that college athletes will finally start to get some money. It also means that we might finally get a new NCAA football video game, which fans have been clamoring for since the last one dropped in 2014. 
I'd pay $400 on the spot for a new NCAA Football video game from EA Sports. Legit, I might go up to $500. I miss it that much. I was reminded about this void in my life this morning when I saw a tweet about today being the sixth anniversary since the last NCAA Football game dropped. What a better time that was.
Firing up the Playstation and slinging the pigskin while Lee Corso yells that going for it on 4th and 20 in your own territory was a key part of my childhood. Running the option, the pageantry, and the fanfare...nothing was better and you can't convince me otherwise. Everything about the NCAA Football series is perfect. I love Madden, too. Cop it every single year. But there's just something different about the NCAA Football franchise.
We're in the dead zone of sports right now. There's no NFL. NBA rumors have died down. Baseball is on but I only want to watch Vlad Guerrero Jr. hit home runs. I'm so close to losing my shit over this dullness. Hell, I watched two hours of the World Series of Poker last night on TV and I'm not sure I can last much longer. 
But picture this: you come home after a long day of work and fire up your system of choice and demolish some poor school by 78 points while playing with Trevor Lawrence and Clemson. This is what I dream of, folks. This could be our reality. Sadly, it's not. Nothing compares to running a 15-year dynasty with your alma mater and bringing them to the promise land. Nothing. And just think about how amazing the College Football Playoff would be in the game! Lord, I'm literally on the verge of tears just thinking about this. And I haven't even mentioned the A.I. improvements and features we'd see in the game if it was made today. 
I also completely understand why the game went away. The players need a cut from the franchise for using their likeness. In general, the NCAA needs to pay the players. Enough of the bullshit. It's that simple and they need to figure this out. There's been rumblings and slim hope over the past few months, but until there's an official announcement, I'm not buying it. 
My wallet is open. This is my official plea. I know I'm not alone. Give the people what they want. In the meantime, I'm just going to watch this updated gameplay video on loop and try to fight back the tears.