Uncle Drew is back, and in a big way. With NBA All-Star Weekend here, Kyrie Irving and Pepsi are back at it with a brand new Uncle Drew spot that once again features JB Smoove and Baron Davis. In addition to the new Uncle Drew spot, which features the guys gearing up for the youngbloods to take over All-Star Weekend, Kyrie and Pepsi are rolling out the official UncleDrew.com tomorrow. His one message: it's still about getting buckets. 
The brand new website is a one-stop shop for all Uncle Drew merchandise, behind-the-scenes footage, and the full catalog of episodes to date. Of course, the Uncle Drew movement is only growing for Kyrie and company, as plans for movies are in the works while he continues to build the brand every year.
"We're really just challenging ourselves for what's to come in the future. We got JB and Baron and we're just coming back even stronger and trying to film the perfect spot," Kyrie explained to Complex. "It's just a new art-form that I'm happy to be part of, getting to partner with Nike and Pepsi and the way they allow my personality to come alive on screen is an opportunity that I take full advantage of."
For this particular spot, Kyrie made sure Uncle Drew still had that same feeling as when they first started this a few years back. "Just having Uncle Drew being that grandfather that wants to hold onto what he has left, that old man that's always talking smack but knows the game more than these youngbloods coming up now," Kyrie said."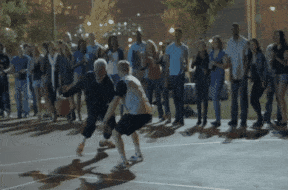 The creative process is just as important as the final product for Kyrie, and that's something that JB Smoove noticed quickly about the young star. "His growth is coming from his performance on the court. I already told him this, is the only way for him to become a better actor is to wear the Uncle Drew stuff home, he's got to live in it," Smoove told Complex. "You live as Uncle Drew for a little while. Go hang out at a senior center and that kind of stuff. Go to a park and feed some pigeons." As far as Kyrie (as Uncle Drew) appearing on a Curb episode? JB thought it was a fabulous idea. Make it happen, Larry David. 
It's clear that Kyrie is all about bringing Uncle Drew to the next level and his latest All-Star spot with Pepsi is a nice indicator of where the franchise is going. For fans who will be in New Orleans for All-Star Weekend, there will be a special pop-up shop at Daisy Dukes, which has been transformed into Uncle Drew's favorite pizza parlor, where you can visit on Friday and Saturday to get an up-close look at all of this new content. The pop-up will include special edition merch and appearances from the cast of the Uncle Drew spots and a few other NBA athletes. 
For more information, be sure to peep UncleDrew.com tomorrow and check out the brand new All-Star Weekend spot above.