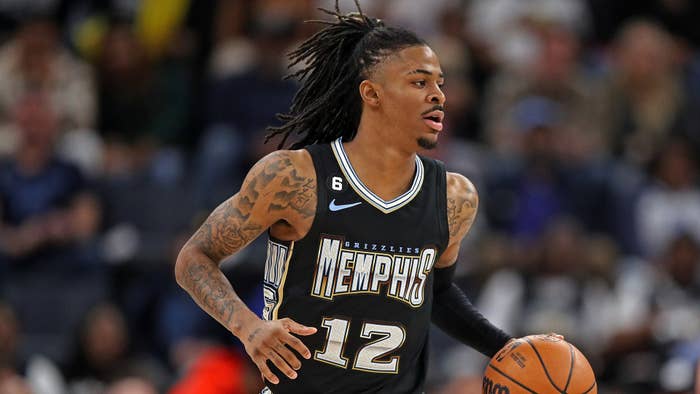 UPDATED 3/13, 4:30 p.m. ET: The NBA has suspended Ja Morant for eight games without pay after he showed off a firearm in a video taken at a club in Denver this month.
"Ja's conduct was irresponsible, reckless and potentially very dangerous," said NBA Commissioner Adam Silver in a statement, per the Associated Press. "It also has serious consequences given his enormous following and influence, particularly among young fans who look up to him."
Morant will miss the next three Grizzlies games, starting with the game on Wednesday. He will be eligible to return to the court on Monday when the Grizzlies will face off against the Mavericks. He will forfeit approximately $669,000 in salary as a result of the suspension.
Prior to the announcement of the NBA's decision, Adam Silver personally met with Morant in New York. The league's investigation into the incident found that Morant was seen "holding a firearm in an intoxicated state," but no proof showed if he owned the firearm in the clip. "He has expressed sincere contrition and remorse for his behavior," added Silver. "Ja has also made it clear to me that he has learned from this incident and that he understands his obligations and responsibility to the Memphis Grizzlies and the broader NBA community extend well beyond his play on the court."
Additionally, the investigation found that there's no evidence to indicate Morant ever brought the gun to any NBA facility.
UPDATED 3/13, 9:30 p.m. ET:Morant is reportedly in a Florida counseling program and "remains without a timetable on a return to the NBA season," per ESPN.
The network's Adrian Wojnarowski and Tim MacMahon published a report citing sources on Monday evening. They added that the Grizzlies "announced that Morant, 23, would be out at least through Wednesday's game against the Miami Heat."
As Haynes and Stein explained, however, it's widely assumed that this is far from the extent of action that will be taken. About 13 minutes, Haynes first laid out a number of factors that could lead to a more serious penalty, including the wording of the NBA's Collective Bargaining Agreement. Elaborating further on the latter, Stein got more specific.
"The CBA element is something that we do know because that's happened before. … Basically, the CBA says if there is a firearm on team premises or a team plane or anything like that, that's an automatic 50-game suspension," he initially said. After the episode's debut, however, Stein clarified that the 50-game aspect of his remark was made in error.
"A firearm on team premises is indeed a violation of NBA rules and subjects the player to discipline … but there is NO specific suspension length in league bylaws," he said, adding that the length of any such suspension is decided by the commissioner.
Per a 2017-dated version of the CBA available online, players are not allowed to have a gun or deadly weapon "of any kind" at team venues. Here's how the firearms portion is worded, as seen in Section 9 of this document:
"Whenever a player is physically present at a facility or venue owned, operated, or being used by a Team, the NBA, or any League-related entity, and whenever a player is traveling on any NBA-related business, whether on behalf of the player's Team, the NBA, or any League-related entity, such player shall not possess a firearm of any kind or any other deadly weapon."
In a statement shared the same day he was announced to be off the court for at least two games, Morant said he took "full responsibility" for his actions.
"I'm going to take some time away to get help and work on learning better methods of dealing with stress and my overall well-being," he said.