The Unhinged Madness Behind The Making Of Any Given Sunday
Oliver Stone's set had partying, fighting, and general chaos, yet 16 years later the film is as relevant as ever.

Thomas Golianopoulos (@golianopoulos) is a writer living in New York City. He has contributed to Grantland, the New York Times, Playboy and Complex.
Dec 21, 2015 Complex Original
Image via Complex Original Before starting production on the football movie Any Given Sunday, Oliver Stone took his crew to a screening of Saving Private Ryan. Though he found certain messages in Steven Spielberg's film disconcerting—"The worship of World War II as the good war," Stone said in 2011—Stone wanted the action in Any Given Sunday to match the brutality and chaos of Spielberg's depiction of D-Day. He planned to capture the game as it had never been filmed—from the huddle to the trenches to the infirmary. Blood and viscera and broken bones included. Football, in his hands, would be even more anarchic than the game on television. 
Any Given Sunday's opening scene sets the tone when three defenders sack Cap Rooney, the Miami Sharks veteran star quarterback played by Dennis Quaid. The hit looks and sounds vicious. "We nearly tore the ACL off Quaid's stunt double," says Mark Robert Ellis, the assistant football coordinator. "That was a great hit. It had to be great, it opened the movie." Later, in the hospital alongside his wife and coach, Cap howls for stronger painkillers in his intravenous drip: "I'm a football player, they need to pump up the volume." But there is little doubt that Cap will return in time for the big game even if his ruptured disc hasn't healed. Cap is a warrior. A soldier. A hero. And the quarterback is the leader of his battalion, the eleven men approaching the line of scrimmage looking downfield together. 
"Football is mesmerizing because it's a figurative war: You go in one direction till you get there, but you get there as a team, not as an individual," Stone told Premiere magazine in 1999. The metaphor of football as war is one of the themes Oliver Stone, a two-time Academy Award winner for Best Director, explores in Any Given Sunday. (And it is a metaphor that has been exploited in real life. It was recently revealed that the Department of Defense paid the NFL up to $6.8 million in taxpayer money to hold military tributes.) 
Any Given Sunday turned Jamie Foxx into a star, revolutionized the way football could be filmed, and delved into issues still plaguing the game such as racism, sexism, ageism, the sports media, the public financing of stadiums, drug abuse, and concussions. The NFL did not want this movie released. And with Will Smith's Concussion opening Christmas Day, it deserves another look. Any Given Sunday is an important sports film, prescient and oddly more relevant and timely than when it was released in December 1999, which doesn't mean it's without flaws—it's over-stylized (even for an Oliver Stone film) and brimming with underdeveloped characters, sports movie clichés, and the type of quick, jarring edits that could even turn a Michael Bay fan queasy. 
Behind the scenes, the movie was as chaotic as the action on the field. There were delays, script problems, casting issues, endless partying, and a fistfight between two of the leads. "The stories are all true," says a member of the production. "In every capacity, it was completely out of hand."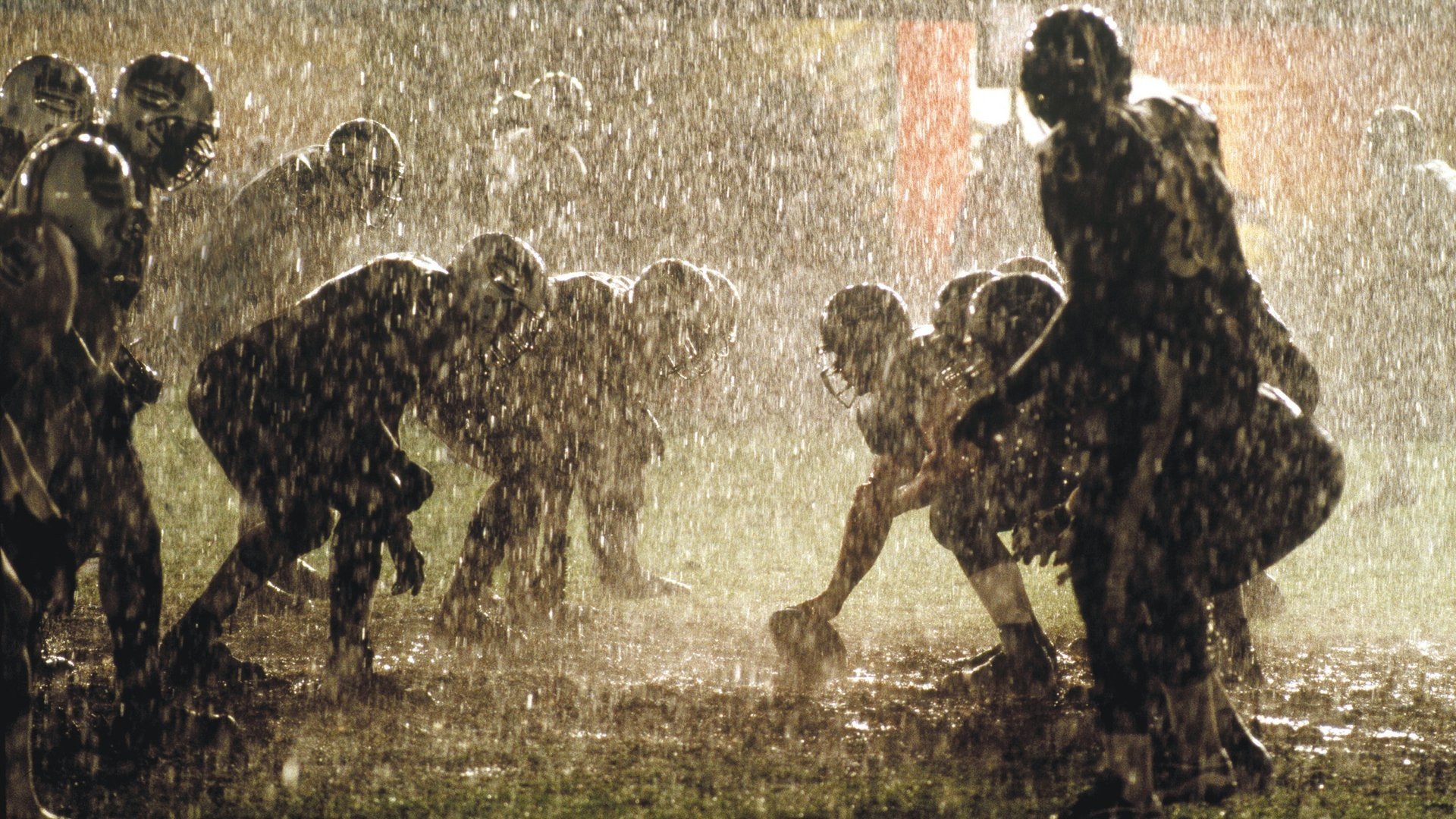 Oliver Stone wanted to direct a commercial smash. In December 1995, Nixon, his biopic of the 37th president, was released to positive reviews. It received four Academy Award nominations, but tanked at the box office, grossing $13 million against a $44 million budget.  "Nixon was a big blow to him," says Eric Hamburg, a co-producer on that film and Any Given Sunday. "After Nixon bombed, he told me, 'I feel like I lost an election. I feel like McGovern in 1972.'" 
He contemplated following Nixon with another biopic, a Martin Luther King movie. But he wanted to do something with broader appeal that wasn't as political—even though every Oliver Stone film is inevitably political. In the course of making Nixon, Stone met Richard Weiner, a journalist writing a book with Joe Montana, the four-time Super Bowl champion quarterback of the San Francisco 49ers. A football film soon took shape. Stone had grown up a 49ers fan and idolized Y.A. Tittle. In the early 1980s, he wrote a treatment about an aging linebacker with Charles Bronson in mind to star. 
"The players have long been my heroes. I see them in the same way as the men I've made other movies about: Ron Kovic, Jim Garrison, Richard Nixon. They were people who went into the public arena and accomplished something, but paid a heavy price," Stone told Premiere. "Football players are tough, but they destroy their bodies, and then they're thrown away like old cars or washing machines. Some take amphetamines and steroids, and some use dope. Some abuse their wives. Because of the players union, they've become more aware of being exploited, but in the end very few get out alive. Most that gets covered up."

Weiner and Jamie Williams, a former tight end for the 49ers, collaborated on Monday Night, a script about a black quarterback named Damon Reese; Williams had written his master's thesis at San Jose State on the relationship between black quarterbacks and the media. "I told Oliver, 'Look at what you did with Platoon,'" Williams says. "'People had a John Wayne perspective to war and you pulled the curtain back and showed war in such a different way. You're doing the same thing with football.'"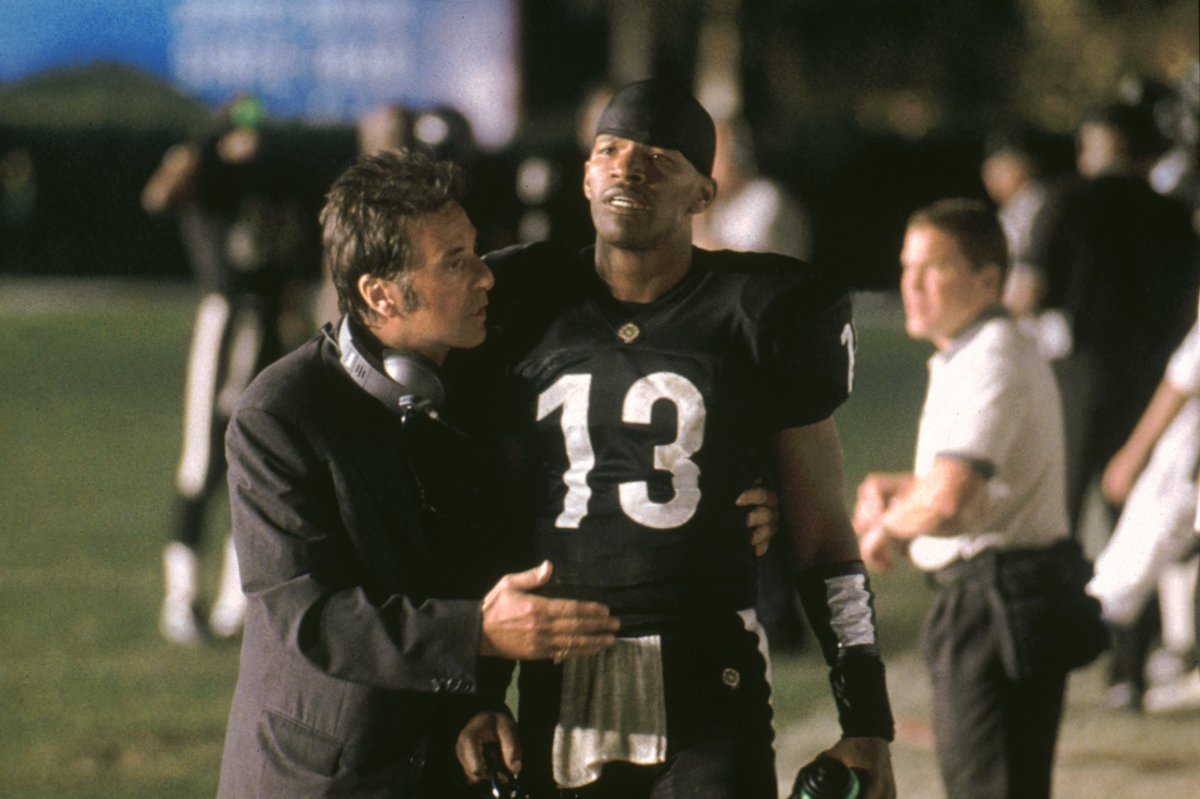 Stone then acquired two additional football scripts, OnAny Given Sunday by John Logan, and Daniel Pyne's Playing Hurt. Stone also merged his project with a competing football film based on You're Okay, It's Just a Bruise, the tell-all book by Robert Huzienga, a former team physician for the Los Angeles Raiders.  (The Writers Guild awarded screenplay credit to Logan and Stone with story credit to Logan and Pyne; Williams and Weiner were credited as technical consultants.) While completing the script, Stone directed the neo Western U-Turn, a commercial and critical failure released in October 1997, further necessitating his need for a hit. 
Any Given Sunday was delayed four times from its initial April 1998 start date with negotiations between Stone and the NFL also disturbing production. "Early in the process, I was in touch with a woman at NFL Films and she sent us all kinds of material—film, video—and they were eager to cooperate," Hamburg says. "But then they got wind of what the film was going to be." 
"The NFL didn't want people to see that these football players are just like the rest of society," says Williams, who played 12 years in the league. "These are guys that do too many drugs or spend their money unwisely, but then they go out on Sunday and are gladiators. None of these guys are boy scouts, not even the quarterbacks." The NFL declined to participate, reportedly issuing a memo to teams suggesting they not cooperate with the film's producers; Concussion uses NFL footage, logos and images without the league's permission. 
"Puff Daddy threw like a girl so they put him on a plane."
—Andrew Bryniarski, "MadMan"
In January 1999, Stone held a training camp in Miami for the actors and athletes in the film. Allan Graf, a member of USC's 1972 national championship football team, and the film's second unit director, football coordinator, and stunt coordinator, was in charge along with Stone. "We ran it like an NFL camp," Graf says. "By the time we were done, [the cast] knew what the heck they were doing. We also had to get them in physical condition." 
Graf devised over 100 plays for the cast to learn. He also filmed practices and then reviewed the footage with them. He was a coach in many ways: Throw the ball a second earlier or Come out of your break after ten yards. Making Graf's job a bit easier was the fact that almost everyone on the field had been paid to play football at one time, either in the NFL, Arena League, World League or Canadian Football League; Lawrence Taylor, Terrell Owens, Irving Fryar and Ricky Watters all had roles.  
Like all NFL training camps, players were also cut. "It was a full-on combine with people trying out," remembers Andrew Bryniarski, who plays the offensive lineman Madman.  "Oliver told everyone that they didn't have a job yet." Lawrence Taylor and the late Michael Clarke Duncan both arrived in camp thinking they were cast as Shark Lavay—each actor had the character's name above their lockers. Duncan was eventually sent home, probably when Stone realized that Lawrence Taylor should play the Lawrence Taylor-like linebacker. Al Pacino, Cameron Diaz, LL Cool J, and James Woods filled out the lead roles. Finding an actor to play "Steamin'" Willie Beamen, the black QB who becomes a star in Cap Rooney's absence, was a much tougher process. 
Sean "Puff Daddy" Combs was Stone's original choice for the part. Combs arrived at training camp and even took reps under center, but he was soon dismissed. "Puffy couldn't throw a football properly and he came on set with a big entourage. Al Pacino was there, the ultimate pro, and he was offended. So was Oliver," Eric Hamburg says. "Oliver views the movie set like a battlefield, and he is the general. No one can compete with his authority on that battlefield."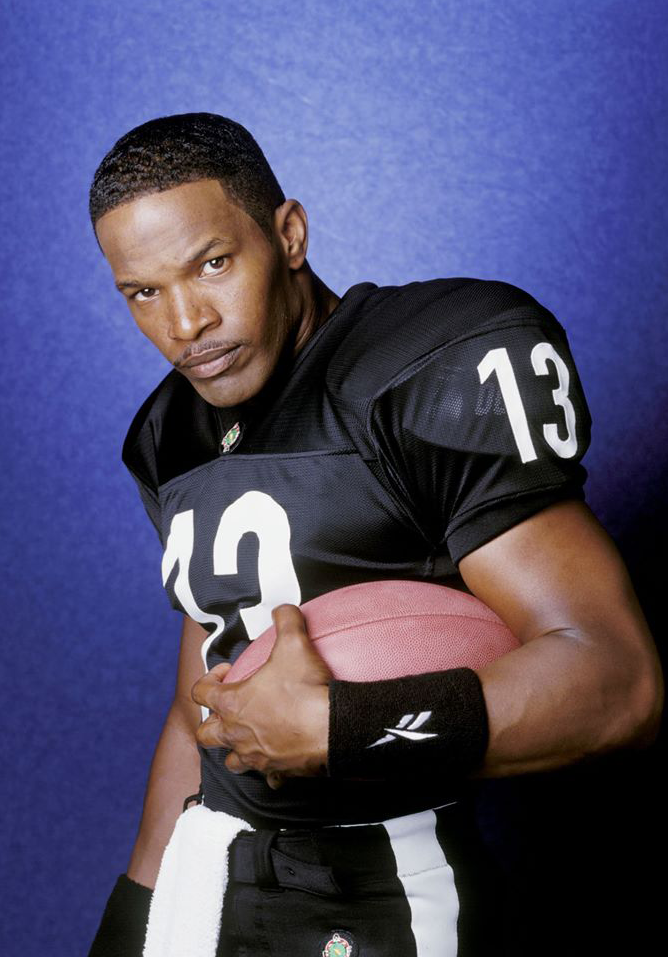 Stone was more tactful regarding Combs, telling Premiere that Combs left Any Given Sunday because of the delays. Puffy echoed Stone's take when I asked him about the film during a 2010 interview for XXL magazine. "I was the number one artist [at the time] and had to cancel my European tour," Puffy told me. "They were pushing it back and pushing it back and it got to the point that I was losing so much money. I was like, 'I can't wait.' The director was like, 'Your tour doesn't matter.' But it does matter. I waited for a year. I want to be a committed actor, but at the same time, you can't tell me that it doesn't matter. I just made the decision. I can't have my life controlled and not know when they are going to make the movie." 
Andrew Bryniarski, who was on set with Combs, is less diplomatic on Combs's departure. "Puff Daddy threw like a girl so they put him on a plane." 
On the first day of principal photography, Oliver Stone walked up to his Director of Photography, Salvatore Totino ASC, AIC, and said, "Welcome to Vietnam." "I was like, 'What the fuck is he talking about?'" Totino says today. "It was about surviving."
Filming became a quagmire, and in the middle of the shoot, Stone called Any Given Sunday his toughest project. "A monster," he said. Among the challenges was managing the athletes, who were unaccustomed to long days on set. "It was so tedious," Terrell Owens says. "I never knew what the term 'hurry up and wait' meant until I shot Any Given Sunday." Lawrence Taylor would often go straight to the golf course for 36 holes following night shoots. Stone eventually cast South Beach models and "party girls" as extras, an incentive, in a way, for the cast to linger on set. 
The actors were also wilting in the Miami heat. The human body is not meant to play football 12 hours a day, five days in a row for four months straight. "It was insanely painful," says Bill Bellamy, who played wide receiver Jimmy Sanderson. "My legs, quads, ribs, ankles were killing me." And when they weren't filming late into the night, the cast and crew partied all over Miami with gossip reports placing them at Joia, Bar Room, The Living Room, Groove Jet, and Tantra. 
Stone was the source of much of the turmoil. "Oliver would show up and would literally sniff the air like he was Robert Duvall's character in Apocalypse Now," a source says. "Forget the call sheet. He would sniff the air and whatever mood he was in, he'd go, 'Boom, let's shoot this.' Every department would scramble and maybe we would get the first shot off at 11 a.m. or noon." 
"I think Oliver enjoys the chaos," Hamburg, the co-producer, says. "I think it stems from his experience in Vietnam. Somehow he feels like he works better under pressure and under chaotic conditions."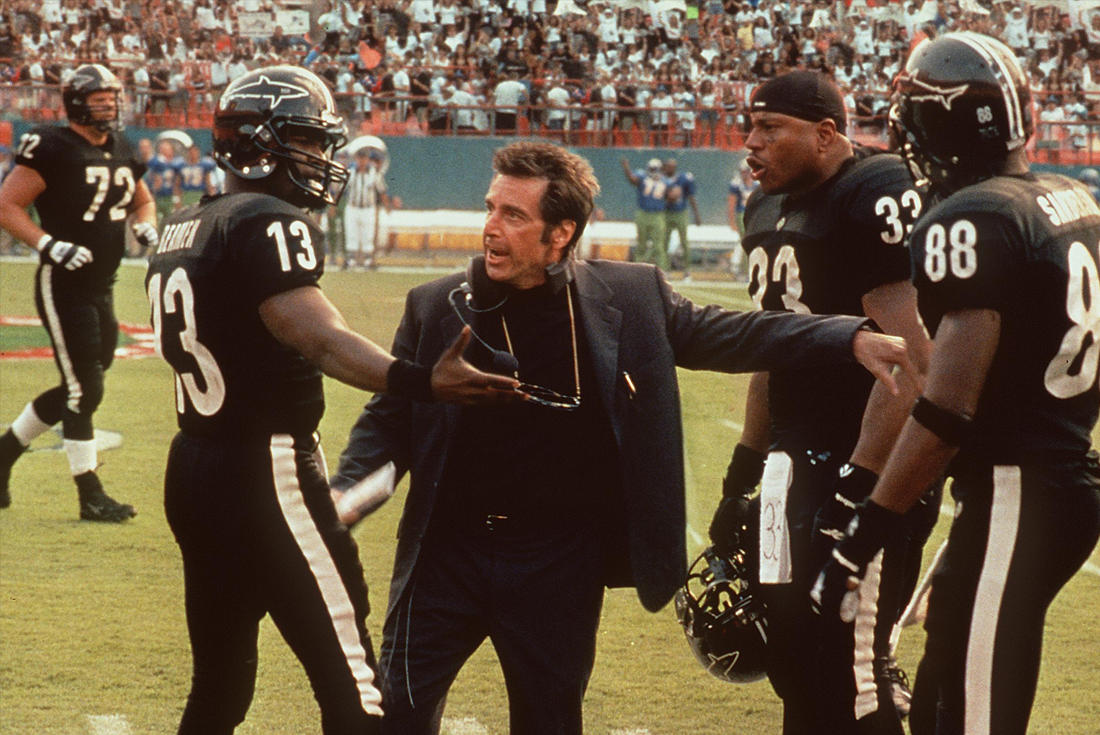 The testosterone powder keg exploded while filming the Miami Sharks vs. Los Angeles Crusaders game. After his character fumbled, LL Cool J was supposed to argue with Jamie Foxx on the sideline. In the middle of the fight though, LL improvised, hitting Foxx. Afterwards, Foxx told LL to alert him before doing it again. When they shot the scene from another angle, LL again struck Foxx without warning. It quickly escalated to a brawl with punches flying and Pacino underneath the scrum. The crew scrambled to separate them. "Afterwards, Oliver yells at me, 'What the fuck did you stop filming it for? Why did you guys get in there? You should have just kept fucking filming it,'" Totino says. 
LL Cool J addressed the incident years later in an interview with Hot 97. "I was doing a little improv, screaming on him, and yelling at him based on the character and what was happening in the scene. He took me seriously. He felt like he needed to hit me because I touched him," LL said. "I had to defend myself and in defending myself somehow his helmet got snatched off and he got hit in the temple." 
LL and Foxx are now friendly, but who won the fight? "LL Cool J, obviously," Bill Bellamy says.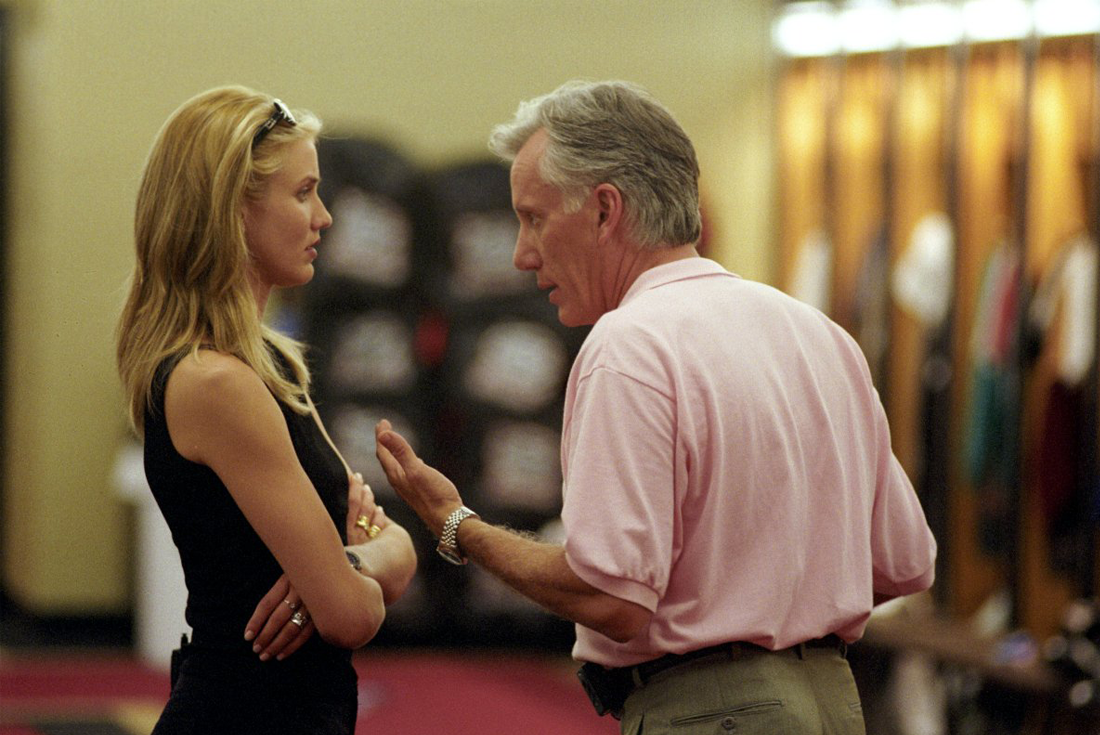 On November 16, 1999, about a month before Any Given Sunday opened, Cherica Adams, the pregnant girlfriend of Carolina Panthers wide receiver Rae Carruth was shot multiple times by a hit man Carruth had hired. Doctors delivered the baby via an emergency C-section; Adams died in December; and Carruth was found guilty of conspiracy to commit murder. He is scheduled for release in October 2018. The players behave badly in Any Given Sunday—snorting cocaine, treating women like garbage, chain sawing cars in half—but are almost tame compared to the reality of Carruth, Ray Rice, Greg Hardy, Adrian Peterson, and Aaron Hernandez. 
If there is a real villain in Any Given Sunday, it's the culture of football, with James Woods's Harvey Mandrake, the crooked physician, and Christian Pagniacci, the team owner played by Cameron Diaz, representing products of that system. Pagniacci instructs Mandrake to fake test results that would clear Shark Lavay, the heart of the defense, to play. Later on, she says of Lavay, "No one is going to sign a $2 million concussion case…Cut him, sign him for 30% if we need him." There are no guaranteed contracts in the NFL.  
Even Al Pacino's coach Tony D'Amato is complicit. "You play hurt," he tells Cap Rooney. "You just need the needle." He's also in the room when Shark Lavay signs a waiver exempting the team from responsibility in the case of paralysis or death.  "I think a lot of those things weren't realistic," says Barry Switzer, one of three coaches to win both a Super Bowl and a college football national championship. "No coach ever makes a player go on the field when he has a chance to hurt himself. Never." Switzer, who cameos in the film as an announcer, however, finds Pacino's "Game of Inches" halftime accurate. "Oh yeah, that's coach speak. We've always known it's a game of inches."
Any Given Sunday also discloses the hazards of the game, years before the NFL's concussion crisis was publicized. Cap Rooney has blank spots in his memory. He shakes. Sometimes he can't hold a spoon, he says. Quitting isn't an option, so he medicates.  "I'm always on painkillers for my rib or my neck," he says. Before going onto the field for the Big Game, Lavay begs a team physician for "that cortisone shit." Earlier in the film Madman demands vicodin and cyclobenzaprine. Modern medicine can't heal certain injuries, but can numb the pain. 
"Those are some things that guys do to get back on the football field," Terrell Owens says. "You want to make something happen for your team, but don't think about the consequences later on. That is a sacrifice a lot of people have made. But the league is not really willing to take care or take responsibility for what we are doing on the football field. We are putting our bodies on the line for the benefit of that shield. That shield wouldn't be anything without the players." 
In the end, the film is about change. Coach D'Amato, a conservative play caller, takes a risk, signaling for a double reverse on the game-winning drive. Julian Washington sacrifices individual glory for the team. Willie Beamen becomes the leader of his battalion. The game always evolves. Black quarterbacks like Beamen are no longer unicorns: Four of the six teams in the 2000 NFC playoffs started black quarterbacks (Daunte Culpepper, Shaun King, Aaron Brooks, and Donovan McNabb); Russell Wilson won a Super Bowl; Jameis Winston was the No. 1 overall pick in April; Cam Newton is the probable league MVP. 
Stone was also perceptive in predicting the rise of high-powered aerial offenses. "People want to see passes, touchdowns, high scores," Pagniacci says. "That's the game today." A month after the film was released, Kurt Warner and the St. Louis Rams won Super Bowl XXXIV. The team was nicknamed The Greatest Show on Turf.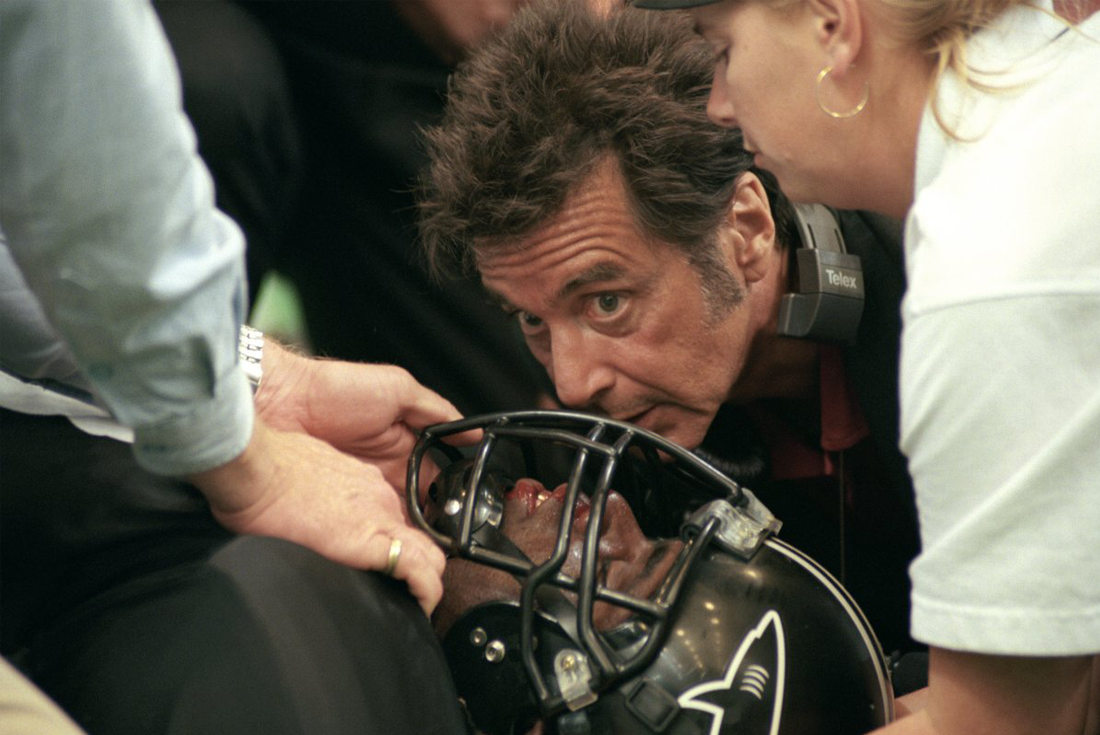 "Oliver wanted to get in there like you were trying to grab that extra inch with bullets flying at you," Mark Robert Ellis, the assistant football coordinator, says. "A lot of these guys set out to shoot football like it's never been shot before and Oliver was committed from the beginning to putting the camera inside the action like it's never been shot before. I think he accomplished that." How did Stone do it? 
Football can't be faked. The players, or stunt doubles, were actually hitting and tackling and blocking. Stone put cameras where they had never been before. He put a facemask on a Pogo-Cam and ran with it to show a running back's point of view. He put a "doggie cam" on a player's shoulder. Steadicam operators were sometimes trampled. If someone hit the camera, it just added to the craziness. The football action in Any Given Sunday is violent and fast and has bloody consequences. For the most part, it's Saving Private Ryan on the football field. 
"You can't put a camera on the field when you're following a play [in a real game]," Totino says. "But when you're making a movie, you can put a camera on the field. Fuck it. Who says you can't? When someone says this isn't how you shoot football, fuck you, we do what we want to do, and we did." 
Though not a commercial smash, Stone had his hit movie. Made for $55 million, Any Given Sunday earned over $75 million domestic, making it Stone's biggest hit since his 1986 blockbuster Platoon. For the actors involved, it felt like they returned home victorious from the war. "Yo man, we are bonded forever—me, Todd, Jamie, LT, Matthew Modine, James Woods. When we see each other it's like we went through the war together," Bill Bellamy says. "It was six, seven months with one of the most dynamic directors in history—who is also crazy as hell." 
The NFL might not have approved of the film. But most of the players did. "I've worked with a lot of football players since on commercials and such," Salvatore Totino says, "And they're like, 'You shot Any Given Sunday? I love that movie!'"