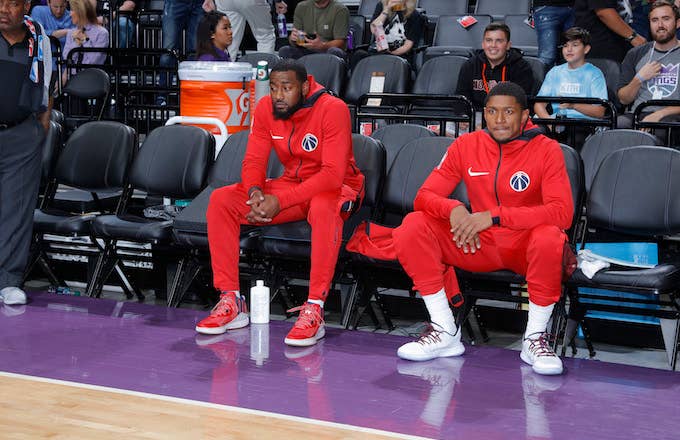 After Jimmy Butler set fire to the Timberwolves right before the preseason, and the discombobulated Cavs fired head coach Tyronn Lue less than a month into their first season without LeBron, the 2017-18 Wizards merely replied, "hold my beer." 
Adrian Wojnarowski reports that Washington is open to trading anyone on their roster after opening the season a disappointing 5-11. That includes their all-star backcourt of Bradley Beal and John Wall. The Wizards' "superteam" just isn't cutting it on the superteam front; although, the Warriors have lost three straight and the C's and Rockets have struggled, so maybe it's a superteam pandemic. They're 24th in the league in net rating, and 27th in defensive rating. You knew things were bad when people were sincerely wondering if Dwight Howard's return from injury might help team chemistry (not to mention their woeful defensive rebounding).
Woj does say the Wiz brass would prefer to rebuild around their backcourt, but their underperforming supporting cast hasn't enticed any offers. Sources say the Wiz didn't include either member of their backcourt in trade offers for Jimmy Butler and Kyrie Irving, but they're now reconsidering. Kelly Oubre Jr. and Otto Porter were the pairing they had been shopping, but Porter has his lowest true shooting percentage since his sophomore season, and Oubre is shooting a career-low 28 percent from beyond the three-point arc. 
There have already been rumblings about Beal, who is three years Wall's junior, on a much more manageable contract, $25 million this year, and a little under $56 million over the next two seasons. His game is excellent on the ball and off,  which means he could easily assimilate with a larger number of teams. Wall's supermax contract kicks in next season, which means he's owed over $170 million over the next four seasons, and that's forgetting the fact that he still shoots well below league average from beyond the arc, needs the ball in his hands to be effective, and intermittently tries on defense.
Here's Beal's response to Wojnarowski's report on Monday:
Some might rightfully claim it's contingent on coach Scott Brooks to spin this ground into more wins, but after signing a five-year, $35 million contract in the summer of 2016, owner Ted Leonsis likely doesn't want to eat that cost by letting him go with so much left on the deal. Maybe Ernie Grunfeld, who—aside from Danny Ainge in Boston and R.C. Buford in San Antonio—is the longest-tenured general manager in the league, is actually on the hot seat. But don't count on it. Look out for a big move involving Beal before the Feb. 8 deadline. And if there's any one meme to perfectly encapsulate the Wizards' downfall, well, please see below.