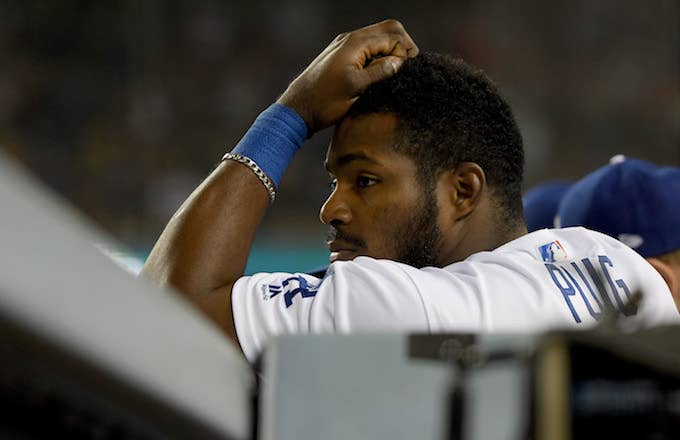 The Los Angeles Dodgers' bad week continues. After losing the World Series to the Red Sox on Sunday, they've been implicated in a Department of Justice probe into possible corruption involving the recruitment of Cuban-born players with regards to the Foreign Corrupt Practices Act (FCPA), Sports Illustratedreports. The Dodgers organization is reportedly all over documents handed over to the FBI by a whistleblower.
The FCPA makes it illegal to bribe foreign officials even if it's lawful in the country where it occurs. On top of that, the possible illegal smuggling of Cuban baseball players runs parallel with—and may overlap—grand jury testimony that's already begun about the recruitment of Cuban player, Hector Olivera, an infielder who renounced his citizenship and signed with the Dodgers in 2015 for six years and $62.5 million. He last played professional baseball in 2017.
Another Cuban-born player who signed with the Dodgers in 2015 for an $8 million signing bonus, Pablo Fernandez, is mentioned in the documents multiple times. He too renounced his citizenship the year before the Dodgers signed him, according to SI. Fernandez's convoluted journey to Major League Baseball figures prominently in the probe and SI's reporting, and it sheds light on why the Dodgers organization piqued the interest of the DOJ.
When Fernandez initially left Cuba, he was denied a visa by the U.S. embassy in the Dominican Republic. However, just a week later he secured one at the U.S. embassy in Haiti. The Dodgers' immigration lawyer, Carl Balediata, said in emails that Pablo's visa in Haiti happened because of "a great team effort" to swiftly get the visa approved. 
"We know he was in the DR illegally to begin with," Balediata outlined in an email sent shortly after Fernandez secured his visa in Haiti. "The fact we said Haiti is his home and made sure Pablo understood this for his interview in Haiti should have also been enough to convey this."
The Dodgers' outside legal team declined to comment to SI about the story.
Despite the rigamarole in acquiring a visa for Fernandez, and the $8 million signing bonus, Pablo would go on to pitch just 15 minor league games and was released by the team in March. Perhaps Los Angeles' biggest star in a season where they came within three games of the ultimate prize, was Cuban Yasiel Puig, but the handling of a much less important Cuban import could be a stain that sticks with the Dodgers long after their World Series loss is forgotten.