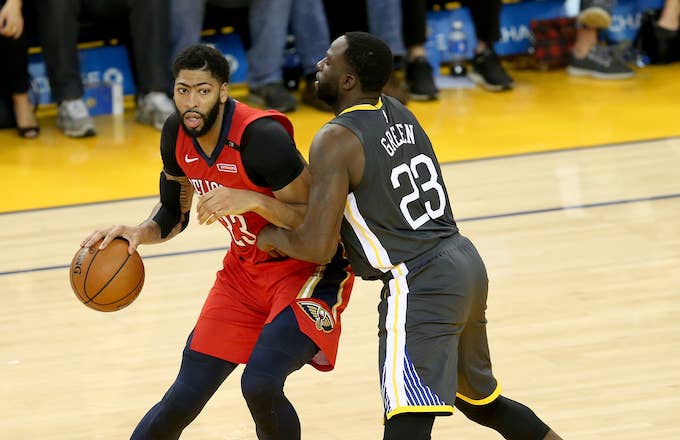 Anthony Davis said before the season he thinks that he's the best player in the NBA. If only he actually played.  Davis was again out of the lineup with an elbow sprain on his shooting arm on Thursday, when his Pelicans fell to the Trail Blazers on Thursday night, 132-119. It was New Orleans' fourth straight loss, dropping them to 4-4 on the season. His recent comments toYahoo's Chris Haynes reflect his irritation at the recent losing streak.
"Of course, I know that in order to win games, a lot of pressure is going to be on me," Davis said after the Pelicans lost to the Warriors on Wednesday. "If we lose, it's on me. If we win, they give my team the credit and I'm fine with that."
"A perfect example [was against the Warriors]," he added. "I don't have a good game and we lose. So, I got to play almost perfect every night to give us a chance to win. But my teammates do a great job. Even the games I didn't play, those guys have been battling night in and night out to get victories...I don't try to put too much pressure on myself, but I know it's there."
The comments should only fuel speculation that Davis will want out of New Orleans soon, perhaps even after this season. His current deal has an option for the 2020-2021 campaign, which means next season might be his last in the bayou. It might come sooner if Davis tells management—similar to what Paul George did in Indiana, Kawhi Leonard with San Antonio, and Jimmy Butler in Chicago—that he's not going to re-sign in the summer of 2020. They'd be forced to deal him or lose him for nothing. That's what potential suitors like the Warriors, Lakers and Celtics are hoping.
Insiders told the Orange County Register's Mark Heisler they think Davis will inform New Orleans to trade him soon. This recent stretch of losing, and Davis' recent comments, merely back up that reporting. As did his decision to ditch long-time agent, Thad Foucher, to sign with Rich Paul and Klutch Sports, home to none other than LeBron James. 
However, it's not just rival general managers, scouts and executives who are whispering about Davis' imminent departure. Former commissioner David Stern recently told Sports Illustrated that the Pelicans would lose Davis because team GM Dell Demps was a "lousy general manager."
Through his five games so far this season, New Orleans' legit MVP and DPOY candidate leads his team in points, rebounds, steals, blocks and minutes per game.  They better hope he gets healthy and they start winning again soon. Before long, they might be forced to deal him even sooner than many league watchers expect.
"Life isn't fair," the oft-injured Davis said about his recent streak of bad luck. "We can't control what happens in the league. I just go out there and play. It's nothing I can do. It is what it is at this point. I just got to go out there and trust my teammates, which I do. Those guys are great players, good defenders, good role players. They do as much as possible to help me."