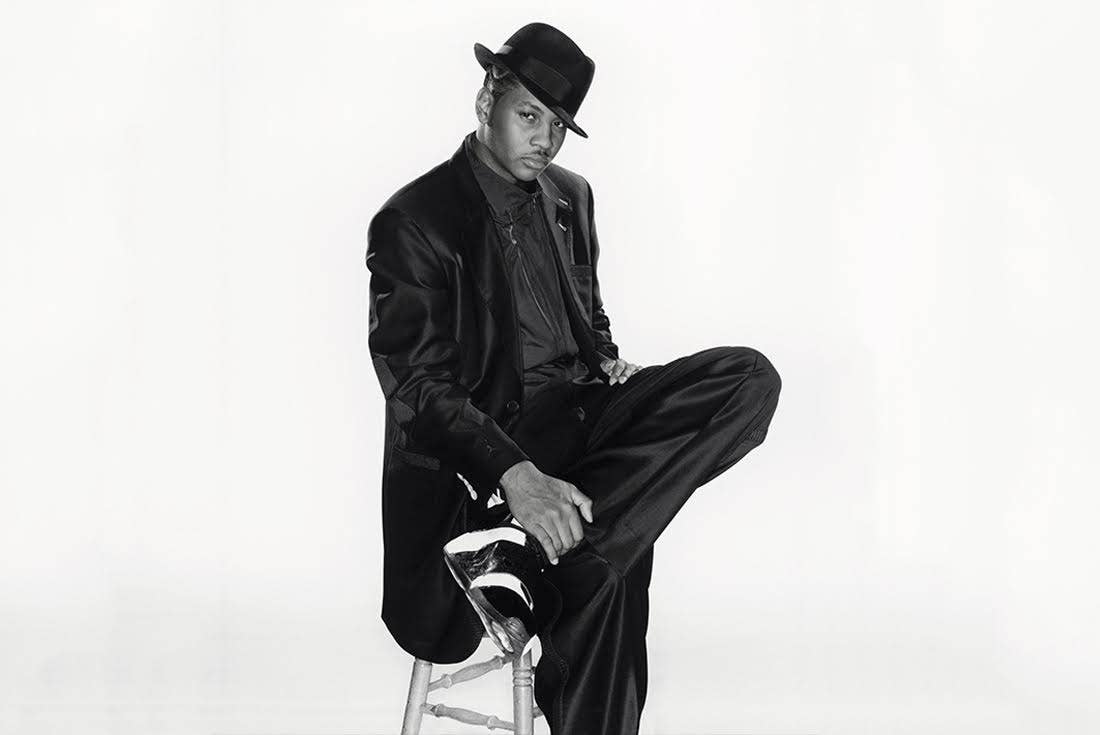 * This story was originally published in the June/July 2005 issue of Complex. 
Chilling in the weight room of Denver's Pepsi Center arena, Carmelo Anthony stares at the gym as the University of Utah's basketball team runs layup drills. He's quietly scanning the court when someone breaks in, "Yo, Melo, you know any of those boys out there?"
"Yeah, no. 4, the real tall dude. I played against him in the Olympics," Anthony says.
"That's the No. 1 pick right there," he adds, getting his Dick Vitale on.
Anthony has his eyes on Utah sophomore Andrew Bogut, the AP National Player of the Year. He may sound like a grizzled vet, but Anthony is just a year and a half removed from walking through the cold quad of New York's Syracuse University and three years away from the cracked streets of hometown West Baltimore. Now he sips Hennessy in the club (legally) and leads his tenacious Denver Nuggets on win streak after win streak while moving more weight than a forklift off the court. Anthony was born for this, positioned to helm an empire before he could get into an R-rated movie. His mug is plastered all over billboards and TV as the centerpiece of both the Jordan brand of apparel and Radio Shack. His milk mustache, the ultimate stamp of celebrity, glistens from dozens of magazines. He's more than just a basketball player; he's part of a new breed of young, multiplatform moguls.
And despite having the intense heat of the media's burners following his every move, the 6'8" baby-faced small forward has dealt with the transition from the streets to the spotlight without becoming a monster. He's soft-spoken and modest during Complex's photo shoot. He's not barking orders and demanding caramel lattes. He's just laying in the cut, nodding his head lightly and mouthing the words to the Jadakiss mixtape booming on the speakers overhead:
But right now all I do is sit back and listen / To a wise young man who quickly became a rich one / Put me up on the fact that it ain't hard to get some / Chips if I just keep writing with ambition.
The words fit Anthony so well it's scary. He's the center of attention. Fans and teammates imitate his every runner in the lane. Managers, P.R. hounds and overseers tend to his every need.
"Sometimes I sit back and I think, How do these people listen to me? I'm only 20 years old," he says. "I'm 20, talking about being a businessman! It's hard for me because there are people twice my age that I got working for me right now. And at the same time I'm trying to learn what to do."
But what Melo lacks in overcooked confidence he makes up for in laid-back cool. Despite several hours of body styling, trouser tweaking and photo snapping on his day off, he remains unfazed, taking solace in brief breaks to answer the buzzing of his busy Sidekick. No business calls today, though.
"I'm only taking calls from two people: Mama and La La," he informs his entourage. "Everybody else can wait."
Mama is Mary Anthony, the woman who raised her boy in the grimy neighborhood of B-More where Melo's favorite show, HBO's The Wire—"It don't get no deeper or more truthful than that," he says—is set. La La, for those who don't scan Page Six every morning, is La La Vasquez, 23, the almond-eyed MTV Veejay and Melo's sexy fiancée. After a year-and-a-half courtship that started in a New York club, they were engaged on Christmas morning of last year. No date has been set. Anthony brings the cheddar home in the form of his $4 million Nuggets salary and a reported $18 million deal with Nike, but he often defers to his lady—"She's been in this game for a minute, so she could pretty much guide me"—and a small team of accountants. "I ain't too big with trust," he says matter-of-factly. "But you gotta trust somebody. I always manage my money, find out where it's going, where it's coming from."
"LaLa's been in this game for a minute, so she could pretty much guide me. I ain't too big with trust, But you gotta trust somebody." —Carmelo Anthony
Most guys who are just losing their baby fat don't have such concerns, but then most young men aren't next in a line of sports superstars turned entrepreneurial giants. Yet Anthony's not quite out of the mold of his Nike forebear, Michael Jordan, or wheeler-dealer Magic Johnson. Unlike them, the third pick in the 2003 NBA draft is getting his Andrew Carnegie on at the start of his career. MJ sold Hanes and Mickey D's and Magic bought movie theaters and Starbucks franchises late in their basketball run. Anthony, though, has been delivering a different marketing point of view from day one.
"When brand Jordan and I first met, they felt I was being looked up to from the people in the street and in the corporate world," he says with a smirk. "Since I basically am becoming a mogul, they wanted me to relate to the younger people."
Still, when the time comes, Anthony knows when he has to get grown. Today he's slipping into a suit crafted by Jordan Apparel Design Director Gemo Wong. Only one has been created in the world, specifically for Melo's large frame. (That, sneakerheads, is limited edition.) These are the kinds of perks the face of a powerhouse gets. Any sneaker he wants, any sweatsuit he can envision, hats, occasional rides on the jet. He's hooked up.
It should be noted that while he is a burgeoning force in the corporate boardroom, Anthony's primary focus remains smashing the competition on the court. He's already accomplished a lot, leading Syracuse to its first National Championship in 2003, winning a Bronze medal with the 2004 Olympic team and bringing his Nuggets back to playoff glory after nearly a decade of futility. But Anthony has struggled with his game in his sophomore season, while his friend LeBron James has elevated his to unseen heights. The comparisons between the two young'ns have been frustrating for the Anthony camp. He's also seen head coach Jeff Bdzelik get the boot, only to be replaced by firebrand George Karl, perhaps the first man to sit Anthony's ass on the bench to show him he isn't always the golden child. "A good team plays the game at a high standard, and when you're not playing at that standard and someone else is, you go with someone else," Karl said after benching him for the final 17 minutes of a loss.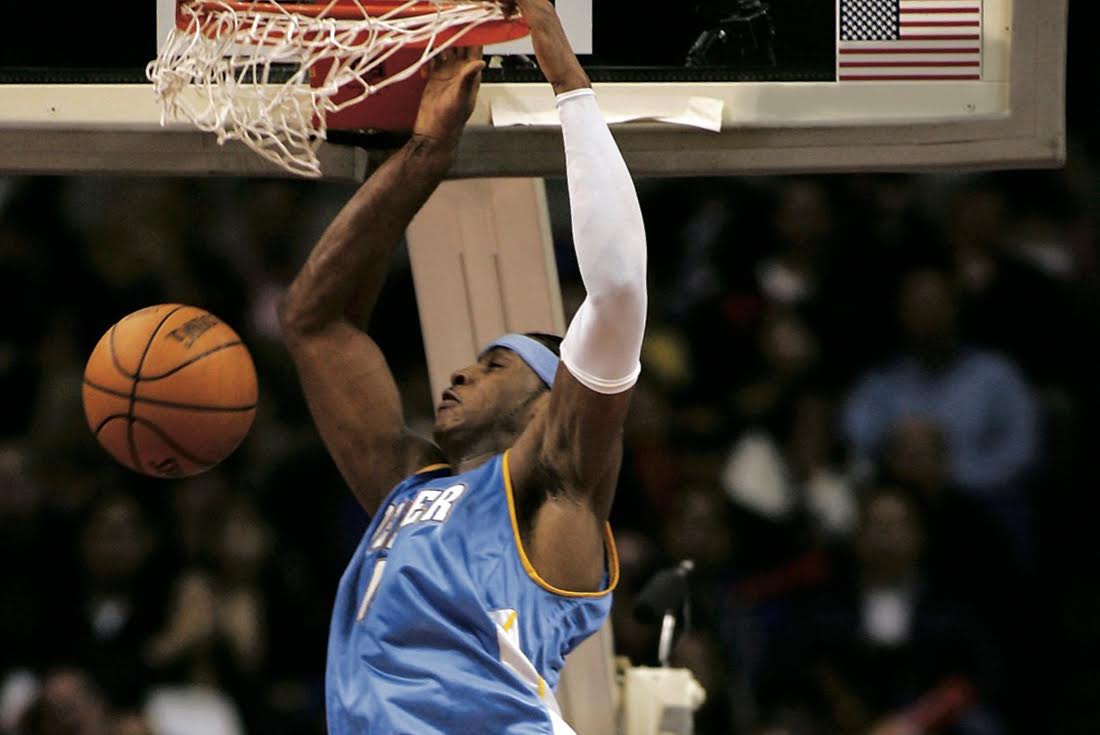 Anthony is the first to admit he's not quite at MJ's level on or off the court yet. Not close. He breaks his composed veneer and goes all "aw shucks" when talking about the legendary Jumpman, saying that if he wants to talk to him, he's got to make the call himself.
"You know, I try not to ask him too much about basketball," Anthony says of Jordan. "If he wants to give me some advice I'm always open to advice. I just call him to check up and see how he's doing." Checking up on Michael Jordan? Not bad for a big kid.
Also unlike his predecessors, whose toothy grins and winning jingles pushed their products to middle America with ease, Anthony's got a quiet swagger that betrays a youth spent on the streets. He's not the type of guy who struts around in pinstriped suits; Melo's more likely to be seen in a gray bucket hat and matching sweat suit, the sleeves cut off to reveal the tattoos that line both of his arms. This is his style, and it's a way for him to remain true to his roots. Meanwhile, his experiences are becoming more typical of the way today's celebrity moguls get their education. The hustling Anthony witnessed on Baltimore's rough Myrtle Avenue is just a flip on the corporate endorsement game.
"It's the same thing. Everybody's mindset is stuck on one thing, which is being the best they can be," he says. "If it's hustling T-shirts, if you've got your own business, everybody's going for that one goal and that's becoming successful."
Having skirted across those streets as a shorty on his way to school every morning, Anthony has found a way to combine his enterprising bobs and weaves with some goodwill. He's been subtly looking into purchasing real estate in Baltimore and Denver to reconstruct as low-income housing. "It was my idea," he says. "Ever since I stepped into the league it was something that I wanted to do. Me owning my own neighborhood? That sounds good." He says he'll call it Anthony-Ville.
It's hardly news that every tycoon comes up against a set of speed bumps to roll over. His easily abbreviated name, his high-profile relationship with La La and his back-story have made Melo an easy target. In the past year, he's been mistakenly cited for marijuana possession. He's been the subject of a suspected extortion scheme: Three men were arrested in November 2004, accused of trying to pry $3 million from Melo for a videotape of a Manhattan nightclub fight that supposedly started when somebody spit in La La's drink. And he's been chided for his small role in a gritty street DVD called Stop Snitching, which prompted him to release a statement: "I don't hang with drug dealers. I'll always surround myself with good people."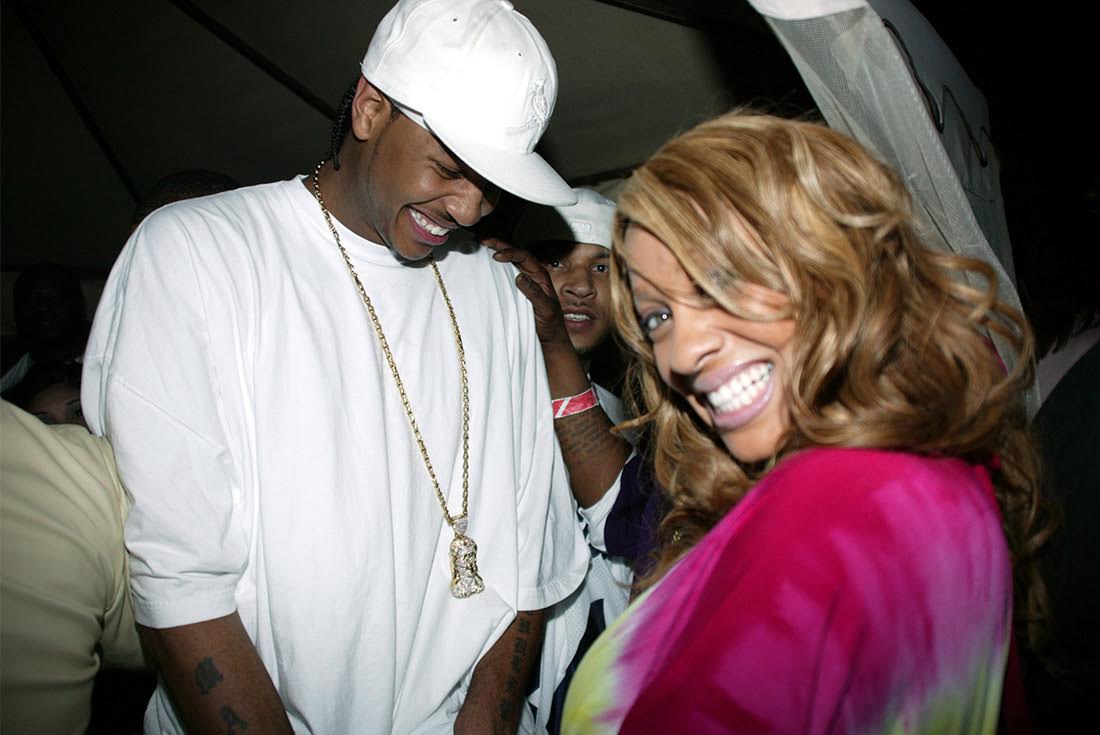 Of course, hanging with good people is getting easier now that Anthony has entered the young mogul's club. One day he's listening to Jay Z in his bedroom, the next he's dining with Jigga and Beyonce in an exclusive Manhattan restaurant. "When I first got here that was strange," he says excitedly, then takes a breath and proceeds more casually. "When you're growing up you see people that you think you're never gonna meet. But then you meet them and then you're hanging out with them and then you're going to dinner with them and then you're chilling at their place. Just to have a relationship with them is weird."
Soon, Melo will have them all chilling at his place.