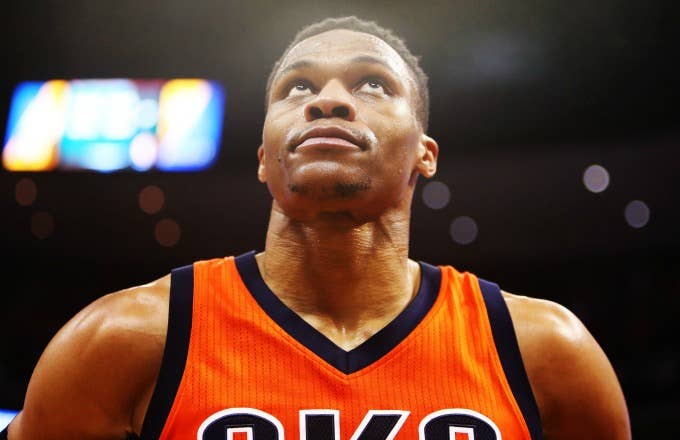 Let us start this argument by making it more difficult. Since 2009, only two NBA MVPs have failed to repeat. Both of them, then-Bulls point guard Derrick Rose and then-Thunder forward Kevin Durant, suffered serious injuries and played fewer than 40 games the following season. Therefore, defending MVP Russell Westbrook's path to a second trophy seems pretty simple—don't get hurt. Ah, if it were only that easy.
It's true that historically it's been almost easier to repeat as MVP than it is to win MVP in the first place. Even two-time winners like Tim Duncan and Steve Nash won theirs consecutively, while Magic Johnson and Michael Jordan posted back-to-back back-to-backs. And LeBron James's four MVPs came in two pairs. No one's managed to three-peat since Larry Bird back in '86, but if you win one NBA MVP and manage to best that season the following year, a second trophy is all but guaranteed.
Which brings us to Westbrook, who won MVP last season by having a career year of career years, becoming the first player to average a triple-double since Oscar Robertson back in 1962. His numbers were so good that voters were willing to overlook the Thunder's record and name him the first MVP from a sub 50-win team since Moses Malone back in 1982. With Durant decamped to Golden State, Westbrook had to shoulder the entire load—and he did just that, leading the Thunder in virtually every major statistical category. It was an unprecedented season by a player thrust into an unprecedented situation.
Is there a counterargument to all of this? Sure. It's Westbrook's own mantra: Why not? Hardly anyone thought Westbrook would average a triple-double once—doing it again shouldn't be any more difficult.
That Westbrook's season played out the way it did was a miracle in and of itself. It won't happen again. This is no slight to Westbrook, who missed just one game last season, played 2,800 minutes, and led the league in attempts, makes, and total points. He's played 80-plus games in six of his nine seasons (nice) and has displayed a Wolverine-like ability to bounce back from injuries. But with the addition of Paul George (and now, Carmelo Anthony), Westbrook won't be required to post the same do-it-all numbers for the Thunder—and if he even tries to, it'll certainly be viewed differently, as selfish rather than valiant.
There's also the little matter of, well, the rest of the league's superstars, nearly all of whom enter the season with chips of varying sizes on their shoulders. First and foremost there's LeBron James, who, like Michael Jordan before him, could easily be MVP every single season. Abandoned by Kyrie Irving and presumably without replacement Isaiah Thomas for the first part of the season—and fueled by a Finals loss—James can be expected to post huge numbers this season. James Harden, not satisfied with being the MVP runner-up, will be freed by Chris Paul to play off the ball a bit more, which should drive both his scoring and efficiency up. Kawhi Leonard speaks softly and carries the best two-way game in the league. Then there's all those guys in Golden State. Plus, with All-Stars Anthony and George in OKC, Westbrook might not even be the MVP favorite on his own team.
Is there a counterargument to all of this? Sure. It's Westbrook's own mantra: Why not? Hardly anyone thought Westbrook would average a triple-double once—doing it again shouldn't be any more difficult. With George in the fold, assume Westbrook's scoring dips, his assists go up, and his rebounds stay more or less the same. Say he averages 24-12-10 and the Thunder win 50-plus games. It would be hard to not hand him his second straight MVP.
But chances are it won't. Westbrook won't eclipse last year's numbers, which will make it all the easier for MVP voters to recognize someone else. And as seemingly easy as repeating an MVP season has been, plenty of all-timers never did. Shaq and Kobe only won one MVP each, as did Kevin Garnett and Dirk Nowitzki and Allen Iverson. Still others never even sniffed an MVP. First-ballot Hall of Famer Tracy McGrady never finished higher than fourth in voting, and his cousin Vince Carter only cracked the top 10 once, in 2000.
Westbrook destroyed the league last season, and expecting him to do it again is lunacy. His team is better, his conference is better, his usage rate won't need to be a league-leading 41.7 percent again. Ever. What Westbrook did last season had never been done before in the modern era. Chances are it will never be done again.