 It's just after 7 a.m.—L.A. time—on the first Wednesday in May and Kristine Leahy enters her first meeting armed with her iPhone, water bottle, MacBook, and a story of getting stuck in an elevator with her "hangry" dog.
The stagnant 20 minutes spent with Fox Sports personality's 12-year-old pug in her apartment building's elevator could serve as the antithesis of her career. The 29-year-old, who joined The Herd as news anchor in September 2015, got her professional start as a reporter and host at WEEI Sports Radio station in Boston. Over the last decade, she has gone on to cover the Celtics, NCAA Tournament, Stanley Cup playoffs, Super Bowl, and co-host of NBC's American Ninja Warrior.
As she gets settled in, she scours the Internet for the latest sports news and pop culture headlines. The typically outspoken Leahy, with just under 100,000 Twitter followers, remains quiet as show topics are discussed.
"I don't say much in those meetings because I need to formulate my ideas separately from Colin," she said. "I need to surprise him with what my thoughts are so that he has a genuine reaction to them during the show."
Colin, of course, is Colin Cowherd, the polarizing yet popular radio talk show host who joined Fox Sports last year after an 11-year run with ESPN. He sits at the head of the table and goes over the the latest sports news including the Lakers hiring of Luke Walton and the botched calls at the end of Game 2 of the Thunder-Spurs series. Equipped with a pen, a couple highlighters, and paper clips, Cowherd takes several notes by hand—the other 15 members of the Fox Sports team in the room work away on their laptops. This daily two-hour meeting that begins at 6:30 a.m. is a key ingredient in the success of The Herd.
"A lot of sports radio shows, you can just walk in the door and B.S. it if you want, but we come in early and we prep for everything," says Leahy.
Cowherd is one of the most outspoken—and frequently controversial—personalities in sports media and is considered brash by some and crass by many others. But Leahy has formed a genuine bond with the 52-year-old and has seen a very different side of Cowherd.
"The first time I met with Colin, we had a lunch meeting. It lasted three hours and things even got emotional," says Leahy. "We did not stop talking the entire time. He was about to be late for a meeting, I asked him what it was. He said he was going to see Straight Outta Compton. That's when I was like, 'This will work.'"
Leahy is a big hip-hop fan who enjoys going to concerts as much as she loves taking in a Clippers game. Frequenting such events and networking while in attendance has given her a Rolodex that would impress the most-seasoned sports media veterans.
"She's got more contacts than any human being I've ever worked with. To the point where I don't even like going out anywhere in the public because she'll be like, 'Oh! I heard you were walking on The Strand last night,'" says Cowherd. "She'll go, 'I heard you were at a pizza joint on Sepulveda Boulevard.' And I'm like, 'OK, so you're either dating the pizza maker or you have this FBI-level intelligence.' She's like Varys from Game of Thrones."
People were tweeting at me, 'I hope you get knocked out next.' I don't let things like that slide.
These connections enable Leahy to add inside information to the show during her news segments. Leahy has sources in several locker rooms and front offices for various teams and leagues.
"Trust is what builds relationships with sources. If an athlete has a story he wants to get out, he's going to give it to the person he feels can handle it the best and with care," says Leahy.
Fans of The Herd will often tweet Leahy to let her know they're watching from lecture halls and bars. But not every social media interaction is innocent. A native of Chicago, she has lived in some of the biggest sports hubs in the nation and has a feel for each region's sports fans. "I grew up really fast and my skin got very thick. That helped me a lot," she says. Leahy knows how to handle a situation when things get out of hand, or overly personal, on Twitter. Which unfortunately happens too often.  
"For me, I try not to pay attention to it because, think about it, who actually has the time to sit down and write something mean toward another person on the Internet? The way I look at it, I feel bad for you because obviously your life sucks," she says.
However, there are moments when the line is crossed and Leahy feels action is needed. Her stance against domestic abusers in the sports world like Floyd Mayweather, Jr. and Greg Hardy resulted in threats.
"People were tweeting at me, 'I hope you get knocked out next.' I don't let things like that slide, because although I'm able to brush it off, I feel like I have a voice where I can hopefully prevent that person from doing it to someone else who it really is going to hurt," says Leahy.
Kind of like the Beyhive—albeit on a much smaller scale—Leahy's social media following is quick to retaliate such attacks.
"I'll usually retweet whatever was said and then my followers will go after that person. Then that person will delete their account. That's my goal. That's the only time I'll really ever address offensive things like that," says Leahy.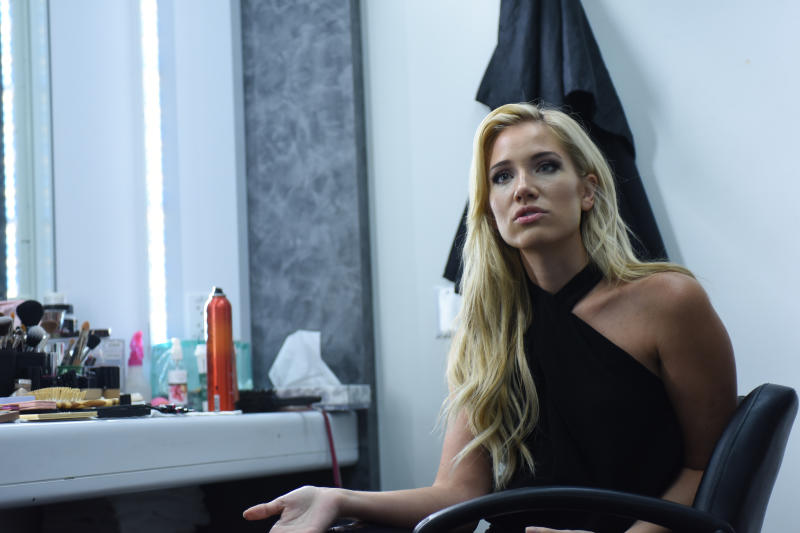 Cowherd said he knew there would be hostility toward Leahy when first joined the show last fall. However, he feels more female voices are needed in sports media and specifically sports radio.
"I told her that over the first few weeks everyone was going to hate her," says Cowherd. "Then for about six weeks, they're gonna be like, 'She's OK, I guess.' Then you'll start to see...it's going to take about two months for them to come around. It was very predictable how people would react.
"There was a six-week period where I was off before starting at Fox Sports and I turned on the radio. Each time I tuned in, it was just guy voices. Some shows have three or four guys on it. Guy, guy, guy, guy. I was like, 'Isn't there a little room for a new voice?'"
Cowherd credits Leahy's authenticity, work ethic, and female perspective with making the show better.
"She's got the background and connections, way better than I do and I've been in [the industry] for 30 years," he says. "She has all sorts of sources and works her tail off. I lean on her for information because she's a real reporter."
The respect and appreciation for one another is mutual.
"A lot of sports radio shows are just hosts yelling and negative things. Colin has smart takes and it's him. He's not putting up a front," says Leahy. "I give him so much credit because he had a very successful radio show that was just him and to add me to it was a huge risk. I'm so thankful for that because I feel like I can just be myself."
When the cameras are rolling, Leahy tries to challenge Cowherd and bring out the best in his takes.
"My goal is to make sure I have an informed opinion and make sure that I'm helping Colin," says Leahy. "We do think very similarly. Sometimes we do disagree on things, but I think we do it in a way where you can tell that we respect one another."
Although they sit at separate desks, about 30 feet away from one another, they communicate both verbally and non-verbally throughout the show. Sometimes communication comes in the form of a shocked look from Leahy or a shrug from Cowherd. In between breaks, it can be relatively silent while each of them goes over notes and other times they'll get up and joke around with one another and the crew. Cowherd says the comfort on set is essential to the show's success.
"There are very few authentic people in this business. I don't have to worry about every sentence— whether on the air or off the air offending her," says Cowherd. "Our relationship is authentic. To me, having that chemistry is so hard. First of all, it's hard to find good people. Then to get along with them? C'mon! Like Skip Bayless and Stephen A. Smith, that shit takes time. It's hard."
She's got more contacts than any human being I've ever worked with.
Later during the show, her perspective comes into play when Cowherd asks UFC light heavyweight Daniel Cormier how much sex he has leading up to his fights. Cormier said he cuts back on sex in the days leading up to the fight. Leahy gasps. "Oh my gosh. Wait, why? And how long must you abstain?"
Cormier says he holds off on having sex for a couple days before the fight because it makes him angry and brings out a primal instinct in the ring. Colin agreed, joking, "Yes, it's 45 minutes for me and I'm just furious."
The expressions on Leahy's face ranged from bewilderment to hilarity while Cowherd remained deadpan. Many times guests, who sit on a couch in the middle of the set facing Colin, will peer back toward Leahy when she weighs in.
"If I see our guest look over their shoulder, back toward Kristine, I know it's a particularly good or interesting segment and that her input is really causing a reaction," says Cowherd.
It's moments like this that make the show much more interesting than your average sports radio simulcast.
"The show reflects the DNA of Fox. You know that DNA from The Simpsons to Fox NFL Sunday. There's something about the show that's a little bit rebellious, a little defiant, thought provoking and fearless," says Fox Sports national networks president Jamie Horowitz. "Those are the same words I would use to describe Kristine."
Once it wraps, Leahy typically tapes The Best Thing I Herd, which is a recap of the best moments from that day's episode. From there, she's off to various meetings. On this day she meets with a writer who's developing a script about newscasters and wants her input.
Afterward, she typically works out, will grab dinner, and head to an event. Attending NBA games is one of her favorite activities during her downtime. A few months ago at a Clippers-Bulls game, she had a moment that stamped The Herd's popularity.
"The Bulls are my team. I was sitting there and two of the Bulls executives came by me and said, 'We just wanted to thank you for defending Derrick Rose on-air recently.' I was like, 'Oh, of course. No problem. Does Derrick know?'" Leahy asked. "They were like, 'Oh yeah, Derrick definitely listens to the show and he's very aware.'"
From Average Joes on social media to former NBA MVPs, streets is watching—and listening—to Leahy.