Athletes Can be Just as Shameless as Groupies
Groupies get a bad name, but professional athletes can act just as boorishly as the women who's reputations are permanently tarnished.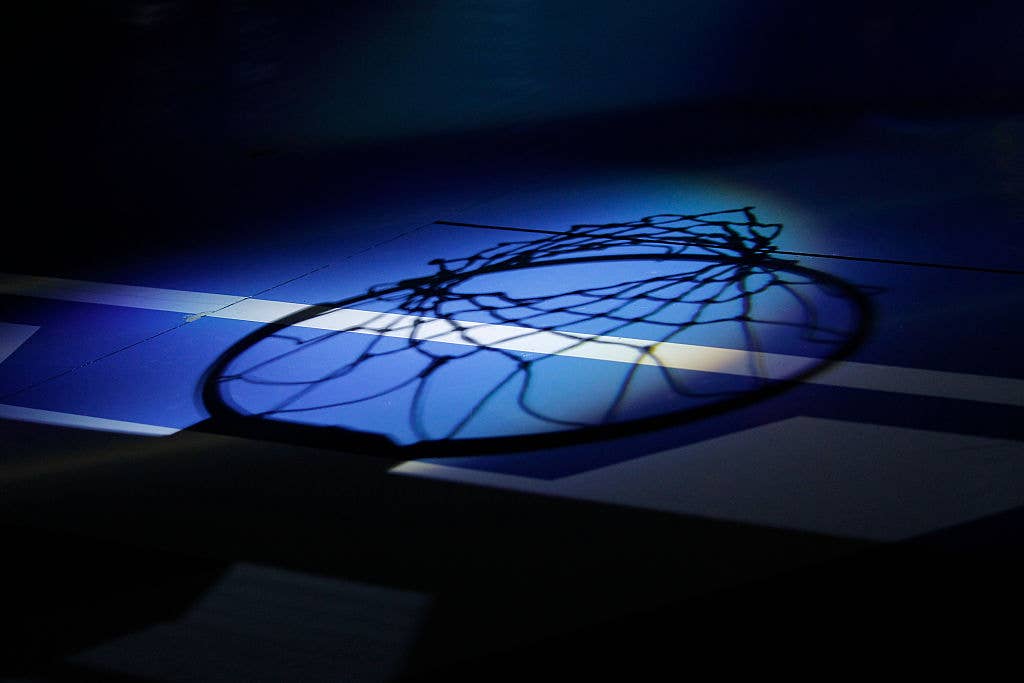 Getty
A view of the shadow casts by the rim after the game between the Oklahoma City Thunder and Sacramento Kings on April 9, 2016 at Sleep Train Arena in Sacramento, California.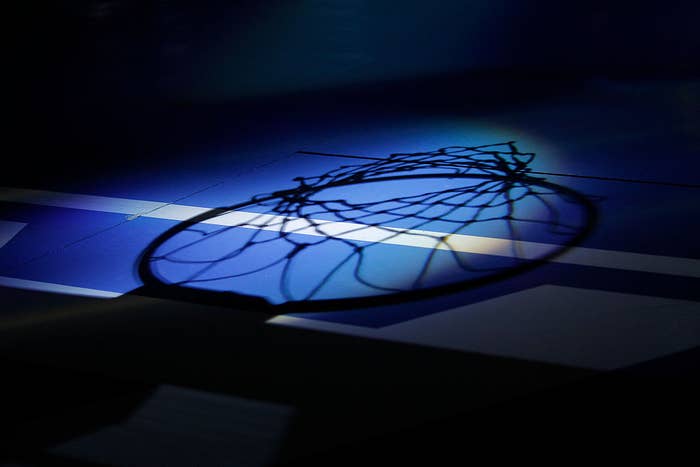 On his 2005 single "Gold Digger," Kanye West rapped, "You will see him on TV any given Sunday, win the Super Bowl and drive off in a Hyundai." See, for me, that's on him—him being the Hyundai owner, but as the song goes, a gold digger will take so much from you, even a Super Bowl champ is going to go broke.
Some dictionaries define gold diggers specifically as women, but a gold digger is anyone who uses their charm to extract money or gifts from others. Truth be told, there isn't too much of a difference between the behaviors of these so-called groupies and athletes (or any male celebrity for that matter) and I should know as I've shared social settings with countless players during the three years I lived in Miami.
It seems one of the strongest standing double standards still in existence is the negative view of groupies, gold diggers, and those now referred to as IG thots versus the pedestal athletes are put on for their off-court/off-field sexual endeavours. Women get judged for what goes on in their personal lives while men get praised for it. Now, if we put the shoe on the other foot and aired out the "dating" practices of athletes, here is where we'd be: Your fave player is probably kind of thotty and likely pretty entitled about it.
A former college athlete myself, I played volleyball and, in heels, I'm taller than your average running back. Thus, spending three years living in Miami and having a solid head on my shoulders allowed me access to a lot of places without getting in too deep with the wrong crowd. My apartment was practically a hotel for my girlfriends visiting from the northeast and, in Miami nightlife, attractive women are currency to pay your way into any room. Add in just how much pleasure I find in saying no to men who rarely hear it, and here's a glimpse at what I witnessed when athletes took their talents to South Beach in the off-season.
On the lighter end of things, a now-retired NFL player, who had plenty of nightlife mishaps in both Cleveland and New York, would repeatedly approach both me and my close friend (who are both about 6'0" flat-footed) on different nights throughout the spring and summer of 2012. He was completely clueless about attempting to pull the same spiel to strike up conversation with us on numerous occasions. But we'd play dumb like we didn't know who he was to limit the conversation, but ultimately, week after week we'd watch him throw himself at so many women in the Fontainebleau lobby it became part of our routine to check to see if he was around. Honestly, he didn't do bad for himself with the ladies, but when you can attend the same party frequented by a revolving door of tourists night after night it's essentially a numbers game and the odds were in his favor.
At events known for crawling with beautiful women who are beckoned to "tag you sponsor" on Instagram, you can expect similar behavior from your faves. For instance, I recall spotting a current NFL player who changed teams this offseason, at 2013 NBA All-Star Weekend in Houston with a woman that wasn't his then-fiancée. I'm not sure if he picked up his arm candy for the night during the festivities or if she was (as she appeared to be) his date for the weekend, but at the time, the people I was there with suggested I turn a blind eye to the situation. Needless to say, his relationship with his fiancée didn't stand the test of time.
Around the same time back in Miami, I came across a now retired 10-year NFL vet who would go to the same club nearly every Saturday, but walk in holding hands with a different woman each time. It was vividly apparent the difference in his behavior when he was with the mother of his child and any other date, though. If Rae Sremmurd's breakout hit "No Type" was inspired by one person alone, I'd believe it to be this guy.
Now, don't get it twisted, I am not slut-shaming your beloved athletes. I am simply saying, they are exactly the same, if not worse, than the women who are so harshly judged.
After years observing exactly what a lot of these pro athletes like to do while hanging out with their boys, I left Miami but that didn't stop me from collecting cringe-worthy stories. For instance, a friend confided in me about the time she attended a meet and greet with several NBA players. After exchanging some obvious glances with one of them, she went ahead and followed him on Instagram immediately after the event to which he returned the follow. I remember her laughing about how easy these men are to impress, saying she was going to DM him and see what would happen. She'd go on to send me screenshots of their chats. It was nothing out of the ordinary—her playing hard to get and a little unimpressed. This is a married man with four children by his wife and it took little to no effort to get him to fly her out for an away game beyond typical text conversations. This was just another example of how the thirst extends beyond nightlife and social settings to essentially any room with attractive women in it.
Now, don't get it twisted, I am not slut-shaming your beloved athletes. I am simply saying, they are exactly the same, if not worse, than the women who are so harshly judged, except for when it's illegal. Then, they're significantly worse.
During my last year in Miami, my girlfriends would come visit and stay for long weekends all the time. Friends that lived in Fort Lauderdale would come crash, too, but we always stayed out of trouble. Aside from a bad hangover or sunburn, the worst thing that would happen on a typical night out was a girlfriend fell in the Intercoastal getting onto a boat.
One time, however, one of my friends slept with a guy she'd met on a previous visit. I knew him, too. Miami's local scene is pretty small, and a lot of athletes spend the offseason there. We'd run into this five-time Pro Bowl safety and his friends all the time. One day, I got home from work, and my friend was sobbing. I was out with her the night before, but she'd met up with the player and decided to stay out with him when the rest of us headed home. She had a key to my place and knew she could call if anything was wrong.
Her wallet was gone. She slept there, and she'd spoken to him in the morning, but she couldn't remember much of the night. This was in March 2012.
Twenty-two months later, that same player was arrested on two separate counts of sexual assault in Los Angeles that allegedly took place in October 2013 and January 2014. Over the next two years he would be charged with varying levels of sex crimes against women in five states, some with accomplices and some without. As the accusations began to pile up, it appeared he was being accused of assaulting four different women in Las Vegas and L.A. between the dates of January 14-15. Four women in 24 hours! Eventually, he'd be found guilty of assaulting nine different women, although a judge mentioned there were as many 16 raped, and was sentenced to 20 years in jail. If 16 women who were drugged came forward, imagine how many others who couldn't remember enough and chose not to?
Not every athlete is a sexual predator, but while women who date athletes are so quickly condemned (especially if they've dated more than one), some of your faves are out here shooting well over .500 with women in bandage dresses and fake eyelashes up and down A1A. So, let me be clear: every single thing you think about a groupie or gold digger—positive or negative—applies to some of your favorite athletes and you need accept that.