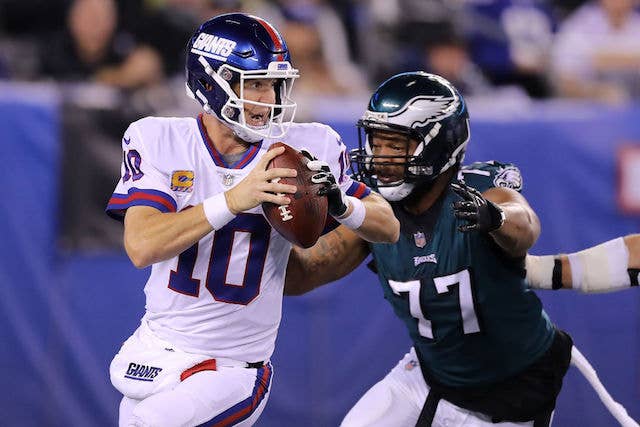 The New York Giants were blown out at Met Life Stadium last night by a score of 34-13 against the defending Super Bowl champion Philadelphia Eagles. Fans rained down boos at the team, Odell Beckham Jr. was throwing haymakers at inanimate objects on the sideline, and Eli Manning remained incompetent at the quarterback position. Despite the calls from many fans to bench the aging Manning, head coach Pat Shurmur says they are sticking with the veteran QB. 
"We believe in Eli Manning," the first year head coach told media during his Friday press conference. "Listen, we're not talking about a quarterback change yet."
Instead, Shurmur insisted that it is up to the entire team to improve its play heading into its next matchup with the Atlanta Falcons on Monday Night Football in two weeks. "We haven't scored enough points...We moved the ball last night and didn't put it in the end zone. That's the challenge and where we need to get better," said Shurmur. 
As expected, Manning was also questioned about his poor play today, and he seemed very aware of his struggles. "I didn't play well last night, and I know I have to play better," he said.
Things aren't looking too bright for the Giants right now. Last week, Beckham Jr. had some comments of his own during an ESPN interview where he openly spoke on Manning's less-than-stellar play on the team's way to a 1-5 start. The superstar wideout has since been fined for it. 
Last year, the team went through similar struggles that led then-head coach Ben McAdoo to bench Manning for his lack of production. The move was scrutinized by many at the time and played a part in his eventual firing following his one and only season with the team.
In retrospect, it looks like maybe McAdoo was making the right call. For now, the Giants organization is standing firm behind the 2-time Super Bowl champion, but there are plenty of fans that think it's time to move on from the 15-year vet.
Still, other fans are standing behind Manning during his tough stint, and feel the lack of a good offensive line is part of the issue.
Any Giants fans looking for a silver lining, Saquon Barkley is the real deal and the rookie running back has continued to dominate week-to-week. So, I guess it isn't all so bad.