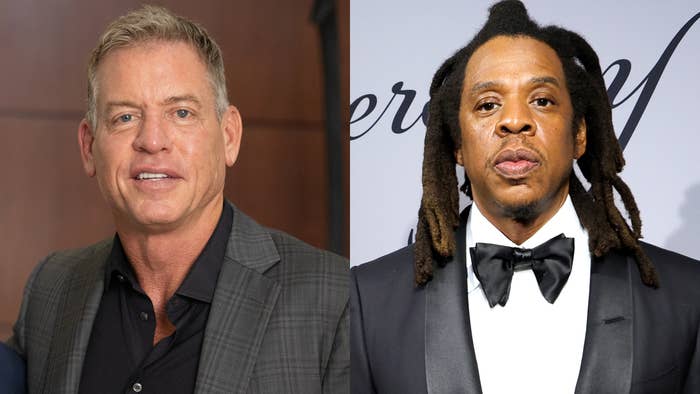 UPDATED 10/16, 10:45 p.m. ET: Troy Aikman's acknowledgment of the doppelganger situation wasn't a one-and-done.
Jay-Z, whose involvement with the NFL is extensive, was spotted at the Cowboys/Chargers game on Monday night. When he showed up for a moment on camera, commentator Aikman told his colleagues, "Yeah, there's a meme that's going around, people think that's my doppelganger, you know?" he said with a laugh. "Me and Jay-Z, how 'bout that?"
See the Monday Night Football clip below.
See original story below.
Troy Aikman has finally addressed all the chatter that he looks like a white version of Jay-Z.
On the latest episode of Pablo Torre Finds Out, the sports journalist explained how he got to ask the NFL Hall of Famer if he's aware that people think he's Jay-Z's twin during a broadcast of ESPN's Pardon the Interruption.
Back in 2017, NFL fans took a screenshot of Aikman reporting during a game and put it side-by-side with a picture of Jay, and the results were pretty wild. Since then, social media has continued running with the joke that Aikman and Hov look alike, and the three-time Super Bowl champion confirmed with Torres that he knows all about the commotion surrounding the similar facial features he and the rapper share.
"Yes. I am aware of that," Aikman said in the recording. "White Jay-Z, there was a meme, it still pops on my feed from time to time. It was some game, yeah—I don't know what...I think this was before everything kinda went AI, but [now] you don't know what's real and what's not, so I don't know if that was actually an unedited picture of me, but, pretty scary."
Jay-Z and Aikman have no familial connection whatsoever. They do share NFL bona fides, with Aikman playing in the league for 12 seasons, and Hov handling the Super Bowl Halftime Show for the last several years.
Next year's Super Bowl LVIII Halftime Show will have Usher take the stage for the marquee event. The news regarding the legendary singer's involvement was announced on Twitter by incorporating several entertainers and NFL stars, from Kim Kardashian to Deion Sanders, in a parody of Usher's iconic "Confessions, Pt. II" skit.
During a conversation with Zane Lowe, Usher explained how the phone call went with his "big homie" Jay-Z about landing the coveted performance spot.
"But when I got this call…he said, 'It's time, it's magic time. You know, it's time for you to have that moment.' I'm like, 'What are you talking about?'" Usher recalled. "He's like, 'The Super Bowl.' I'm like, 'Oh, you ready? Absolutely.'"