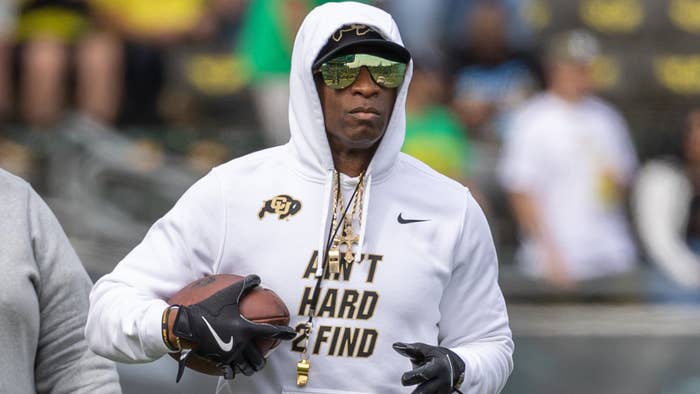 Deion Sanders and his Colorado Buffaloes suffered their first loss in a crushing defeat against the Oregon Ducks on Saturday, and social media is on fire with all the post-game reactions.
The Oregon Ducks and their head coach, Dan Lanning, surgically picked apart the Buffaloes in a lopsided game that had a final score of 42-6. The Buffaloes didn't have an answer for Bo Nix and the aggressive offense, while the Oregon defense stopped Shedeur Sanders, who had been sacked over six times.
Expectations were high going into the matchup as both teams came in with an undefeated record.
Days before the game, Coach Lanning had some words about Coach Sanders and the Colorado football program joining the Big 12 conference, which only amplified the hype. Things got even more interesting when Lanning was filmed before the game telling his players, "They're fighting for clicks, we're fighting for wins."
Lanning's speech was clearly helpful as the Oregon Ducks steamrolled the competition. Before the game even ended, people on social media were already giving their take on the Colorado Buffaloes getting their first loss of the season.
"Damn Colorado losing one game and y'all cutting ties already huh? So only when they winning and it's no adversity y'all supporting. Y'all lack of loyalty is appalling every time I see it," one person wrote.
Another tweeted, "Damn Colorado is getting fingered #OregonvsColorado."
A third person wrote, "Racists 'bout to have a field day with this one. Damn Colorado.... #ColoradoBuffs."
Deion Sanders and his Colorado Buffaloes have been the talk of sports since the college football season started. Despite being destroyed by Oregon, the Buffaloes will still be in the headlines as they travel to take on USC next weekend.
Check out more reactions to the Oregon-Colorado game below.