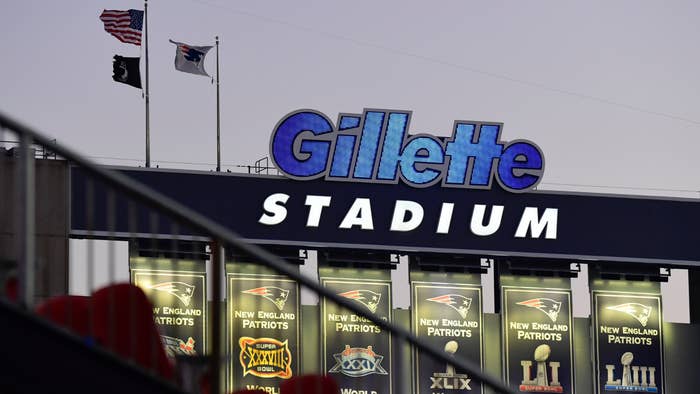 A New England Patriots fan has succumbed to injuries suffered during a fight inside Gillette Stadium when the Miami Dolphins were in town Sunday night, NBC 10 reports.
53-year-old Dale Mooney of Newmarket, New Hampshire was one of the people involved in an altercation in the stadium. In video footage shared online, a Dolphins fan can be seen punching Mooney, who then became unconscious. One eyewitness said the Dolphins fan knocked Mooney out after punching him in the face, per The Daily Beast.
Eyewitnesses told NBC 10 that first responders performed 10 minutes of CPR on Mooney, who was rushed to the hospital following the incident and pronounced dead.
"We looked up and we just saw a bunch of people standing around in an area in there...a lot of people that were standing around, were filming with their phones," said Keith Noonan, who was at the game. "No sport is worth, you know, getting physical with anybody."
According to Noonan, he didn't see the fight happen but did observe security running to the area to assess the situation. Others claimed more than half a dozen police officers and security guards were seen flocking to the area.
Devyn Kirwin, another attendee at the game, added, "I was shocked. Everyone in that section had to get moved. Especially to know that it happened right behind me, and there wasn't much I could do about it."
The Norfolk District Attorney's Office has announced charges were not issued as the Massachusetts State Police are still investigating the incident.
Mooney's death wasn't the only incident that occurred at Gilette Stadium on Sunday.
NBC 10 reports that firefighter Anthony Colella Jr. and friends helped a man who had no pulse right before the start of the game. Colella performed CPR, and after a few minutes, the man was revived and breathing on his own.
"As a firefighter, this is something that's in my head constantly. You just don't know what could happen. You don't know what could be thrown at you, and that's what we're trained to do," Colella told the outlet. "We're trained to jump in, whether it's at work or not."