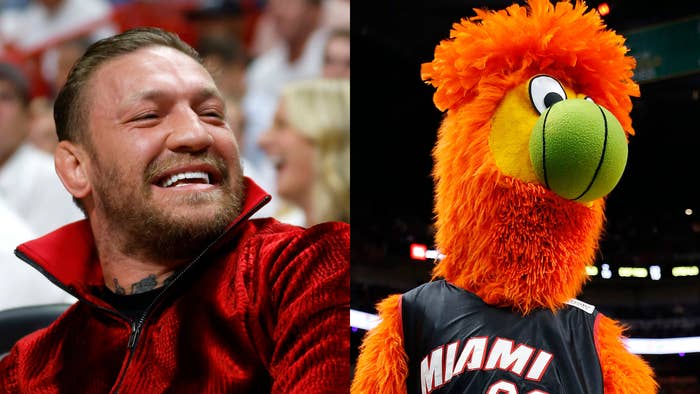 Conor McGregor packs a lot of power in his punch, and Burnie, the Miami Heat mascot, felt that during a mid-game skit during Game 4 of the NBA Finals that sent him to the emergency room.
The incident occurred on Friday night when the Miami Heat were taking on the Denver Nuggets at the Kaseya Center in Miami, Florida, and Burnie had McGregor take part in a segment. In the video footage shared on Twitter, Burnie is dressed in a red cape and gold gloves as he approached McGregor, who sprayed his new pain relief product on the mascot.
The UFC fighter then hurled a sharp punch at Burnie that caused him to drop to the floor. As Burnie laid on the court, McGregor threw another punch straight at the mascot's nose before he was dragged away.
The situation was all planned out for the skit, but McGregor's strength and power may have been too much for the moment, as the guy in the costume was sent to the emergency room to receive medical treatment. According to a league source, though, the man was given pain medication and has since been discharged and is doing much better.
Burnie wasn't the only person that had a long night on Friday. The Miami Heat lost to the Denver Nuggets 108-95, making Nikola Jokic and his squad go up 3-1 in the series. Jimmy Butler and company are now in a win-or-go-home situation for Game 5 on Monday night in Denver.
As for Conor McGregor, he'll be making his return to the ring in a bout against Michael Chandler scheduled for this year. The former champion hadn't stepped foot in a ring since his July 2021 loss to Dustin Poirier, in which he fractured his leg.