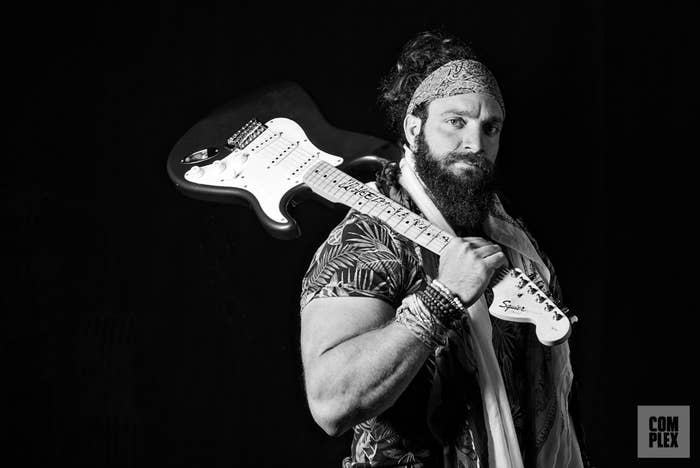 For all of his shit-talking and villainous in-ring behavior, WWE superstar Elias is as chill as they come. While kicking back on a green room couch in Complex's Times Square office, the Pittsburgh, PA native verbally assaults his pro wrestling colleagues with a striking calmness. His cadence matches the dark green floral tee and a white patterned scarf he wears. He's a cross between California cool and keep-it-100 New Yorker; a Jesus-looking rocker who will bash your favorite sports team and make you love him anyway.
It's amazing to think that just a year-and-a-half ago, Elias was rehearsing backstage to sing and wrestle for the first time ever on Monday Night Raw. It was May 22, 2017, a few weeks after his post-WrestleMania 33 debut. However, before he could hit the ring to perform live for thousands in attendance and millions watching around the world, the man formerly known as "The Drifter" Elias Samson was instructed to play for his boss.
"[Management] said, 'Vince [McMahon] wants you to do the song for him,'" Elias recalls. "I sat down in Vince's office and said, 'Hey, they told me to come do my song for you, so Vince, if you could just silence your cell phone, hold your applause, and shut your mouth, I'd like to do that right now.'"
A supersized flex to say the least, what makes the interaction even more legendary is that it represented the first between him and McMahon beyond a handshake. Always cool and confident, regardless of his audience, Elias was far from intimidated by McMahon and his notorious hard-assery.
"After I sang my little song," Elias continues with a half-smile, "he just kind of gave me a head nod and said, 'Oh, this is gonna be good.'"
McMahon, as he's been with countless other WWE superstars, was right. Since being called up from NXT—WWE's developmental brand—Elias has built an impressive resume. He's feuded with top company guys like Roman Reigns, Seth Rollins, and John Cena; challenged for the Intercontinental Championship; held weekly musical performances on Monday Night Raw; and released a debut EP, Walk With Elias, which spawned the Walk With Elias mockumentary.
His singsaulting (sing insulting) and A1 shit-talking have allowed Elias to transcend the WWE. Want proof? His promo on this week's episode of Monday Night Raw, which saw him mocking Seattle for losing the Supersonics (ouch), elicited an unrelenting downpour of boos that lasted for over six minutes. The ire he drew was so immense—you'd be hard-pressed to find a comparable negative reaction—that the segment gained mainstream media attention.
"I hate the comparisons. The idea that Elias is ripping off The Rock. He did cover songs, like 'Wonderful Tonight' and 'Jailhouse Rock.' I'm doing original songs every week. The Rock cannot do what I do."
Elias is the best bad guy in professional wrestling today; a remarkable feat given that prior to inking a contract with the WWE, the company rejected him on four separate occasions. When he finally did sign an NXT developmental deal—thanks in large part to a co-sign from OG William Regal—wrestling icon Dusty Rhodes spotted the secret sauce in Elias that would propel him to superstardom.
A self-taught guitarist who started playing at 15, Elias grew up idolizing Eric Clapton. When he revealed his musical passions to Rhodes, the two determined that Elias should make the guitar a part of his schtick. So he slung the instrument over his right shoulder and carried it around with him.
Although he believed he found his calling, Elias experienced difficulty getting noticed on NXT. He even struggled to make it onto the smaller-house shows and came up with an alternative way to perform in front of an audience. He busked outside of the various NXT venues in Florida, playing for tips in front of as many as 50 people, and embraced—for the first time—"The Drifter" character.
Noticing the buzz, NXT showrunners gave him a chance. "The Drifter" Elias Samson made his first appearance on NXT television with the new persona in November 2016. He played his guitar and sang in the middle of the ring, much to the chagrin of the crowd.
"They didn't want me to sing and play," he says. "Get that out of here, that's not wrestling." They despised Elias, urging him to "Drift...A-way" (a clever troll on his finishing maneuver, to the tune of New Day's "New...Day-Rocks" chant).
"It was almost impossible to hear myself sing at times," Elias remembers. "But you never want silence. Except after I tell people to shut their mouths before I sing."
Elias found his voice and instrument, but the stage wasn't quite right. Fast-forward to 2018: The WWE Universe can't get enough of the versatile Elias. His popularity set off a lightbulb.
Not even a year after commanding McMahon to shut his mouth, Elias pitched the Walk With Elias album idea to him directly. The four-song, 15-minute rock-blues project has enjoyed tremendous success—despite the lack of features, like he's the J. Cole of sports-entertainment—reaching No. 6 on iTunes. No other WWE superstar has climbed the music charts quite like Elias, except for John Cena, whose 2005 rap album, You Can't See Me, earned platinum status.
"When I say I'm the biggest musical act on the face of the planet, I really mean that," Elias says confidently. "I'm in front of tens of thousands of people, millions around the world, performing every week. Is there anybody else that's doing that? I don't think so. So seeing my album shoot up the charts, and everybody loves it, it's expected."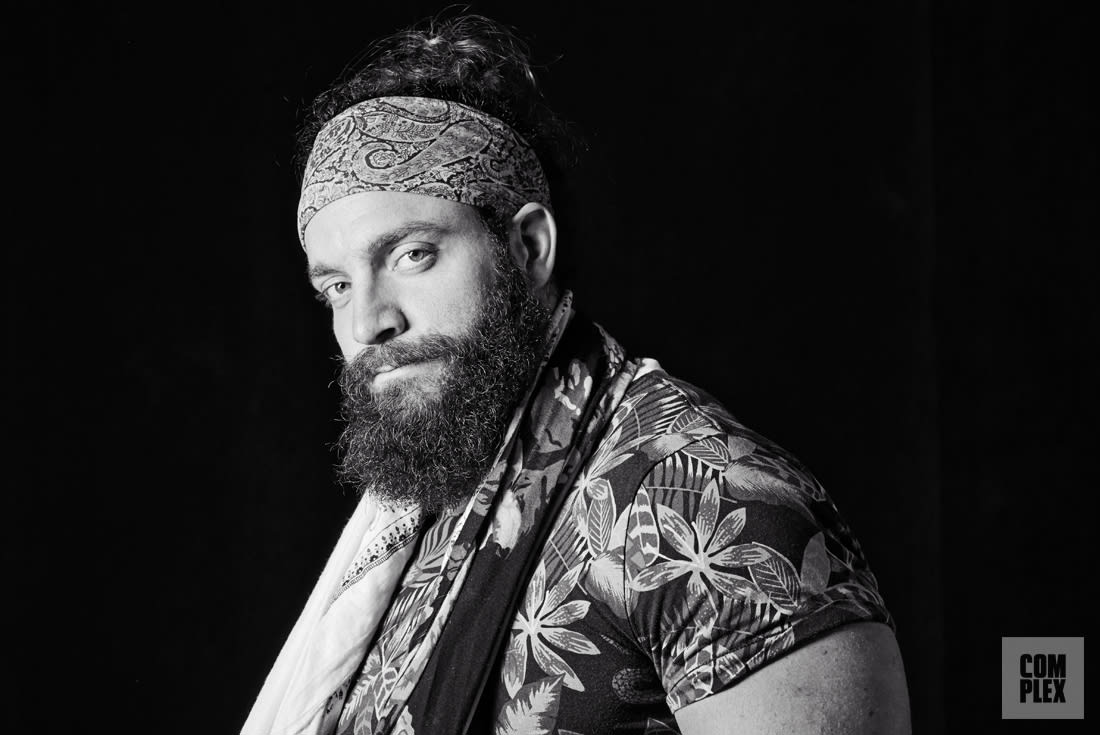 The only disappointing aspect of the EP is its length. The four tracks leave much hilarity and barb-throwing to be desired, especially since, according to Elias, he actually recorded 10 songs for the album. Still, the reception speaks for itself.
"I know [Vince] listens to my album in his free time, if you can believe that," Elias reveals. "At least, that's what he told me."
Music has always represented an important fiber in WWE's complex stitching, and although his gimmick is fresh, Elias borrows the guitar playing from guys like the Honky Tonk Man and Jeff Jarrett; dissing the WWE Universe through song from John Cena and his Doctor of Thuganomics persona; and the in-ring concert from The Rock. But whatever you do, do not mention the name of "The Great One" around him.
"I hate the comparisons," says Elias. "The idea that Elias is ripping off The Rock. He did cover songs, like 'Wonderful Tonight' and 'Jailhouse Rock.' I'm doing original songs every week. The Rock cannot do what I do."
Although The Rock has become his favorite target over the past few months, Elias doesn't discriminate in his shit-talking. He's saved spice for The Undertaker, Chris Jericho, and Seth Rollins. Even so, the 30-year-old laments not having the opportunity to throw shade at as many people as he wants to.
"On WWE, it doesn't make sense for me to talk about random [guys]," he says. "I need more of a forum to talk. Put my opinions out there."
So we gave it to him, tossing names Elias' way and having him react only as he can.
On The Shield: "The whole world thinks The Shield is the greatest group of all time. I'm so sick of [them]. Roman and Dean and Seth put their fists together and the crowd goes crazy. Come up with something new already. They're doing the same thing they did, what, five years ago? And I'll tell you what, not one of them is cool to me. They've just been shoving it down our throats for way too long and trying to make us believe it was more than it ever was."
On Triple H: "Now that it's clear to the world that what this place needs is what I am, it feels like Triple H is afraid of that. He's not ready for me to be the main guy, or he's not ready for me to take over that spot. There's a fear that I sense about him, and a reluctance to accept me…I don't want to say he's doing his best to keep his thumb on me, but while it feels like a lot of people want the best for me, it doesn't feel like Triple H does."
On Brock Lesnar: "In the ring, he's a total animal. If you're gonna get in there with him, prepare to get beat up. You're not walking away the same person. But company-wise and professionally, I hope he [goes away]. Monday Night Raw should have a champion. All the live events should have a champion. It's not right for the fans. It's not right for business. I don't think business is any better when Brock Lesnar is around."​
He has kinder words for a select few: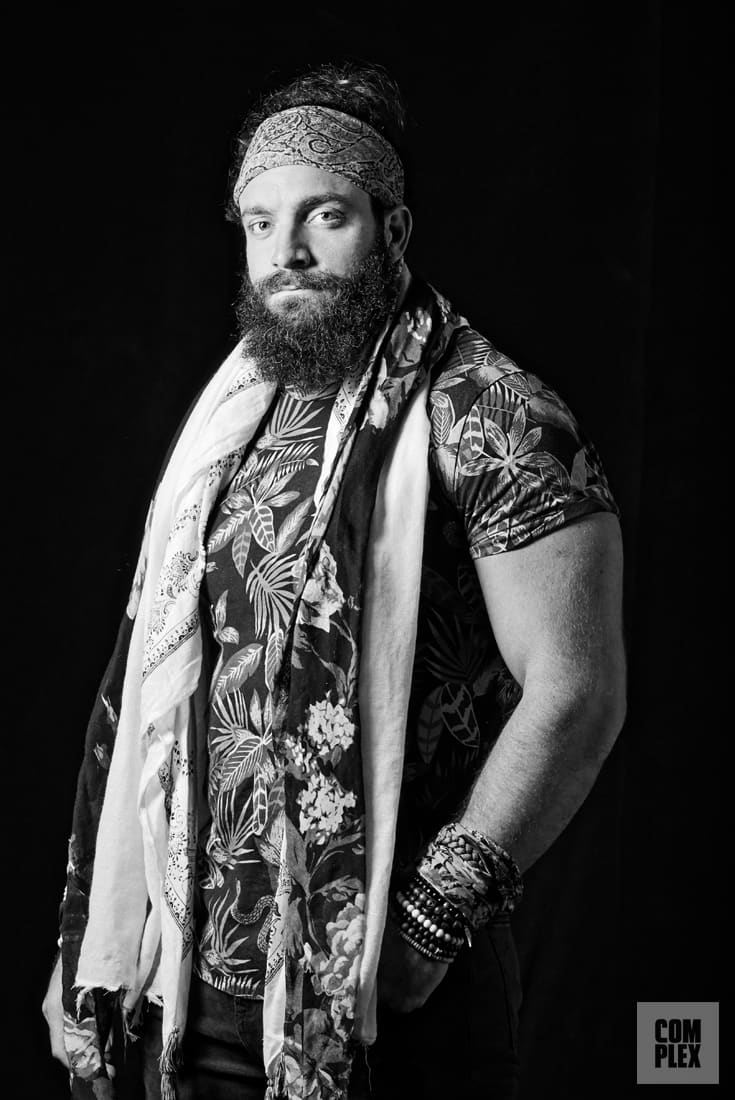 On Roman Reigns: "Roman kind of has a cool vibe to him, but as [a] human being, [he's] not cool…He's a great champ...in the meantime."
On The Miz: "Miz has been telling me he wants to play guitar. He's like, 'I'm gonna take lessons, and I'm gonna learn, and we're gonna play together.' I would love if he did that one day...Miz is cool, I'd give him a lesson. And he knows his role. He's not trying to outshine Elias."
On Ronda Rousey: "She hasn't paid her dues in the traditional respect of a pro wrestler...[but] if you're good, you're good. And she's really good. She's a fighter, she's athletic, she's intense. If you have a problem with that, that's a personal issue. Same goes for Brock Lesnar. The issue with him is he's never there. But Ronda is super passionate about wrestling. She's at all the shows. I don't see what's not to like about what she's doing."
As much as Elias claims he and The Rock are not alike, the two have a lot in common. Their heel personas and holier-than-thou attitudes play off the idea of their celebrity (see: Hollywood Rock). Most notably, their personal interactions with the WWE Universe gained them both immense popularity. Rock became the master of the catchphrase, carrying a Rolodex in his back pocket and dropping them for fans to joyfully sing along to. Elias, meanwhile, proves that one solid mantra is enough to make the audience pop.
WWE stands for Walk With Elias.
He uttered the all-too-perfect acronym to John Cena for the first time during a Christmas Day (2017) promo, which elevated Elias to a stratosphere many WWE superstars can only dream of reaching.
"It took less than a week to where I went out there on Monday Night Raw the next week, and I said 'WWE stands for,' and everybody answered, 'WALK WITH ELIAS!'"
The catchphrase, which elicits a deafening response, is a cherry on top of the multi-topping sundae that is Elias. What gives him his rich flavor is authenticity. One of the major gripes fans have with the WWE product today is how scripted it is (or at least appears to be). Because of that, its characters can come off as hollow, or pro wrestling's most dreaded f-word: fake.
"Everything I do is true to the person I am. To me, there's not too much distinction between Elias and my former name."
"Everything I do is true to the person I am," Elias says. "To me, there's not too much distinction between Elias and my former name."
Elias' refusal to refer to himself by his government name,
Jeffrey Sciullo, demonstrates just how wedded he is to his character—a very old-school mentality. With reality shows like Total Bellas and Miz & Mrs., all we hear now are those "former" names. But Elias refuses to pull the curtain all the way back. He masterfully walks the line between reality and fiction.
"I know this interview is supposed to capture the man behind the character, but to me, they are very similar."
Between his accessories—which include bracelets, scarves, bandanas, and kimonos—underrated wrestling ability, epic clapbacks at the WWE universe, and very legitimate guitar playing, Elias is real. You can just tell speaking to and looking at him. And he's really good at what he does, plain and simple. Anyone can come up with an idea for a new character, but having people buy into it and suspend their disbelief is what Elias has achieved. He pokes and prods and has the WWE Universe eating out of his hands.
"The only reason people would react that way to something is because there's some truth to it," Elias says. "It hurts because it's the truth."
It's the notion that makes villains so great at what they do. And everyone loves a villain. They say some ign'ant shit, but also force you to step back and admit, You know what? He's not wrong. They say what people with a strong moral compass choose not to.
Perhaps the most relatable aspect of Elias lies beneath the surface. His character is built on the premise of being a "drifter"—a person who moves from place to place alone. Although he's technically no longer "The Drifter," Elias symbolizes the aspect of the human condition that on the one hand rejects social interaction and on the other desperately craves it.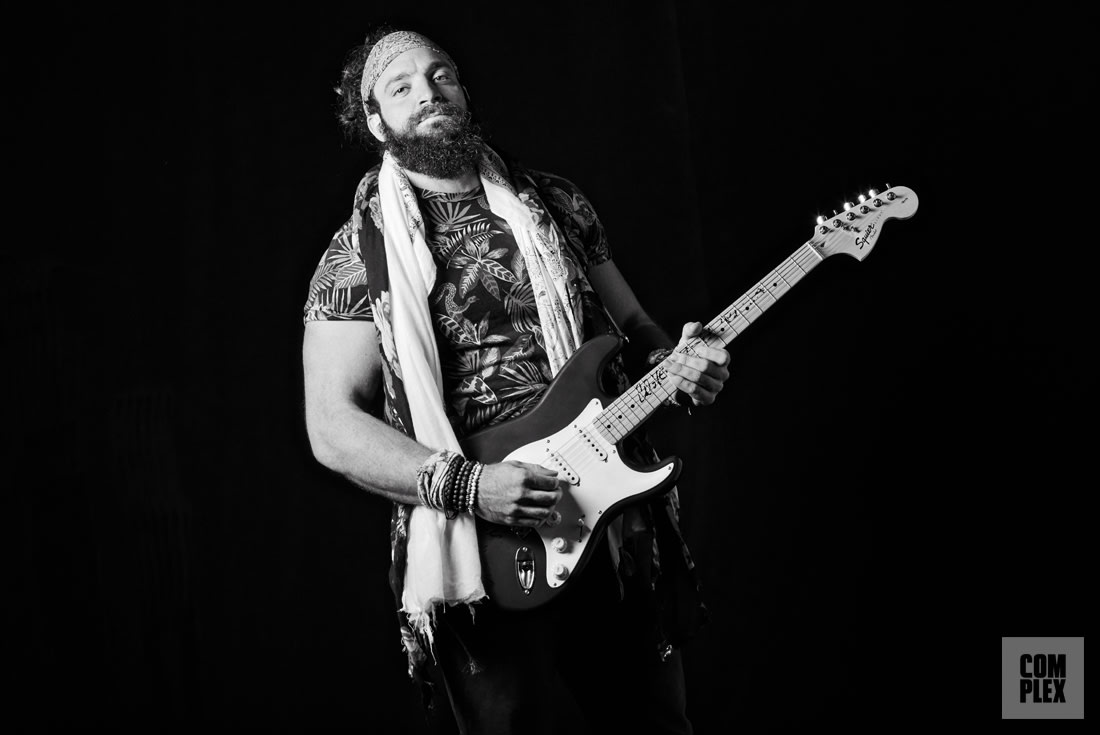 "I'm not gonna tell you exactly what I mean or how you should feel," Elias says. "I put my songs out there; you can interpret them however you want."
As for where our walk with Elias is headed, the path is a bit foggy. Will he face The Rock in a match at WrestleMania? Or a concert battle? Release a sophomore album? Receive a main-event push? As of this writing, Elias isn't engaged in a proper "feud," and has wrestled only a handful of matches on Raw in recent months. But Elias does forecast in-ring success with a chance of gold.
"A WWE championship belt is on the horizon…What I think needs to happen now is a story that can be told only by Elias, and I'm not even sure who the person is that I tell that story with," he says. "But a deep story that people can get invested in, with two characters that come together to make something memorable."
Championship or not, the last year has proven that wherever Elias walks, the WWE Universe will follow.
"I'll lead millions around the world to the Promised Land," he says leaning forward slightly, yet relaxed as ever. "Everywhere we want to go, everywhere this company wants to go, just follow me."