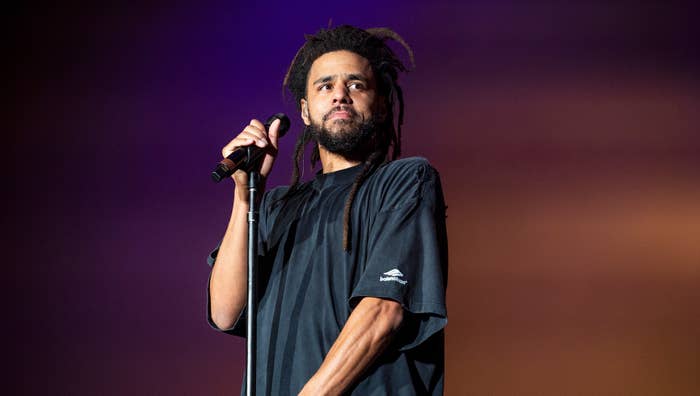 J. Cole will grace the cover of NBA 2K23's special edition.
The Grammy-award-winning rapper was officially unveiled as the the face of the video game's DREAMER Edition, which sports an expanded MyCAREER mode that allows players to add music, fashion and business ventures to their career journeys off the court. 
"NBA 2K has long been a place to discover new musical talent through their game and continues to be a gold standard for showcasing all things basketball culture," Cole said of the collaboration in a statement. "It's been an amazing journey to not only appear on a cover of this year's game, but to be part of the MyCAREER storyline, soundtrack and bring the DREAMER brand into NBA 2K."
Cole also took to Twitter to celebrate the momentous occasion.
"This shit crazy. NBA2K23 cover. DREAMER," he wrote.
Cole is of course an avid basketball player, and has previously balled professionally both in Canada and in Rwanda. The Dreamville leader will also serve as executive producer for the game's highly anticipated soundtrack, which will feature 36 songs from the likes of Drake, Megan Thee Stallion, J.I.D, Ski Mask The Slump God and more.
"The sheer scale, depth and talent featured in this year's MyCAREER creates an unparalleled experience within NBA 2K23," said Alfie Brody, Vice President of Global Marketing Strategy in a statement. "At the top of that list of talent is our first cover star who truly sits at the intersection of basketball and music. Bringing a visionary like J. Cole and DREAMER into the creative process for both the game and the soundtrack showcases the pillar of culture that NBA 2K23 has become."
Players will be able to purchase the game's DREAMER Edition in November exclusively at Gamestop. The edition will be available in the U.S. and Canada for the PlayStation 5 and Xbox Series X consoles. The regular edition of NBA 2K 23 drops on Sept. 9, 2002. Fans can pre-order the game here.