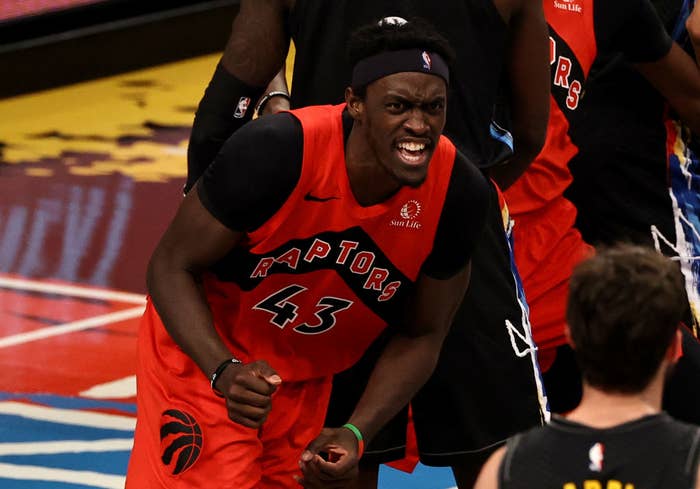 The Toronto Raptors roster entering the 2023-24 season might not look all that different from the previous one, but Masai Ujiri is hoping that the new coaching system will be enough to keep Pascal Siakam as the team's offensive centrepiece for years to come.
At the team's media day, the players, coaches, and executives had their time to speak about their feelings going into the new season and what they wanted to achieve.
With Siakam's contract expiring at the end of the season and the Raptors seemingly stuck in no man's land, Ujiri spoke about the team's selfishness and how a new contract would largely depend on whether they learn to play "the right way."
According to Michael Grange, Ujiri addressed the Siakam extension talks head-on.
"A lot of players didn't play the right way. I said it, that we were selfish, I'm not running away from that. We were selfish and we didn't play the right way. So let us see it when we play the right way," Ujiri said.
Shortly after Ujiri spoke, it was Siakam's turn to talk. He quickly addressed the selfishness claims.
"I've never been a selfish player in my live [sic] …. ever since I started playing basketball … I don't have an ounce of selfishness in me," Siakam said.
Scottie Barnes, who's entering his third year in the NBA, also spoke about the team's selfishness.
"It's energy-draining," Barnes said. "Sometimes you're out there feeling like it's every man for themselves ... that's what we really got to change."
Despite the ominous chatter at the team's media day, other players including O.G. Anunoby and Gary Trent Jr. expressed their love for Toronto with the latter saying how much he's spoken to the team's new coach Darko Rajakovic.
After losing out on Damian Lillard, the Raptors will have to make do with their current roster. If the team fails to be a competitor, then it's entirely possible that this season is the last we see Siakam in a Raptors jersey.
The Raptors will play their first pre-season game in Vancouver against the Sacramento Kings on Oct. 8. Their season opener will take place in Chicago on Oct. 27.