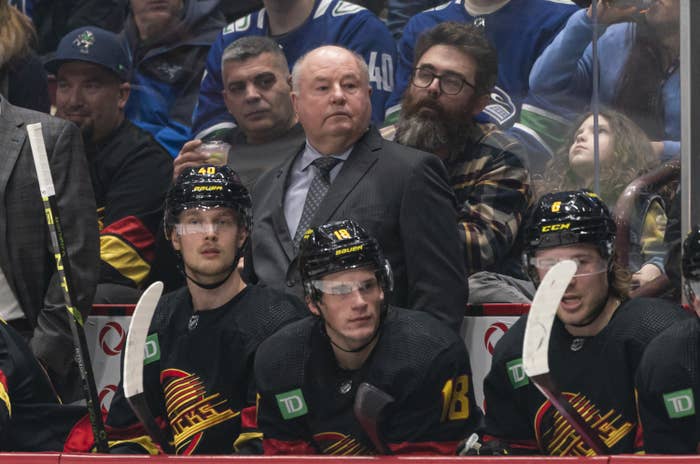 Former Vancouver Canucks head coach Bruce Boudreau was ringside on Monday Night Raw last night and handed out some pre-match advice in an online clip.
Before Kevin Owens and Sami Zayn suit up for their big upcoming match in Saudi Arabia, Boudreau showed up to motivate them with some tough words of encouragement.
"Woah, woah, woah. Kevin, Sami, you guys did okay out there. But I mean, you get knocked out of the ring, you don't stay out for five minutes," Boudreau said. "Next week, when you're in Saudi, you can't afford to do that. Sami, we need you a little more active in the ring. I thought you were trying to get the tag, but you weren't really stretching that hard."
Boudreau then insists that Zayn has got to want it more if he wants to win. Owens doubled down on those comments as well.
"You're on the apron, you're waiting for that tag, you gotta want it," Owens said. "What are you waiting for? You're there with your hand out. Come on, man. Get in there."
The wrestling duo then assures Boudreau that they would win. The 68-year-old coach replied by telling them to text him ahead of the match if they feel uneasy or unsure about it.
"Maybe a FaceTime call. We gotta get in the right frame of mind," Owens said.
"This is what I need. I need you on my ass more," Zayn added.
Boudreau is, in NHL circles, famous for his locker room speeches. Well, this one, at least.
The WWE Night of Champions will go down on Saturday, May 26 at the Jeddah Super Dome in Saudi Arabia.