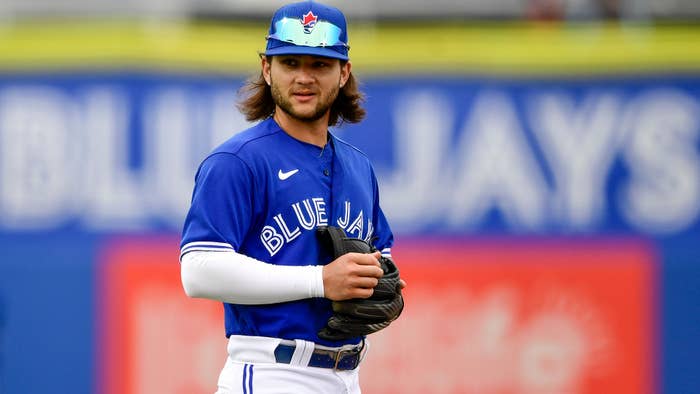 Bo Bichette's bat is something to behold. The Toronto Blue Jays shortstop's explosive swing seems incompatible with the coolness in his demeanor, but together they form one of baseball's most intriguing young stars. The 23-year-old Bichette is already amonst the most recognizable sports figures in Toronto with his signature flow streaming out of the back of his Jays cap on game days. He has finished with a batting average better than .300 in each of his first two seasons with the team—the mark of a consistent hitter. 
As Bichette and the Jays embark on a new season this week, there is real excitement permeating within and around the team. It feels as if we are embarking on a new era of Blue Jays baseball. Odds Shark has listed Toronto as having the seventh-best betting odds to win the World Series this season. Last year's team was bounced in a two-game playoff sweep at the hands of the Tampa Bay Rays in the fall. The Blue Jays turned right around and made a significant splash in the winter, signing former World Series MVP outfielder George Springer and all-around infielder Marcus Semien. The two proven veterans were brought in to bolster a lineup of young and talented hitters.
Bichette helps form the team's young core alongside Vladimir Guerrero Jr. and Cavan Biggio, who like Bichette are also sons of former MLB pros. They made their way through Toronto's farm system together, transitioning through Single-A, Double-A, and Triple-A baseball before reaching the big leagues.
Like last season, this year will lack convention for the Blue Jays. Due to Canadian travel restrictions, they will open their season by playing home games in Dunedin, FL after playing last year's contests in Buffalo. The Blue Jays have not played at the Rogers Centre since September 2019. The new season starts today with a series in New York against the Yankees.
Complex Canadareached Bichette in Dunedin ahead of MLB Opening Day to discuss this year's team, the new additions, how he finds consistency in a sport that plays games almost daily, and much more.
This interview has been edited and condensed for clarity.
Opening Day is here. How do you feel heading into the season?
Really good. Everybody's kind of rounding out into form. It's exciting to get up to New York soon and start the season.
Is there any specific aspect of your game that you focused on improving this offseason?
You know, every single year I'm trying to get better at every aspect of my game. So, there's a lot of things offensively. There's a lot of things defensively. It obviously was a focus, but nothing in particular. Every part of my game, trying to get better.
The Blue Jays haven't played a home game at the Rogers Centre in about 18 months now. Between Buffalo and now Dunedin, does it feel weird to be away from your home ballpark for so long or have you gotten used to it at this point?
I would say we have probably gotten used to it a little bit, but it's definitely weird. We definitely want to get back to Toronto. You know, it's what we grow up wanting to do—play for a big-league team in a big-league city. Obviously, that's not an opportunity for us right now. We're just going to continue working hard with what we've got and hopefully we will be back soon.
The story of the offseason for this team was of course landing George Springer and Marcus Semien in free agency. Has bringing in those guys changed the vibe at all amongst the team?
No, I don't think so. I think that both of them have just gelled really well. You know, we come to the field everyday ready to work. Ready to work as hard as we can [and] get better every day. Those two are the same. It's nice to have some veterans in there who have done it and been there before in the biggest stages. But no, they have really just kind of gelled in nicely and it's been good so far.
"We definitely want to get back to Toronto. You know, it's what we grow up wanting to do—play for a big-league team in a big-league city. "
What has it been like working with Semien in particular this spring, especially in terms of growing that chemistry between you two up the middle? He was an MVP finalist in 2019 at shortstop and will now be lined up next to you at second base.
He's been awesome. He's the same guy every day. Like I said, comes to the field ready to work. I've always had [Cavan] Biggio with me and he's always pushed me, but to have somebody new that is also pushing me is good. Every time we go out there and work together, we get a lot of good work in. It's been awesome with him so far.
You, Vladimir Guerrero Jr., and Cavan Biggio have been on this journey together for a while now. What has it been like working through the Jays' system together over the years and now being players that are relied upon on the big-league team?
I think it's been great just to see each other grow. I can see so much growth in Biggio and Vladdy and obviously myself as well. Just kind of growing up together, I think it allowed us to understand each other a little better, which helps us on the field and helps each of us make each other better. It's awesome to be with them and, you know, hopefully we play with each other for a lot longer.
You were a part of a postseason team a year ago. What can you take away from that experience?
Just knowing that we can compete with the best. I think there is a lot of confidence in the clubhouse this year. We're ready to go out there. Ready to compete with whoever is in front of us and believe we have a chance with whoever is in front of us. So, I think last year was definitely a huge stepping stone for that.
You have played baseball your whole life—playing day in and day out for months throughout a season. How do you stay locked-in that consistently both physically and mentally on a daily basis?
It's really difficult but I think routine is huge. I think routine and knowing you put the hard work in is really big. Being able to go to the game and know that you did what you needed to do to be successful that day. Whether or not it brings success is a different story. But just knowing what you need and getting that stuff done, it makes it a lot easier to go in there every day.
This is going to be your first full, 162-game MLB season after joining the team midway through 2019 and only playing a shortened season in 2020. Has your approach changed at all to account for that?
I don't think so. I think it's like any year, you take it day-by-day. If I start thinking on game one about game 162, my focus isn't where it needs to be. So, just taking it day-by-day. Trying to get better every day. Trying to compete every day. The rest will take care of itself.
You picked Peaches by Justin Bieber as your walk-up song the other day and I know you're a fan of his. Have you had the chance to meet him yet when you've been in Toronto?
No, I haven't [met him yet]. 
What do you think of Justice, his new album that released in March?
It's great. Like you said, I'm a big fan of his. The music that he's making now—especially in the past year—has been really incredible. It's fun to watch his journey.
We are unfortunately going to have to watch you from afar in Toronto, but what do you think fans can expect from the 2021 Blue Jays?
Just a talented team that is going to go out there and play as hard as we can every day. We're going to go out there to win every single day. Honestly, just excitement. We bring a lot of energy. Obviously, we have a lot of young guys but we just have guys who love to play baseball. So, just a fun team to watch and a team that expects to win every night.